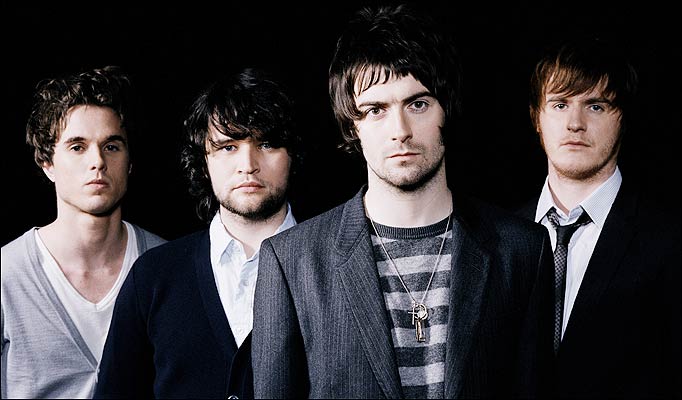 Getintothis caught up with Liam Fray of The Courteeners as they laid down tracks at Air Tight studios for their new record, ahead of their nationwide in-store signing sessions next week. Here's what went down.

Liam Fray: Hello mate.
Getintothis: Hey dude, I believe your down in the studio, how's it going?
LF: Yeah, we're doing some new tunes; we're buzzing off it, its going pretty good.
Getintothis: Are they flowing?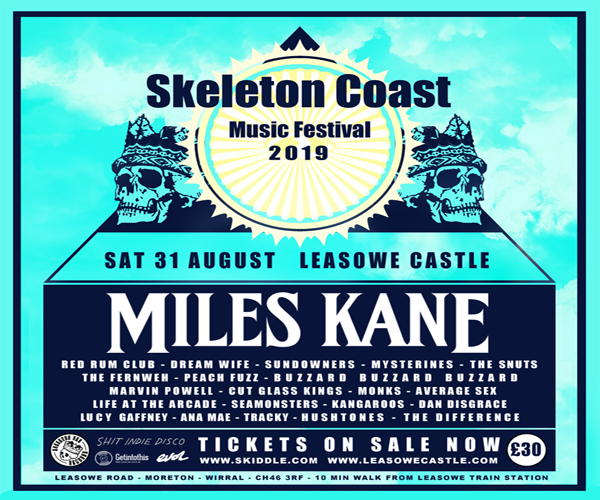 LF: *Laughs* Erm, yeah -They're kinda on the river bank, and the raft is about to go flowing.
Getintothis: Are you paddling up stream or down?
LF: I've not even found a paddle yet, mate, I dunno where it is, someone must have nicked it.
Getintothis: Oh, no! So you're paddling with your hands – you want to watch out for the sharks – could be nasty!
LF: Yeah, it's a hand paddle at the minute – it's like we're on a Lilo! But yeah, we came back from Ireland yesterday, did a few gigs over there and they were just fuckin mental, and you know when you've gone a bit too far and you just need to lay it down. So we'll start gelling tomorrow and get all the ideas together.
Getintothis: So where you off to next?
LF: We're in here for the next few days and I think Glastonbury is next. And obviously we've got the in-stores next week.
Getintothis: Do you enjoy doing that?
LF: I fuckin buzz of it, a lot of people can't be arsed with it. I love it.
Getintothis: It seems a bit of a forced, contrived, awkward environment!
LF: No, well, it should do – but I don't see it like that, I don't operate like that. Whether I'm playing to myself in the mirror…
Getintothis: With a tennis racket?
LF: *Laughs* Yeah, that's it. I treat everything exactly the same. People are making a fuckin effort and kids are skipping school to come and watch it and I buzz off it. It makes it worthwhile – people get off work early and that. I like the intimate connection. It can be a bit too much though… someone the other day in Dublin got on the stage and grabbed the microphone – the cheeky little bastard. *laughs*
Getintothis: You should've Keith Richards-ed him off stage!
LF: Yeah defo. If I'd have got him I would have done. Nah he was only about 16. There were no barrier or security; it was a bit dangerous to be honest.
Getintothis: Ah, you rock & rollers!
LF: *laughs*
Getintothis: Right here's the 20 questions, I hope you're ready?
LF: I hope you're ready for some dull answers!
Getintothis: Nope, we don't do dull.
1. Getintothis: So you're in Italy, and the Pope offers to buy you an ice-cream, what do you buy, bearing in mind you should proaly steer clear from the rum and raisin?
LF: *laughs* Mint choc chip.
2. Getintothis: The war in Iraq; is it time we pulled the troops out?
LF: Oh, my fucking God. Are you fucking serious? *laughs* Of course.
3. Getintothis: If you were preparing for battle in medieval times what weapon would you take into battle?
LF: Acid tongue.
Getintothis: Eh? Oh, like a dragon?
LF: Yeah, you'd get out of it before you get your hands dirty.
Getintothis: That is unless they've got a massive net – or a grapple hook.
LF: *Laughs* Man, you know far too much about this!
4. Getintothis: You seem to be more concerned with past influences; musically and lyrically – what excites you about the future?
LF: *Long pause* I'm just about getting to grips with mobile telecommunications… so the future is probably out of my reach!
Getintothis: Ah, you're new, your up and coming, you've gotta embrace the future!
LF: Err… *Long pause*
Getintothis: This is the bit where I write 'long pause'…
LF: *Laughs*
LF: Ok, a fountain pen that'll never run out of ink.
Getintothis: I like it – you could imagine them flogging them on one of those DML adverts.
LF: Yeah, and if you get bored you could play darts with it.
5. Getintothis: Who is your all-time on-screen bad guy?
LF: *Laughs* It's gotta be the Wet Bandits out of Home Alone. Or the Sticky Bandits from Home Alone 2.
Getintothis: Wow, that's a bit of curve ball – I was thinking you'd be more of a Joe Pesci in Goodfellas kinda guy.
LF: Nah – too innocent me.
6. Getintothis: If you were in Star Wars what colour would your light sabre be?
LF: Purple – the colour of Royals.
7. Getintothis: The Smiths or The Stone Roses?
LF: Aghhh! The Smiths.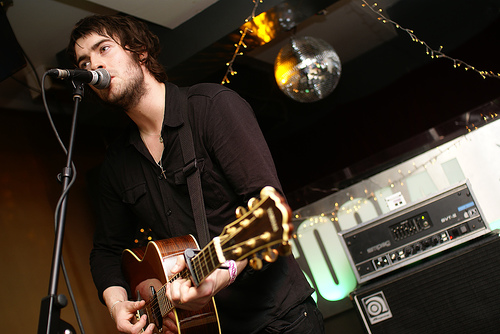 8. Getintothis: You wrote so eloquently in your write to reply in The Guardian after they labelled you 'sneering, arrogant and aggressive,' how do you plan to escape the pigeonhole your band is so obviously attached to, ie: lad rock?
LF: When you say 'obviously' are you being sarcastic?
Getintothis: No, no.
LF: Do you think we are pigeonholed?
Getintothis: Yeah, defo. From my point of view, like it or not, you're lumped in with that type of lad-rock shit.
LF: Oh right, I see what you mean. I plan to not worry about what some cunt's writing about in their magazine. So while they're getting paid 12p per line I'll be playing gigs in Japan at the top of Mount Fuji. So game on.
Its just lazy journalism. If I'd have got through university and got an English degree -" which I got one third of the way through by the way, I didn't get my head down. But if I'd have got through I'd fucking apply my talents a lot more vigorously than some people do. And it's very, very upsetting that there's people that fucking lazy. God gave you talent for a fucking reason – so use it. I'm using mine – they're being lazy with it.
Getintothis: I agree the piece was lazy, but what I would say is the crux of what they were getting at there are a lot of inherent similarities with your music and what has come recently, like the post-Libertines fodder.
LF: I completely disagree. Really disagree. But it's strange in a way, because even bands like the Pigeon Detectives and The Enemy -who I've not said the best things about – but at least they're bands working hard and they graft for it – and they're treated unfairly.
Getintothis: Yeah but Robbie Savage works hard on the footie pitch – but he's still shit.
LF: Erm, I hope for one minute you're not putting us in the same category as him! *Laughs*
Getintothis: I'd defo classify The Pigeon Detectives as sub-Robbie Savage fodder!
LF: It's weird – I don't even know what lad-rock is. We're a band of the people and people get us. I'm an honest song-writer and the only thing I can do is not listen to lazy little schmucks who write for certain things.
9. Getintothis: Tell us a childhood memory.
LF: Locking me best mate in the garage for a joke and then losing the key. That was well intense – I was only about eight.
10. Getintothis: Manchester or Liverpool?
LF: Liverpool is my favourite cousin of ours. So obviously Manchester, but I've got a lot of love for Liverpool.
11. Getintothis: What's your favourite flavour of crisps?
LF: Prawn cocktail – if I'm in at home. Obviously not if I'm out because you'd need a cap full of Listerine. If I'm out salt and vinegar
12. Getintothis: If you were to curate an imaginary festival, who would be your three-night headliners?
LF: Us. The Kills and The Kinks.
13. Getintothis: If you weren't in a band, what job would you do?
LF: I wouldn't mind being a primary school teacher to be honest.
Getintothis: Nice one. Good with kids?
LF: Hey watch how you word that! *Laughs*
14. Getintothis: If you were Music Minister what would be the first thing you'd do to help aspiring young musicians?
LF: I'd fuck off all that weird you've gotta learn about classical music stuff. It's ridiculous. If we'd been given a head start at school – just go learn guitar if you're into it. Kids should be shown how to learn music that's in the charts to get them into stuff.
15. Getintothis: Brooklyn band HEALTH recently cancelled a gig in Liverpool citing 'the wheels fell off the van', have you ever cancelled a gig, and what's your worst excuse?
LF: Never cancelled one. We played in Leeds – in fact you know what it was Liverpool's fault – we played Liverpool in April and I went out after and got absolutely Joe Mangled. We were supposed to go Korova but I ended up in Barfly for a bit and I got poppers in my eye and my face blistered. We played Leeds the next night and my voice was completely gone, but I thought they'd rather see me sing half as well than not at all. Perhaps I should have cancelled because I sounded like shit but… When you're starting out you've gotta make the effort.
16. Getintothis: In this age of 'now' do you think you'll get passed your second album?
LF: I dunno. Depends, who knows I don't even know if people are buying records anymore.
Getintothis: Does that make you sad?
LF: It's a strange thing. I'm a kid of vinyl. I was reading in The Times 89% of kids downloading songs illegally to put on their Ipod. Crazy. I'm bang into the romanticism of records – I love looking at the album artwork.
17. Getintothis: You're James Bond for a day, who's your Bond girl?
LF: Ohhhhh. Carol Smillie.
Getintothis: *laughs* Really!?
LF: Yeah man, why not!?
18. Getintothis: You're holding a superstar dinner party, who are your first five guests? And you're not allowed to pick your band!
LF: *Laughs* I wouldn't fucking pick them. Eric Cantona. Ronnie Corbett. Ricky Gervais – I quite like him, he's annoyingly funny. Helen Mirren for a bit of class. And Scooby Doo – he can pass the snacks under the table.
19. Getintothis: What makes you most happy?
LF: Seeing my mates when I come back from tour.
20. Do you like Prince? And if so what's your favourite song?
LF: You know what mate. Its bad saying you don't like things when you've not got any of their stuff. I'm not a Prince fan because I don't own any of his fucking stuff. He's never come across me in my 23 years of living.
Getintothis: I think you should dig out Sign Of The Times next time you're in Liverpool's Zavvi store next week. It's a double album of absolute genius.
LF: Is it? A lot of people say that, so that's me being lazy.
Getintothis: No not lazy – there's a vast galaxy of music to explore.
LF: You know what, it's scary but exciting. You know what I am fucking excited about these new tunes; we've just gotta get em down. They're just brilliant.
Getintothis: What's the direction?
LF: I am fucking loving that Shadow Puppets album. It's fantastic. Miles from The Rascals did a few dates with us on the last tour. I've always been into that style. The only thing is the first album is songs we've had for ages but because we had so many people coming to the gigs it was almost unfair not to put them on it. But we're ready now to do something else straight away. But you don't know how drastic the change is going to be until you get things down, you never know. The one thing you've got the least idea of sometimes ends up being a fucking brilliant result.
Getintothis: Right, I'm going to shoot mate – I'm off to see The Music later, should be a good 'un.
LF: Oh, nice one – I went to see them in Blackpool in 2002, one of the fucking best gigs I've ever been to in my life.
Getintothis: Yeah, defo. Right, hope recording goes well, take it easy.
LF: Yeah nice one. Take it easy.
The Courteeners will be appearing at Liverpool's Zavvi store on Tuesday June 24.
Comments
comments