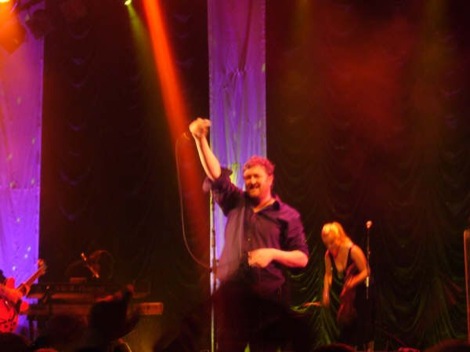 Oft-maligned as Manc miserabilists, Elbow did a very good impression of being anything-but on Saturday night's Delamere Forest gig, reports Katy Chaytor.

Admittedly, it's hard to feel morose as the sun sets on a utopian grassy glade, beer in hand, watching the band's dogs run free in the distance, but you got the impression no one felt it more than the, slightly refreshed, Elbow frontman Guy Garvey.
'It's a beautiful thing', he mused from the outdoor stage- and it was hard to disagree. Supported by their best friends I Am Kloot, Elbow's gig had an intimate, home-grown atmosphere about it- despite the reputed five and a half thousand strong crowd, which Garvey announced with some degree of pride. He had been told, he said. He was not Rain Man.
Introducing Kloot as his 'favourite band in the world', Garvey joined vocalist John Bramwell in a touching rendition of To You from I Am Kloot's debut album, which he produced- possibly in the knowledge it would allow him to showcase his unbelievably elastic vocal range from Aled Jones highs to Leonard Cohen lows.
Elbow went on to open with Starlings, from their latest album, The Seldom Seen Kid; in which Garvey describes himself as 'a horse that's good for glue and nothing else'. I beg to differ.
As the entire stage took to their trumpets, it was an example of how Elbow's inspired use of instruments can create such invasive swells of sound to put them in a league of their own.
The effect was the same in The Fix, when ex-Pulp and Long Pig guitarist, Richard Hawley, tipped up to perform a slide guitar solo to a back-drop of the Elbow choir, whom appeared to have re-incarnated themselves as a humming 70's mermaid-esque troupe.
Dreamy and far out don't cover it! Particularly, as Garvey had only just instructed the crowd to turn around and face the moon, whilst chanting 'Mantra Luna' – whatever that means.
But then it was back to business. 'What day is it?' demanded Garvey of the crowd. 'Saturday? Then Saturday is for drinking to the Seldom Seen Kid!' This being an invitation for us to raise our cans in memory of Manchester musician Bryan Glancy, whose death led Garvey to contemplate leaving his beloved city, and hence pen the Zeppelinesque Grounds for Divorce.
It was a touching tribute that echoed Garvey's ability to write some of the most emotionally poignant lyrics around.
Clearly a romantic at heart, he agreed to play a request for Great Expectations by a newly engaged couple- marred only by the fact that instead, somehow, they got The Stops by mistake – which was, as luck would have it, a rather tragic love song.
The evening came to a close with a raucous Station Approach and sublime Grace Under Pressure that left the crowd chanting long after the band had exited the stage which, in my book, definately makes them more magnificent than miserable.
Comments
comments