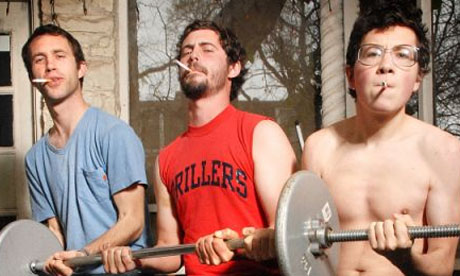 White Denim offer sexual healing as Getintothis gets off on their Workout Holiday.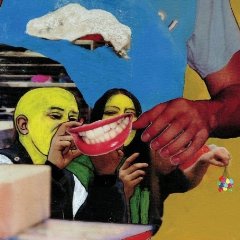 White Denim: Workout Holiday – Album of the Week
Full Time Hobby
Few records this year have been quite as sexy as Workout Holiday. This is like Shannyn Sossamon walking into a diner and then Little Red Corvette cranks up on the shitty jukebox and she waltzes right up to your booth grabs you by the bollocks and asks for a drink.
Sounding like it was recorded on a busted-up 70s four-track, you can virtually taste the sweat and grit that's embedded in the grooves.
Forthcoming single Shake Shake Shake swings like a complete mutha and epitomises their appeal; all elasticised basslines, fuzztone fretwork and loutish hollering. It's only bettered by Look That Way At It which jerks inside out for three minutes before vomitting out licks custom-made for hardcore wrongness.
Fast, furious and effortlessly fucking cool. This is the sound of NME's cool list collectively shouting 'Let me be in your band, pwwwwwwwwwwwwwwwese!'
8/10
For fans of: Wah-wah, post-punk, jungle boogie.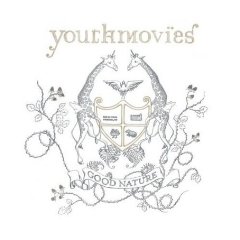 Youth Movies: Good Nature
Drowned In Sound
Aint it strange the way prog is so derided and yet much of today's hyped superstars in waiting are rooted in the essence of Yes, King Crimson and other much-maligned heroes of the 17-minute guitar suite.
Well, there's little doubting who Youth Movies take tips from, with this frenzied jumble of avant-rock mutant progression.
One problem: you have to endure the keening whimper of Al English amid the aggro riot, neo-jazz trumpeting and nimble six-string Robert Fripp pyrotechnics. Downer.
7.5/10
For fans of: Red, Battles, wrestling.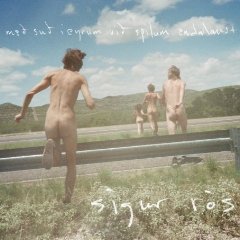 Sigur Ros: Með suð í eyrum við spilum endalaust
EMI
I 'met' Jonsi at Latitude earlier this year and asked him if we could get a picture. He looked at me with his wonky eye like I'd asked if I could rape him silly and then shit on his face.
6.5/10
For fans of: Sailor outfits.
Bodies Of Water: A Certain Feelings
Secretly Canadian
Dunno about you, but Arcade Fire got quite dull quite quickly, so the last thing anybody needs is a legion of copyists. Bodies of Water, while having a fair few strings to their bow, ultimately fall into this pigeonhole – lustrous orchestration, wailing choral women, borderline amateur dramatics and fiddles.
That said when they stray furthest from the blueprint is when they truly impress; Under The Pines features groovy rockism, Water Here has a funk middle eight seemingly possessed by the spirit of The Temptations and If I Were A Bell contains the kind of duelling organ/drum beat that'll induce spastic limb shaking.
6.5/10
For fans of: Hicks, spinsters and homosexual uncles.


Black Kids: Partie Traumatic
Almost Gold
It's hard not to pity Black Kids – they came along amid a flurry of online hype and then everyone blew a collective fart in their direction.
Partie Traumatic isn't all that bad either; if you dig nifty, neat pop with Robert Smith vocals and winning hooks really there's not much to slag – and it's fun.
Still, they are wank live.
6.5/10
For fans of: Big hair, 80s pop, men that look like women but sing like girls.
Comments
comments