Three days straight of full-on gig carnage. I'm getting too old for this…

Luckily any thoughts of fatigue are banished on a night dominated by two quite remarkable frontmen.
The Aliens' Gorden Anderson and Holy Ghost Revival's Conor St. Kiley share very little in common; the former a short psychedelic Fife wizard in mirrored shades and high-tops, the latter a camp Seattle beanpole in ripped threads and white winklepickers, but what they do share is that money-can't-buy magnetism so potent that their respective bands could be pissing in a bucket and you'd still turn up to watch.
Tangent: How superb is it that not only does The 'Pool have young guns Samizdat delivering the goods, but we also have the Godfather of Live Music: Revo, aka Mr Evol, also supplying tasty talent. Tonight's no different, as Evol presents these two offerings on either side of the city.
Kicking off in the Academy 2, the rumbling gurgle of motorik hum ushers in Fife's finest as they launch into Bobby's Song a track imbued with everything The Aliens are about; eclecticism doesn't cover it.
Four-piece harmonies, harmonica drones, Kraut beats, boozey-blues licks, hip-hop clicks, sea-shanty breakdowns, melancholic lilts, gypo hoedown and Syd-style English psyche. Oh, and of course, don't forget the scat-rap through a mega phone.
It's a complete mess. A beautiful, anarchic, whopping 12-minute magnificent mess. See, this was perhaps the reason their former guise, The Beta Band, never went full-blown; for every perfect pop song there was a montage of dogs burping along to thick thuds and backward acoustic guitars.
And The Aliens employ a similar haphazard brilliance, expertly showcased on recent album Luna. You've the Beach Boys bliss of Theramin and Sunlamp Show, the otherworldly astrorock of Blue Mantle, which with it's delicate pops and atmospheric charm recalls a Ziggy-era Bowie and then there's the stone-cold classic pop of Robot Man and Magic Man.
What makes this sonic mash-up all the merrier is Gorden Anderson's childlike fervour. Whether he's hugging and hand-shaking onlookers, engaging in mini joke interludes, wanging out on his Gibson lost in his own world, or donning ridiculous headwear with flashing lights and what look like luminous green nappies strapped to his ears.
All of which could descend into pantomime were it not for the fantastic musicianship on show. A belting Billy Jack sends the crowd into hysterics as Robin Jones rolls over his kit like John Bonham and the tune matches the Zeppelin thunder as Anderson throws Pete Townsend star-jumps. Superb.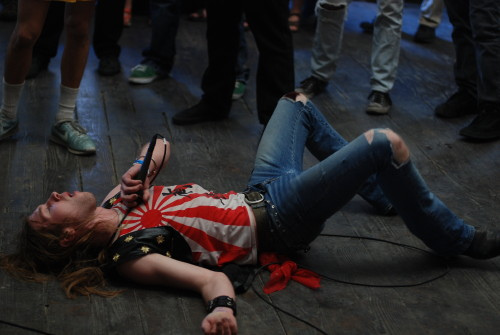 Holy Ghost Revival, are a completely different kettle of fish. So to is Korova's basement. There's four people here. Eight if you include the band. This however, proves no worry for Mr St. Kiley, who within seconds of the opening blast is hoisted upside down by three of the crowd, who despite his slight frame, is sent tumbling to the concrete smashing bottles everywhere.
Bloodied-shoulder, he jumps straight back up walks round the entire bar, wrapping his mic lead around the growing onlookers (who's expressions range from concern, shock and awe) and proceeds to ruffle the hair of a delighted young lady.
Unlike The Aliens, Holy Ghost Revival, are all about performance. The music – a camp mixture of Guns & Roses, Sparks (lashings of sharp plinky piano), Queen and even Meat Loaf – is for all its influences rooted in MoR rock.
But, while the tunes maybe decidedly daft, their snake-hipped frontman makes for a must-see spectacle. In between a frenetic The Gospel According To Judas he's hoisted up for the umpteenth time, before someone drenches him in ale.
'I've been waiting all night for that,' he retorts. 'What took you so long?'
As they wrap things up, the entire band is in among the now 50-strong audience and St Kiley is rolling in the broken glass, revelling in the chaos. Just the way we like it.
*Aliens pics: Sakura www.rockphotographer.net
Comments
comments