Back, back, back. The Getintothis recommender is refuelled and kicking off with a flurry of absolute corkers. And for those of you that don't like words, just look at the pretty picture at the top – it works wonders for hangovers.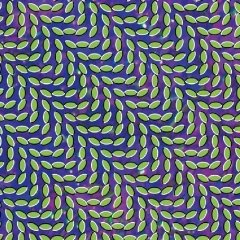 Animal Collective: Merriweather Post Pavilion – Album of the Week
Domino
Truth be told I've always found Baltimore's Animal Collective a grind.
It's one thing to be left lukewarm by their scattershot tapestry of neo-folk mysticism, another to be expected to worship at their altar by the indie-than-thou dribblers draped in ponchos and ironic T-shirts.
But there was a whiff in the air prior to the band's ninth studio record dropping that awakened a sense of not just intrigue but a genuine desire to be involved. First Noah Lennox, aka Panda Bear's delectable solo offering hinted at a rhythmically more propulsive beast before expectations were raised immeasurably by a highlight among highlights when the full band graced the stage at the Explosions-curated All Tomorrow's Parties.
Shedding their psych-lite whimsy they transformed the stage into a beacon of colour and and speaker-shredding shreeeeps purposely designed to melt the whites of eyes while ice-picking holes into ear drums. Impossible to block whether you liked it or not – but why wouldn't you? – it was glorious. Nay, epiphanic!
The fruits of such a sonic tour de force are Merriweather Post Pavilion, a record which, perhaps oddly for a band always out of step with trends, is posited with the best of now; tribal Afrobeat, ambient-electronica, multi-layered looped vocals employed to great effect by the likes of Yeasayer and most strident of all the ecstatic, surging dancefloor energy. Bottling all these components like some kind of joyful supertrack is Brother Sport. Built around pops and pings and delirious harmonies, we're emplored to 'open up yrrr, open up yrrr, open up yr throooat!' as Avery Tare's vocals bounce like a ping pong ball amid Geologist's computer-game histrionics. Like a workout on a tropical island it's demanding, hot as hell and leaves you well and truly out of breath.
Thankfully there's sizeable respite with hypno-pop drones (Also Frightened) and wimbly-wobbly wooziness (Bluish) interspersed between the euphoria.
In a recent interview Geologist was quick to assert how much fun the band had in the studio and that's where they feel most happy and Merriweather is a testament to that with gleeful radiance emanating from every orifice; Summertime Clothes employs the robojerks of Battles with handclaps, fluttering parps and shit-eating smiles, Lion In A Coma loops didgeridoo-led funk as Panda Bear and Avery gasp for breath during harmonies and the trance-like shimmer of Girls is the nearest they've come to creating a bonafide 'pop hit'. It contains an off the cuff 'owwwwwww,' that's positively life-affirming. It is fantastic.
Hilariously, if you've had half an eye on the blogosphere, Merriweather has already been championed to such an extent that just 15 days in we've already a nailed-on cert for album of year. Don't be so sure. But for now be content to lap up a very, very fine record indeed.
8.5/10
For fans of: Leotards and leopards.

Animal Collective: Brother Sport (live)
Sounds like…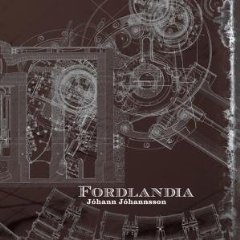 Jóhann Jóhannsson: Fordlandia
4AD
Sooner or later television programmers will run out of Sigur Rós tracks to soundtrack footage of oceanic wildlife, natural disasters and impending apocalypse and most probably turn to their countryman Jóhann. And in an ideal world he'd already be sharing their colossal exposure such is his remarkable consistency and in some respects bolder palette.
Last year's Fordlandia (confirming 4AD as the standout label of the year) was perhaps his finest yet as he imbued his trademark washes of (*cliche alert*) glacial neo-classical soundscapes with heavy orchestrated drama (as opposed to his characteristic ambient subtlety) and darting string sections while even adding flecked Floydian guitar motifs.
Here, nine mini symphonies are book ended by two pieces clocking in at around the 15-minute mark and it's safe to say both contain enough emotional charge to chop a whopping great hole in the sky. Devastating.
7.5/10
For fans of:
Read Johann's fascinating insight into the record.
Listen up.


LindstrÃşm: Where You Go I Go Too
Smalltown Supersound
You can imagine Hans-Peter LindstrÃşm outstretched on a lilo in the middle of a secluded lagoon in some Arctic hinterland surrounded by plopping steamy geysers; one hand cupping a frosted beverage, the other the back of a sweaty maidan's head as she performs expert fellatio and all the while he plots another 25-minute electronic orgasma. What a dude!
8/10
For fans of: Blade Runner, The Crab Nebula, all-nighters.
Electronica for your mind.


Josh Tillman: Vacilando Territory Blues
Bella Union
When Bon Iver dropped For Emma, Forever Ago, in mid-08 the bar was raised considerably for lonesome singer songwriters on the edge of despair.
Unfortunately, for Fleet Foxes drummer, Josh Tillman, he's the Dean Windass to Justin Vernon's Fernando Torres. Bruised souls aint enough these days, you've gots to have leapt off that cliff, climbed to the very top and thought about doing it all again.
5.5/10
For fans of: Orienteering, Will Oldham, nobbly knees.
J's music.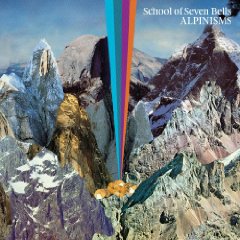 School Of Seven Bells: Alpinisms
Ghostly International
Another one that got away in 08, and deserved of your attention if you aint already is this slice of sensual electronica, seemingly composed in a trance, courtesy of ex-Secret Machine geezer Benjamin Curtis and sisters Claudia and Alejandra Deheza.
Fuggy, quasi-Eastern and heavy on mysticism, Alphinisms excels in wrapping luxurious swathes of groove into your lugholes before the twinned Deheza vocals marry a catchiness making for instant pleasure.
7.5/10
For fans of: Lazy morning sex.
Hear here.
Comments
comments