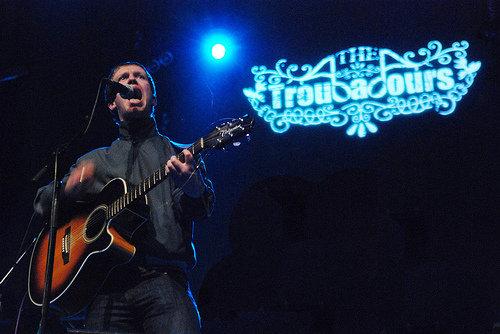 Greg O'Keeffe laps up the Liverpool connection.

Tight as a drum musically, it's just a shame that a group of such young, talented musicians can't see past the generic confines of their local heritage.
With a blond flick-haired singer strumming an acoustic guitar, this four piece come off like a Coral tribute band doing a set of La's songs. Seemingly trapped into the spiral of scouse bands who can't see beyonf glorified skiffle come rhythm and blues. Still, the The Troubadours are clearly massively popular with the healthy and hedonistic audience who lapped up the otherwise melodic tunes.
The Scouse Hold Steady returned to the stage with fresh vigour after releasing their latest EP, Hard Faced town. Clearly, frontman Alan O'Hare was buzzing and as he relaxed and enjoyed the set, so did his audience. Flecks of Springsteen and other classic 70s rock keep The Trestles ducking and diving despite the occassional MOR-ish track. But when they're on form, like in Hard Faced Town, they're really on form. New track Civilised was also well received.
What do you get when you cross a pencil moustachioed Argentinian virtuoso with a razor-sharp Chester scenester? Answer: Heartbreak. The duo's compelling set to a packed Alma de Cuba was a pleasant surprise given their relatively low profile.
Highlights,of which there were plenty, included 'soul brother' and 'we're back.' Heavily-80s influenced synth pop has never sounded so good. A seriously exciting set by a band on the cusp of bigger things.
Comments
comments