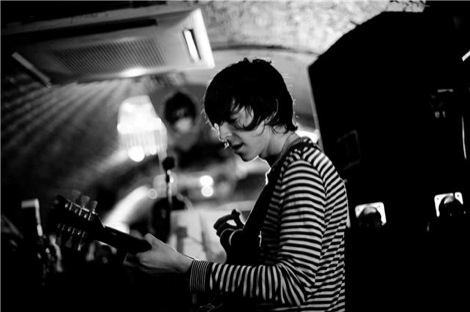 A US invasion, Cavern Club-style love-in, legends abound and a late-night party for lunatics, Liverpool Sound City celebrated day two like no other. Bet you couldn't keep up.
Atlanta's Black Lips gnashed their 24-carat golden teeth as Barfly erupted like never before while America took a front seat in the festival which refuses to let up.
As the Stateside lock in demolished the Masque Theatre, Heebie Jeebie's walls dripped to Merseybeat romanticism as The Rascals were joined by Echo & The Bunnymen legend Will Sergeant and as the night drew to a close Metronomy and Scouse cats Wave Machines brought proceedings to a fitting conclusion. Oh, and then there was the goss…

RECKLESS abandon, groupie love-ins and enigmatic legends – Sound City's got it all.
Three days of fun and frolicking has thrown up a veritable feast of drama, none more so than at Thursday's fun-packed Heebie Jeebies exclusive as The Rascals ripped through Iggy's The Passenger and a host of barnstorming covers.
The band also covered The Strokes' Last Nite plus The Beatles' Come Together, Be My Baby by The Ronettes.
Joined by Echo & The Bunnymen legend Will Sergeant, the lads were in celebratory mood having secured Gruff and his Super Furries chums to produce their new record in Wales.
Someone not celebrating was Rascals' drummer Greg Mighall having injured his foot and had to be replaced by friend Damon Reece. Reece lapped it up as friends and family gathered behind the stage as Heebies transformed into a magical makeshift Cavern.
Meanwhile Sergeant was in tremendous form earlier in the day at Hard Day's Night Hotel agreeing with Johnny Marr's sentiment that Morrissey was always 'the cunt at the front,' before revealing his dislike of U2's 'Bongo' [sic]and his favourite records of the moment – Dead Meadow, White Hills and 'all that drones'.
He promosed fans much-anticipated new Bunnymen record The Fountain will be released later this year, before signing off his last Friction DJ night at Korova in style. Dig the new Velvets visuals!
Thursday at Barfly proved eventful with Black Lips getting ultra-friendly with a series of young ladies backstage after their manic gig in the Masque Theatre.
Four-string plucker Jared Swilley was on top form regailing how he had appeared in a London court earlier in the day. Luckily for him – and us – the charges were dropped after he was arrested after allegedly "getting caught doing something on CCTV". The scallywag.
Speaking of which Cage The Elephant frontman Matt Shultz was spotted getting propositioned by two feisty harlots whose wardrobe left little to the imagination. The Kentucky vocalist aborted any efforts to watch The Hot Melts swiftly escorting his admires backstage.
Earlier, the girls from Mika Miko and Telepathe were heard fretting over their ferry trip across the Irish Sea before their gig tonight in Dublin. Apparently a member of their entourage had told them a recent trip had resulted in disaster when the ferry doors opened unexpectedly. How cruel.
Meanwhile at the bar The Wombats' Matthew Murphy was seen sporting a large white raincoat. One onlooker said he looked like he'd walked out of a science lab.
Earlier in the day John Foxx was spotted roaming Hardman Street with an oversized briefcase while hot from their set at All Tomorrow's Parties duo Blood Red Shoes decamped at a studio in Lark Lane to record the follow up to debut Box of Secrets.
A mild dose of swine flu had hit The Invisible camp on Wednesday night as they knocked back large tumblers of lemon and sugar tea before blowing away Korovians with their cosmic disco and taxi drivers kicked up a storm by informing passengers Morrissey was due to play a set in Hairy Records.
As if.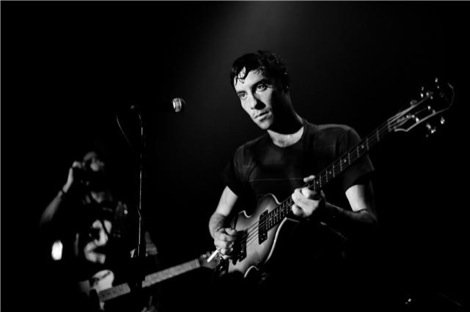 Black Lips
Equally bizarre was reports Juliette Lewis was seen on Church Street purchasing accessories for her show at Stanley Theatre. Sounds odd but when we saw her dressed in black, feathery S&M gear it started to make sense.
The Antipodeon contingent impressed at Bumper in the form of Sound Movement and The John Steel Singers on Thursday evening while Lee Mavers is rumoured to be playing at umpteen venues across town on Saturday night.
And if you believe that you'll believe anything.
For artist's interviews, reports and live footage from across Sound City's four days watch and read at www.getintothis.co.uk and www.youtube.com/soundcity.
Photography by Mark McNulty
Comments
comments