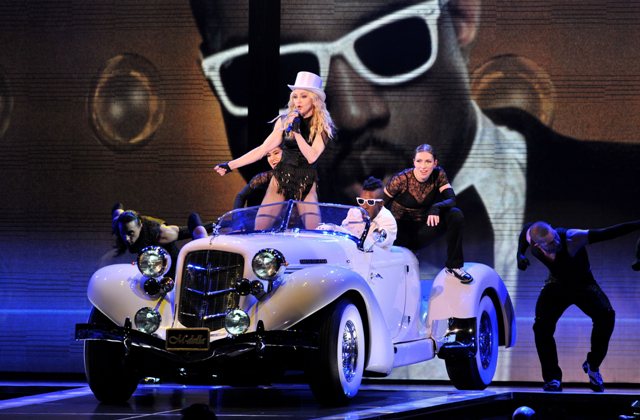 Big star. Big show. Big questions.

In 1987 Madonna asked 'Who's that girl?' More than two decades later it seems it's not just us, but her Madgesty herself still asking the question.
Tonight's spectacular finds 50-year-old Ms Ciccone continuing her restless transformation, relentlessly exploring guises, sexuality, faith and BIG issues, yet leaving a whopping hole as to who she is, what she stands for and importantly what she wants to be remembered for.
This last point hangs heavy – like the obnoxious air-clog in the swelting, non-aircon Arena – for tonight is the funeral of Michael Jackson, and his music, faux-presence and spirit runs before, during and after the show.
And Madge seems overtly aware of the comparisons between The King and Queen of Pop (born a mere 13 days apart), imploring the crowd, prior to an 'acoustic' rendition of You Must Love Me, to 'appreciate what you've got before it's gone.'
Paying tribute to the man and the entertainer, it feels sincere and heartfelt but elsewhere messages are horribly muddled. During one costume interlude there's an extended montage of war, suffering, Iranian President Mahmoud Ahmadinejad, Nazis and all manner of doom contrasted with Bono and Obama. It's fudged, unnecessary and stands at odds with the vast majority of the Sticky and Sweet Tour's premise as we're transported to a Wonka Land of colossal candy sticks, gigantic gobstoppers and rivers of gloopy sugar – most of which drip from anonymous ladies tongues on the vast video screens.
In this excessive wonderland, built on towering beats and belly-rumbling booms, Madonna is more at home; albeit lip-synching her way through Candy Shop and a Kanye-assisted Beat Goes On which finds her riding atop a vintage white car before re-enacting a scene from World's Strongest Man by pushing the thing down the stage runway. Where's John Inverdale when you need him?
But it's in the playful classics from her extensive back catalogue that she truly excels.
Into The Groove is as bouncy and effervescent as ever while Holiday introduces an MJ impersonator to the stage to spin some moves under a huge projection of the star as a boy.

Madonna performing Holiday with MJ impersonator.
Interspersed with snippets of Billie Jean and Wanna Be Startin' Somethin' it's one of several big highs during a show which peaks and troughs in equal measure. Her star quality is unquestionable but there's numerous moments of naff.
For all the high-octane energy on display it's not until a Romany-infused rendition of La Isla Bonita does the show truly whirr into life.
In between Madonna camps it up sporting daft gym outfits, leathers which are more M&S than S&M, involves herself in a spot of skipping, regularly grabs the guitar for a spot of cringeworthy strumming (it's rarely plugged in!) and there's a quite ridiculous interlude as two dances box themselves silly (yes, there's a jingly-jangly fake boxing ring included) to Die Another Day. Oh, and then the Jowas come out during a yawnsome midsection which is a triumph of choreography over entertainment.
Does Madonna want to sacrifice sexy for workout Mama of the Year? It's undoubtedly enviable to see such energy from a middle-aged mum of four but at what cost – at times she's more Iggy Pop than Queen of Pop – all leathery skin and sinew hanging out of her lycra and nylon.
Thankfully, the final 20 minutes are outrageously good. A blockbusting 4 Minutes with Justin Trousersnake morphs into set highlight Like A Prayer as Felix's trance anthem Don't You Want Me injects some much-needed thrills.
Barely pausing for breath, and with the video screens burning reds, there's a powerful Frozen as she writhes amid a cloak of black before dedicating Ray Of Light to Jacko.
In truth, it's a slightly underwhelming version, with her vocal emersed beneath the lazers and disco beats, but it's such a fine tune the crowd barely care and when a bass-heavy club mix of Give It To Me brings matters to a belting conclusion there's little doubt that Madge has tipped the balance.
Walking out, to the sound of Don't Stop Til You Get Enough, it's obvious Madonna's immortality is assured but it'd be reassuring to think she'd learn from the lesson of Michael Jackson and let her music do the talking.
Here's some dodgy camera phone images: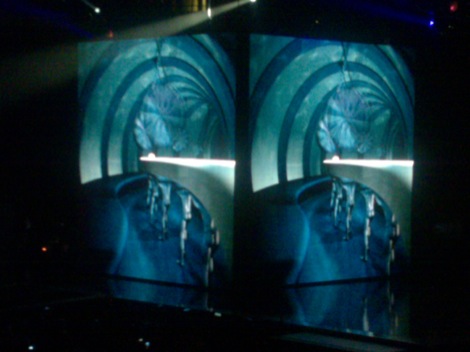 Pinball wizard. The opening video madness.


Queen on her throne. Cocked leg of course.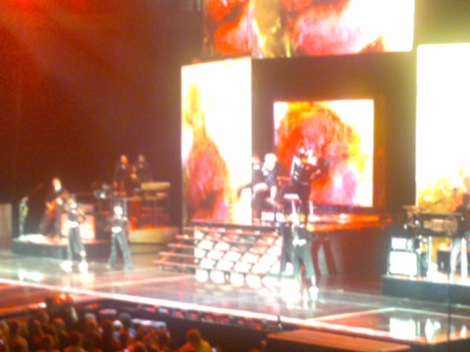 All rise.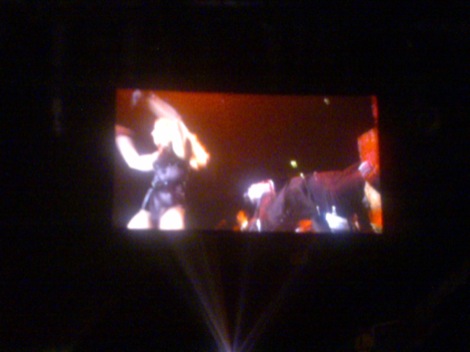 Pump it up.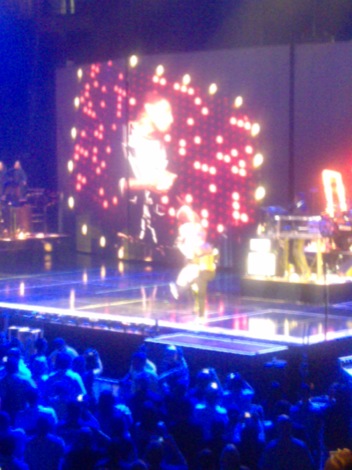 Spot of Vogueing.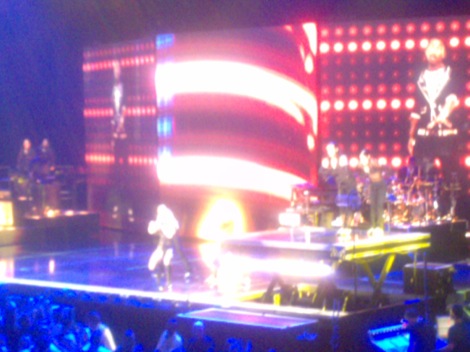 Candy Shop.


Baby you can drive my car.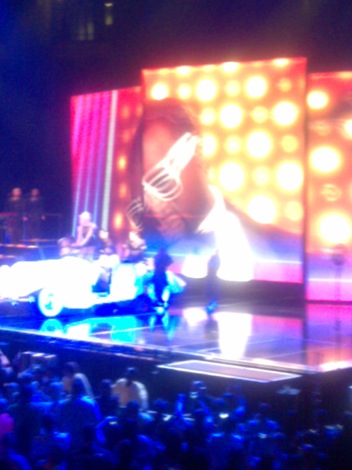 Kanye kick it?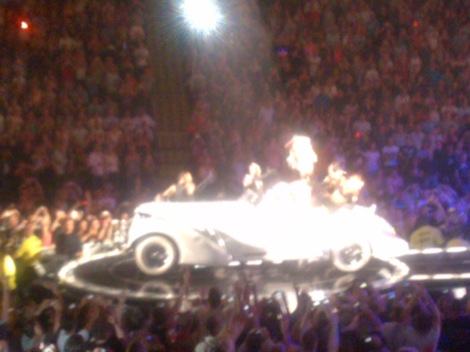 Roof Roof.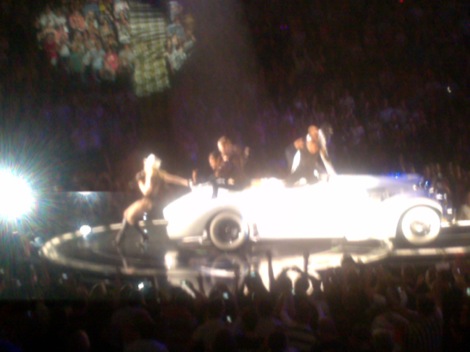 Push it real good.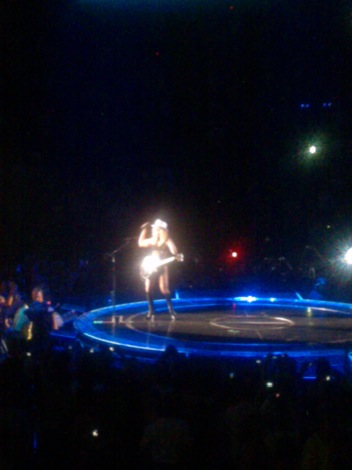 Madge unplugged.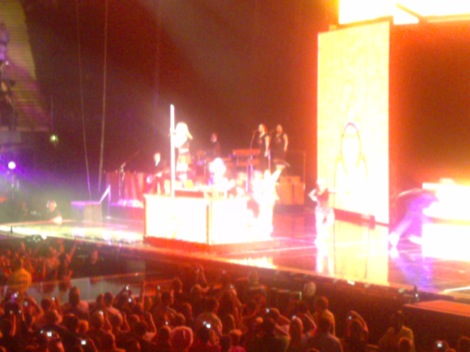 Pole dancing.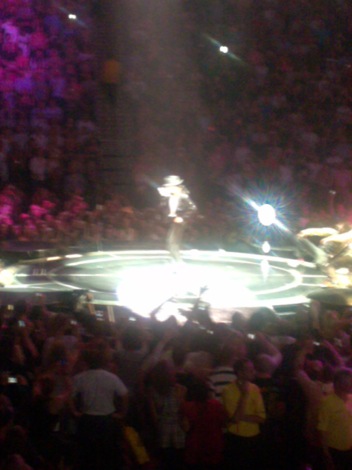 Michael.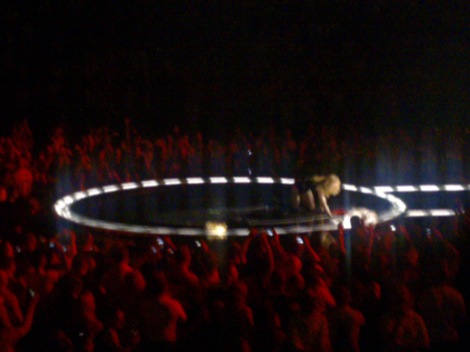 Creeping an a crawlin.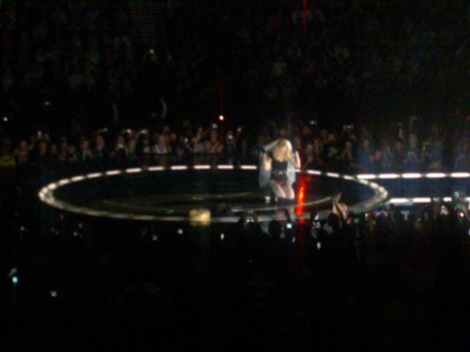 Wedding day Blues.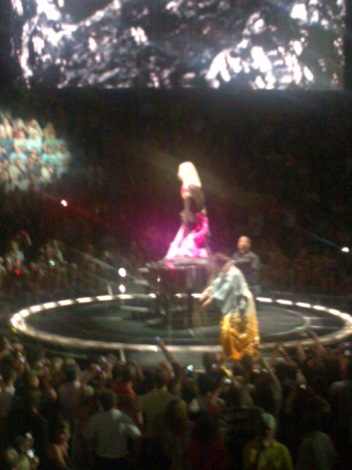 Frozen.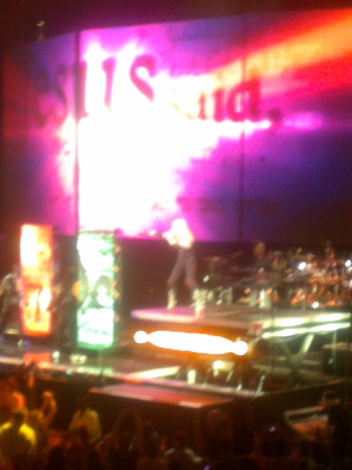 Like A Prayer.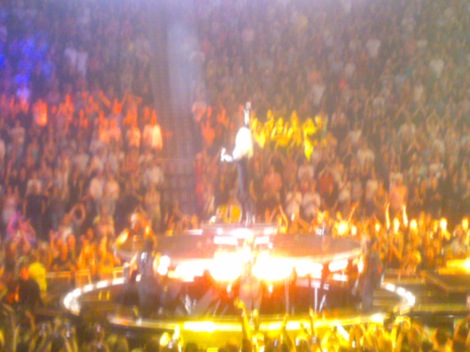 Reach for the stars.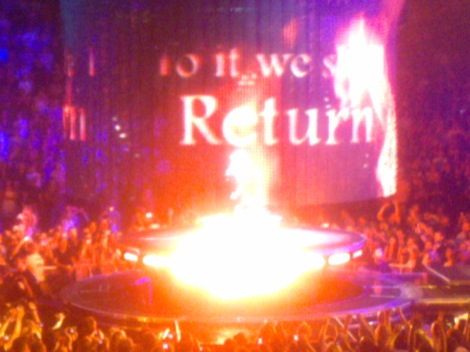 Return of the Madge.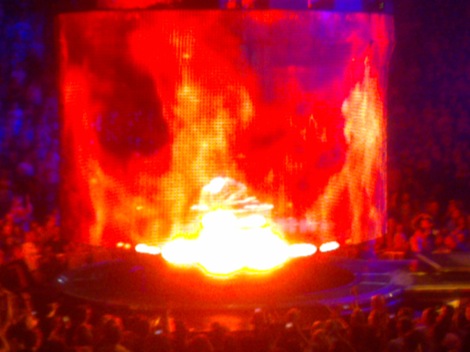 I am the God of Hell Fire, and I bring you…
Comments
comments