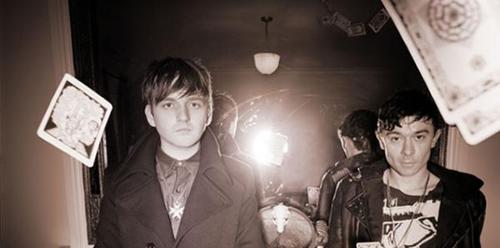 Nick Smith on why Little Boots scoops The Big Pink. Quite frankly I'm appalled…

Little Boots: Remedy – Single of the Week
A choice that's sure to irk many of the Getintothis crowd – not least the Blogger-In-Chief – (yeah, it has, she's awful – Singles Ed) but this is a SINGLES review.
The winner has to actually sound like it's capable of breaking into that thing called the charts if it's still bothering to keep going.
And this certainly does, right from the menacing verses through to a rousing dancefloor-filling chorus. Blackpool rocks! (Oooh, delete that bit!)

Pixie Lott: Boys and Girls
I was hoping for something mind-blowing and interesting enough to distract me from worrying about how skeletal she looks on the cover sleeve. It didn't happen so the message is…eat something, soon!

The Big Pink: Dominoes
If ever a tune deseves to take up permanent residence in your head for the rest of the summer, then this incessant Thompson Twins throwback is surely it.
(Why isn't this single of the Week??? – Singles Ed)

Julian Perretta: Wonder Why
It won't evict The Big Pink from the head space but this kid pulls off the neat trick of being jaunty and quirky but not too annoying. A promising pop act.

Mills: Hello Mellow
Not as bad as the title (of both song and band) suggest.
Okay, so it's Foo Fighting by numbers but sounds fresh enough to suggest a sorely-needed UK anthemic rock band could be lurking on the next corner.
http://www.myspace.com/millsrocks
One EskimO: Givin' Up
A pleasant enough pop melody with the kind of insistent chorus you just can't shake off, as much as you'd like to.

Mika: We Are Golden
"We are not what you think we are…." And he's right.
After all, I thought he was a multi-talented and innovative songwriter with a voice that really didn't make me want to press a power drill into my ears.

Mariachi El Bronx: Cell Mates
The decision by hardcore band The Bronx to set up their own kitsch side project really shouldn't work.
But despite sounding like it could accompany a Strictly Come Dancing routine, the melody and arrangement is classy and understated enough to ensure it does.

Sugababes: Get Sexy
They can be forgiven, after a decade at the top, for running out of ideas, but resorting to this utterly shallow Right Said Fred re-working is unforgiveable. Get sexy? Get stuffed!

Get Back Guinozzi: Low Files Tropical
A strange choice for a single is the initial feeling, but it soon soars from low-fi cod reggae to a supreme summertime chill-out. B-side Police And Thieves is much more instant and memorable.
http://www.myspace.com/getbackguinozzi
Ghostlight: Breathing Underwater
It's not a collaboration between Cherry Ghost and Razorlight, but boy it's certainly whimsically insipid enough to fool you into thinking otherwise.
Twin Atlantic: You're Turning Into John Wayne/ The Vivians: Just Two Girls
The reason they've been lumped together? Just gives more emphasis to the point that the Scots really know how to compose a top guitar tune – although I'd suggest on the stage, rather than on a CD, is where these acts really come to life.


Newton Faulkner: If This Is It
When I saw the title I feared it might be a Huey Lewis cover. By the end I wished it was.
The Toadies: No Deliverance
This striking country rock stomp suggests they could, after 20 years, finally be on the verge of making the album they've always threatened.
http://www.myspace.com/toadies
Noah And The Whale: Blue Skies
If every song you listened to sounded like this, it would take about 10 minutes for you to forget that music even existed.

Comments
comments