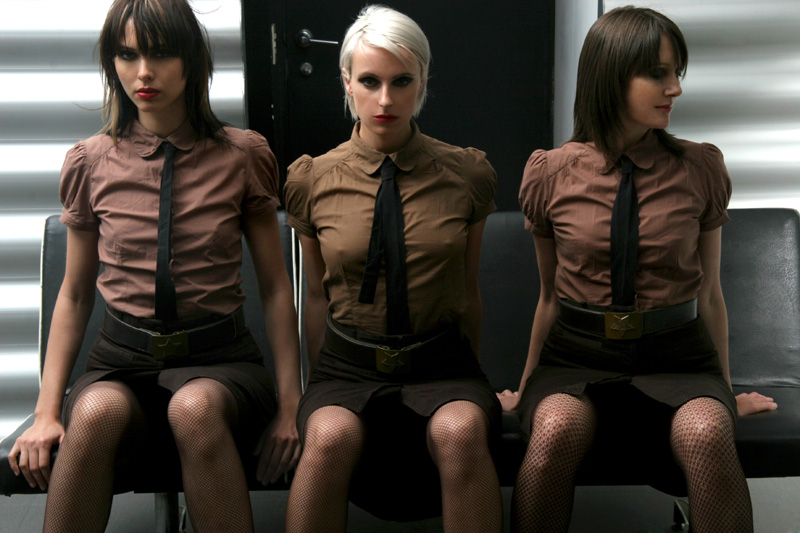 Like Kraftwerk's salacious younger sisters, little wonder Getintothis' Mike Torpey is the latest to show an interest in the Client takeover.

Client: Make Me Believe In You
Kraftwerk founder member Karl Bartos describes Client as his favourite band because they combine music, art and attitude in their own unique way.
Client A, Client B and Client E – aka Kate, Sarah and Emma – actually do a lot more than that.
The combination of electronica, dance beats and the latent femininity they produce is compelling – and when away from the studio they can usually be found arranging parties, planning guerrilla shops and developing the new Client fashion brand.
This single, from fourth album Command, leans alluringly towards the Pet Shop Boys.

Wave Machines: Punk Spirit
Apparently a song dedicated 'to anyone who ever ran away from a fight, then daydreamed an epic victory from the safety of their bed'. That's most of us then.
Cool delivery from the Liverpool lads who round off their UK tour on Friday September 25 at FestEvol @ Academy with Metronomy. Contender for single of the week.

Paramore: Ignorance
Paramore are becoming a seriously big deal across the pond and Hayley Williams can really spit the venom.
There's definitely better than this though – imagine Avril Lavigne screeching The Kooks' See The World and you have Ignorance – on their third album Brand New Eyes.

The Crookes: A Collier's Wife.
The Too Pure Singles Club is back with a belter from Sheffield troupe The Crookes who are more 60s pop than the traditional folk the song's name would suggest. George Waite's voice soars as the guitars jangle.

The Cribs: Cheat On Me.
The arrival of Johnny Marr has raised the bar on The Cribs to deliver on upcoming album Ignore The Ignorant.
No histrionics here then. Just solid meat on the bone guitar work on a driven piece of rock from the Jarman brothers. They play the 02 Academy on September 26.

Steel Panther: Community Property.
More crap from the LA parody glam rock merchants who boast the longest running heavy metal show on Sunset Strip. Ideal interval material for the WWE wrestling.

KOF: Famous.
"When will I, will I be faymmuurs," crooned puke-inducing pretty boys Bros in 1988.
Brave move then for Liverpool hip-hopper KOF to resurrect this slice of disco dross and turn it into a full-on sample-heavy dance track – but then his voice is soulful enough to make anything sound cool.

The Idles: Dirty Rock 'N' Roll.
Hard-rocking groove, as the title suggests, from Liverpool five-piece that's earned a solid fanbase through catchy melodies, hooks and good old fashioned hard work.
Best of this five-song demo recorded locally at Sandhills Studios is anthemic opener Every Day I'm A Rock Star.

Frank Turner: The Road.
Turner's a lad who likes to pour his heart out on stage and for his new album Poetry Of The Deed has tried to capture those shows by using his live band in the recording studio.
This short but candid take underlines his gift as a lyricist. Could be on the brink of something mega.

Jay-Z: Run This Town.
Listeners of the mainstream radio channels will have had this rap 'n soul offering etched indelibly in their brains by now.
Classic Jay-Z, and with vocals from Rihanna and Kanye West production it can hardly fail.

Girls: Lust For Life.
San Francisco duo Girls – who are actually blokes – will have been blown up to a four-piece by the time they arrive at Liverpool's Korova on October 18 as part of their first UK headline tour.
Prepare for an explosion of melodic but frazzled West Coast pop if this belter from their debut album – naffly titled Album – is anything to go by.

Rebel Territory: Clements Road.
Heavy Brit rock from the Derby-based power trio with strong influences of Hendrix, The Who and Fab Four.
Three-song EP Clements Road is a passionate mix of psychedelia, pop and metal with some soaring choruses and a classic opener in Me And You. Word has it they're brilliant live – and want to play in Liverpool.
http://www.myspace.com/rebelterritory
Zero 7: Medicine Man.
Grammy-nominated duo Henry Binns and Sam Hardaker – aka Zero 7 – have a knack of spotting the most soulful singers, and their use of Londoner Eska Mtungwazi on the summery Medicine Man (from upcoming Atlantic album Yeah Ghost) is a masterstroke.

Basement Jaxx: Feelings Gone.
Brixton boys Basement Jaxx need no introduction and this predictably solid floor-filler from new album Scars features Jaxx fan Sam Sparro on guest vocals.

Comments
comments