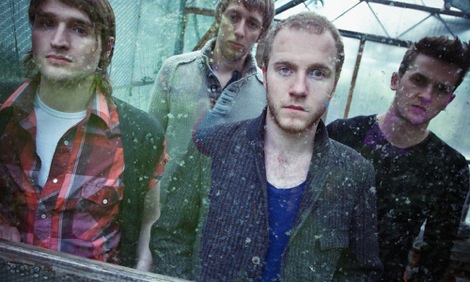 Articulate, witty and downright filthy. Getintothis' Mike Doherty catches up with one of the UK's finest and most intriguing guitar bands.

Wild Beasts had an amazing 2009.
Despite releasing their second album Two Dancers quite late into the year in August, it soon featured in almost every end-of-year album list from the NME, The Fly, the Guardian and anyone else who cared to mention their far-from-straightforward guitar pop in their annual roundup.
It didn't all come from nothing, as it may seem. The band began eight years ago in the small town of Kendal, Cumbria when school friends Hayden Thorpe and Ben Little formed Fauve (French for wild beast), and began writing and gigging in the local area for two years before drummer Chris Talbot joined. A move to Leeds, a name change and the addition of Tom Fleming in 2006 saw them become the Wild Beasts we know today.
They released their debut album Limbo Panto in 2008, which received similar critical praise to its predecessor but it didn't get them instant notoriety like their contemporaries, as singer and co-songwriter Hayden explains: "I suppose our music was never going to be automatic enough to have overnight success. You can only work with what you've got and the advantage of the way we've done it is that you get see a lot. We've learned a lot more going the long way round."
The last time the band played in Liverpool it was for Liverpool Music Week where Hayden less-than-fondly remembers he fell over on his face whilst onstage. We're sat backstage at the Liverpool O2 Academy in a dimly lit room with impossibly high ceilings, having a one to one with the ever smartly dressed Hayden before the band play one of the last shows of their mostly sold-out UK tour.
"I think this is our best tour so far. It feels good to fill venues; it's taken us a good four years to reach this point. We believe in converting people on a real-time basis, face to face, winning them over, the old-fashioned way."

Wild Beasts: Hooting & Howling
These years of conditioning has given Hayden and his band the drive to create and move forward, ensuring they'll never have one of those Second Coming or Chinese Democracy career-eating albums: "The essential thing is for us to enjoy playing together and constantly being driven to creative and write new songs. That's the easy part for us. The part we never have to worry about and we're blessed in that sense. I don't think it's ever reached a point when we were recording the last album that we were looking at each other thinking 'oh God, where do we go now?'"
How does that process work?
[Long pause] "Um we try to be as unpredictable and surprising as we can for each other. We're terrified of getting stale and bored, so we try to be as loose as we can. Often Tom will bring a loose idea of words and a melody to the table. What happens after that is sort of unexplainable and I wouldn't really want to describe it, it's like I'd explain it away."
What's most fascinating about Wild Beasts is their ability to take routine subjects and make them uniquely surreal. It's what sets them apart from their contemporaries, but the density of their lyrics and the impossibly high pitches Hayden and Tom reach also puts them at a (not serious) disadvantage.
You can imagine the average meat-headed Oasis fan howling in confusion and despair at something at something as intricate and momentous as Two Dancers track Underbelly.
Wild Beasts' songs are written from the point of view of characters. Hayden says they work almost like soap opera characters in that the more he gets to know the character, the more he can throw at them with increasingly outrageous consequences.

Wild Beasts: All The King's Men
Do your songs reflect the point of view of these characters?
"I think you've always got to sing from an out-of-body perspective, especially when you want to take mundane subjects and make them sublime and interesting to listen to. [The thing with soap operas is] they're reflecting everyday life so they should be boring, but they're not, they're fascinating."
So you don't base you character on yourself?
"Absolutely, yes. Because Hayden from Wild Beasts is not Hayden sat at home watching the telly. You can step into a world where you can do things that you wouldn't otherwise do and say things you wouldn't otherwise say."
He qualifies this, perhaps as not to sound pretentious; "although I feel really bad about talking about myself in the third person!"
Really, he shouldn't worry about this. If the popular music scene is lacking anything, it's a well-spoken, articulate auteur, with ideas above wearing the same jeans for four days in a row.
"Character-wise, it's more like [how]Bob Dylan is a character, he sings as a character but from his own perspective; Morrissey is a character; Leonard Cohen is a character. It allows you to be a larger-than-life version of yourself."
The fact that Wild Beasts don't compare to any other current band speaks volumes about their music, and puts them in a league of their own.
So what's next for Wild Beasts? Hayden is frustratingly coy about new material, but they've earmarked the autumn to work on new songs, but they haven't been playing anything new on this tour.
"We've got to keep it sacred. We want to work at it ourselves before we go public. We've been touring for a year non-stop so we haven't had a chance to properly whittle down the ideas. I always enjoy the sense of anticipation; my favourite artists are careful and don't spoil the surprise."
Let them do it when they're ready…
"Exactly, and that makes it all the sweeter rather than getting it bit-by-bit and being able to play the guessing game."
With any luck, their next album will be out next year, however nothing is set in stone. One thing's for sure – 2011 will probably be their year all over again.
http://www.myspace.com/wildbeasts
Comments
comments