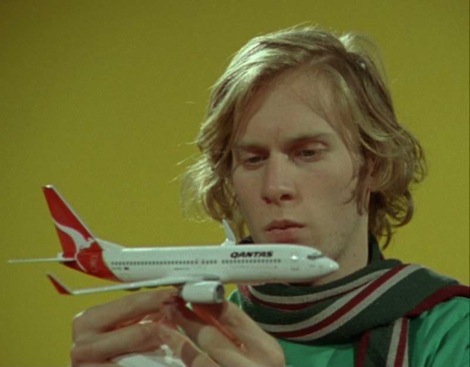 Sound and Music present some scary shizzle. Bring your reinforced underwear.

As part of this year's Liverpool Sound City festival Sound and Music presents a programme of performance and exhibition bringing together a group of UK artists who explore and skew narratives, use and abuse quotations, and draw on a wide range of references from popular culture and beyond. Their work plays with our real and imaginary pasts through the manipulation of contexts, sound, video, found objects and stories.
Sound and Music's programme is in two parts:
Performance – A concert at Liverpool's Static Gallery featuring celebrated collage artist People Like Us, plunderphonic duo Position Normal and far out electro-medievalist The Pony Harvest.
Installation – Sound and Music have commissioned a new sound installation by Liverpool artist Paul Rooney. This new work, titled McKenzie, explores the legend of a local gambler who made a pact with the devil: his eternal soul for a winning poker hand.
Sound and Music in concert
Static Gallery, 23 Roscoe Street, L1 9JD
20/5/10
7pm
People Like Us – Genre Collage
Genre Collage is a new live set by People Like Us that uses edited selections from well know feature films to create a multilayered audio visual experience ranging from the sublime to the ridiculous. A collision of iconic moments from action, adventure, comedy, crime/gangster, drama, epics/historical, horror, musicals, science fiction, war and westerns, People Like Us have created a humorous and entertaining take on the mainstream cinema.
Since 1991 British artist Vicki Bennett (aka People Like Us) has been an influential figure in the field of audio visual collage, through her innovative sampling, appropriating and cutting up of found footage and archives. Using collage as her main form of expression, she creates audio recordings, films and radio shows that communicate a humorous, dark and often surreal view on life.
People Like Us have previously shown work at Tate Modern, Sydney Opera House, Pompidou Centre and Sonar, and performed radio sessions for John Peel and Mixing It. The ongoing sound art radio show 'Do or DIY' on WFMU has had over three quarters of a million hits since 2003.
www.peoplelikeus.org
Position Normal
Position Normal are a collage of instruments, sounds and field recordings with British sounding Sunday afternoon melodies, memories and dark nightmares.
"The Godfather of Hauntology is back" Simon Reynolds
"Des bricoleurs anglais de génie invetent un folk mutant a base de samples et de casseroles" Inrockuptibles
"Astonishingly obscure English oddballs" NME
"Expertly stitched together" DJ Mag
"This is intensely disquieting stuff" Uncut
"Unassuming, hugely inventive and endearingly neurotic" Muzik
www.positionnormal.com
The Pony Harvest
"Kind of like a musical journey through the mind of a badger, mere seconds before it is mown down by a Range Rover speeding around a sharp bend in a country lane" (Racing Post), The Pony Harvest is the "organica-electronica" project of 29-year old librarian-about-town and car boot sale-scavenger Richard Bradley.
Fascinated with sound from an early age, those difficult teenage years were spent manipulating BBC sound effects LPs on a battered up record player to create whole new worlds of sound. Think one part Brian Eno to two parts Spike Milligan.
www.myspace.com/ponyharvest
DJs
Strcprstskrzkrk (Hive Collective), Igor Hax (Sound Network / Privatelektro.de)
Sound and Music commission
Paul Rooney – McKenzie
St. Andrew's Church, Rodney Street, 16:00 – 19:00, 19 – 22 May
This new sound work is inspired by a local Liverpool legend about William McKenzie, a gambler who is said to have made a pact with the devil to ensure a winning hand in a poker game. Worried that the devil would claim him if he was entombed underground, he left instructions that he was not to be buried, but instead encased in a pyramid, sat upright at a card table, with a winning hand of cards. This tomb still stands in a derelict graveyard on Rodney Street.
Paul Rooney is a Liverpool based artist who works with text, sound, and video. After a successful between 1997 and 2000 working on the 'Rooney' CDs and performances, Paul broadened the scope of his work, moving the emphasis towards video, sound and narrative. His practice focuses upon narrative approaches to time based media – his work is distinctive in its highly developed approach to sound. Taking the quotidian as a rich source of inspiration,
Rooney's work amplifies hidden histories within everyday contexts.
Rooney is a prolific artist with an extensive track record of worldwide exhibitions, residencies and fellowships. He has presented solo projects with Ikon Gallery, Birmingham, Cornerhouse, Manchester and Cubitt Gallery, London. Rooney also curated 'Pass the Time of Day' in 2004-05, with Gasworks Gallery, London; Angel Row, Nottingham; Castlefield Gallery, Manchester; and Collective Gallery, Edinburgh.
Notable recent group exhibitions include 'Let Me Take You There' at Site Gallery, Sheffield and Bluecoat Gallery, Liverpool (2003-2004); 'British Art Show 6' at BALTIC in 2005; and 'Single Shot' at Tate Britain (2006). He has contributed texts to numerous publications, including a short story recently published by prestigious literary publisher Serpent's Tail. Rooney's work has been the subject of a great deal of discussion within both the national and specialist art and music press. He was the winner of the second Northern Art Prize in 2008.
Comments
comments