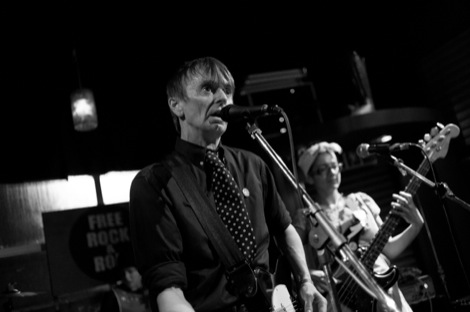 Liza Williams on aggro and a mini slice of panto from that iconic frontman and his band, The Fall.

A distorted close up of Barbara Striesand's mouth was not how I expected my first live The Fall experience to begin, but it was apt.
After the gay icon had turned into a seven-year-old Michael Jackson on a screen at the back of Academy 2, the band graced our stage in front of a vision of fat Elvis, minus lynchpin Mark E Smith.
The band's only constant member since its interception in the late 70s wandered on nonchalantly minutes later, to the crashing opening of O.F.Y.C. Showcase.
He wanted to keep us waiting, but didn't need to try hard to summon the crowd to his beck and call, and new tracks like Hot Cake went down well.
The brilliantly-named Pete Bentham and the Dinner Ladies had warmed up the crowd prior to Smith's entrance, and the main support act, Gabrielle's Wish, did not strayed from the formula.
They sounded, well, like The Fall – but were trying to get a reaction. Their use of British film and TV samples was effective, and frontman Robert Corless was animated to the extreme.
The Manchester five piece didn't let up, continually belting out the tracks with vigor. But it was a Wednesday, and the crowd weren't drunk enough to mimick the on stage antics. Maybe that's why frontman Corless gave the Vs to the crowd at the end, or maybe it was just part of the show.
Smith did not employ any such techniques, at times he just strolled across the stage fiddling with microphones and amp buttons while the rest of the band got on with it.
But all the eyes were on him throughout. It was a joy to see such a legendary band in a venue so small.
Picture courtesy of Mark McNulty.
Comments
comments