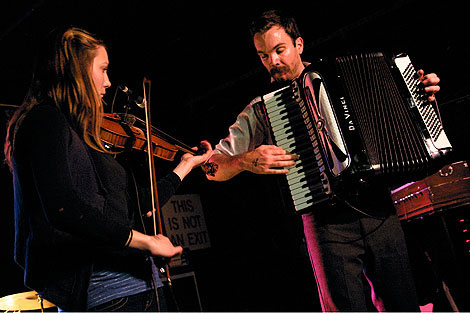 Former Neutral Milk Hotel dude combines frenzied frugging up the Danube jazz-folk and a liberal use of the f-word. Getintothis' Jamie Bowman hangs on to his every expletive.

To say A Hawk And A Hacksaw are a slightly unconventional group is like saying July has been a little wet.
Formed by charismatic ex-drummer with US underground legends Neutral Milk Hotel, Jeremy Barnes, along with violinist and Barnes' better half Heather Trost, the duo have developed a sound which has uniquely linked the Balkan folk traditions of Hungary and Romania with the mariachi traditions of Barnes' native New Mexico.
If that sounds like an idea born from an unhealthy obsession with Andy Kershaw and the WOMAD Festival, than don't despair as live the group are a complete riot, creating a complex but hugely invigorating melange of sound incorporating accordion, fiddle and bongos that makes it feel like you've wandered into some bizarre gypsy circus and will soon be witnessing a sword swallower or at the very least a dancing bear.
To see a packed venue beginning to discover their inner Cossack is certainly an invigorating experience and AHAAH play to the crowd with a succession of stunning solos, each cheered in true jazz style.
Thankfully it is not all frenzied frugging along the Danube and it's on tonight's more melancholic moments that violinist Trost comes into her own as she plucks and teases all manner of strange and yearning sounds from her instrument, including at one point a beautiful interlude where she tugs at a single broken string pulled tight from the violin bridge to create a deeply affecting and moving lament.
AHAAH's use of trumpet is also clever and affecting, the mournful notes brining to mind the vast expanses of Sergio Leonie's Spaghetti Westerns and Ennio Morricone's famous attendant scores in an as perfect an evocation of New World and Old Europe as the maestro's own Once Upon A Time In America soundtrack.
So good is the music it makes the rather strange behaviour of Jeremy Barnes all the more incongruous. Perhaps it was his frankly odd spell working as a postman in Leicester, but Barnes does not seem to like the British much, and he spends much of the gig berating us for our love of smoking, drinking and takeaways, while at one point a heckler and even a photographer are told in no uncertain terms to 'f*ck off'.
It's an odd display but then again perhaps it is just one of the many oddities and contrast that make this wonderful group so compelling.
Comments
comments