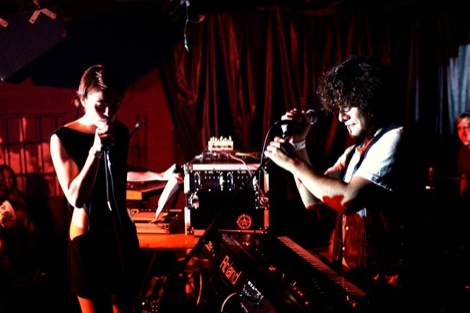 Tales of the unexpected.

Must be a real bitch doing this music lark now. Don't get me wrong, I'm not sticking up for them, in fact I'm wholly envious of the position of the ahhteest; all freewheelin', liberally pop-pop posturin' their way across the lengths and breadths of these here dives.
But there's an 80 per cent disappointment ratio in terms of expectation, demand and fulfilment – it's something that's always been there – but nowadays unless you're close to phenom you're on to a loser in terms of delivering what the hype machine dictates.
Worse still, no-one shows and no-one cares despite the fanfare. Saturation on arrival has never been more worrying.
Tonight, unlike their gig in Manchester which heralded a reported mass hysteric, Liverpool doesn't deliver the 84 attendees – not nearly the 136 maybes – the Facebook event page suggests; instead there's around 50: devotees, curios, fanboys, blaggers, reviewers and two overtly homosexual beards who guzzle sweat and Red Stripe off each others necks as Neon Indian roll up for the first time in Liverpool.
Before them Mancunians Run Toto Run endear in a softly, softly dazzle as layers of pulsing electro pads rebound amid Rachael Kichenside's glacial breathy delivery. It's understated and Kichenside's toy robot slowly running out of battery routine – all slow, pointed jerks – makes for a beguiling watch. Imagine Imogen Heap injected with a dose of the sinister.
Yet starters are slow for our Texan headliners and preconceptions of this being purely Alan Palamo's pony suggest the band are merely window dressing for a wash of synths and nob-twiddling – all denim posturing, mouthed vocals which are all but non-existent and only the odd hollow thud from Jason Faries kit transcends beyond the ordinary.
Hitherto, it's been a painful Sunday, spent dry throated in a windowless office, attending to such delights as editing non league football, re-living a dire Everton display and designing a page which involved cutting round a rugby league player's crotch, the last thing we needed was spending our evening watching another interweb charlatan cooped up in the Shipping Forecast's Hold sweating out our last salty water ooze.
Yet, something happens – something magical – which kicks the whole night into gear – maybe it's the sudden injection of the little-used bass, maybe it's Ronald Gierhart's intricate ickle fret-work or maybe it's just the spring in Leanne Macomber's tambourine-assisted step, but expectations of what Neon Indian are all about change considerably.
Gone is this concept of washes and fractured, ambient drone. In its place is a strident, bubbling pop monster with clinical edges, finesse and a brutally sexual hook. What was indistinct becomes very much alive and instant, albeit psychedelic and wrapped up in fuzz and drizzly beats. Mind, Drips pangs and squelches while Terminally Chill recalls an 80s gameshow theme tune which radiates smiley silliness.
What separates, and indeed builds on the expectations of the hype, is essentially the band – tight, hot and fun.
Gierhart – an Omar Rodriguez that's just survived a shrinking on the high heat cycle – pulls off as impressive feet manoeuvres as his dexterous six-string attack, Macomber works the keys like it's her client paying by the hour and Faries – the understated gem – keeps it slamming with deft metronomic flicks.
By the time Ephermeral Artery drops like a wrecking ball of funk our soul implores the body to groove but we dare not for fear of skin removal in this microwave-heat-induced-testicle-glued-to-inner-thigh situatuon which could well have resulted in moves these walls haven't dared imagine.
Just to emphasise the difference of Neon Indian the recording artist and Neon Indian the band, Palamo and co wrap up with a two-part cosmic jam; as rockist as it is pop – a complete aside to anything laid down on plastic – loud, loaded with dynamic verve and explosive power.
Great expectations can often lead to great disappointments, Neon Indian didn't deliver on any promise, they simply delivered something completely unexpected – and all the better for it.
Comments
comments