The Skins brigade may provide a less chilled Deer Park, but Getintothis' Luke Traynor still finds plenty to dazzle the senses at Big Chill 2010.

'What do you mean?', Thom Yorke enquires of us. 'This is a GOOD haircut', raising a hand to the unkempt swathey mane on his goblin-like features.
It's an almost surprising moment of jollity from the Radiohead frontman who appears in rare good spirits during his 60-minute slot on the Deer Park Stage at The Big Chill on Friday night.
It's difficult to predict if Yorke's set will go down well, but material from his latest solo project Eraser hits the spot, moving from funky guitar playing to trademark tender piano work in a one man show.
Planet Telex from The Bends, Airbag from Ok Computer and Everything In Its Right Place from Kid A are all dropped in at opportune moments and we're all largely pretty happy with the Oxford kid.
He's preceded by headliners Massive Attack, who draw a massive crowd (the clash with the Mystery Jets on another stage was extremely unfortunate) who slowly crank up the mood with a slow, churning, gradually hypnotic set that showcases an exposed Teardrop from Martina Topley Bird, and a menacing Angel.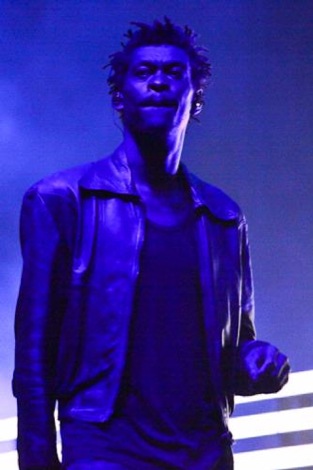 Massive Attack
Unfinished Sympathy finishes a largely strong 90 minute blast, but it's a wonderful Safe From Harm that steals the show.
Elsewhere on Friday, it's a strong Main Stage line-up which means we don't have to stray too far.
Explosions In The Sky perhaps lose their ability to overwhelm with thier soundscapes in these open air surroundings, but Mike Patton's Mondo Cane Italian rock opera really does hit the spot.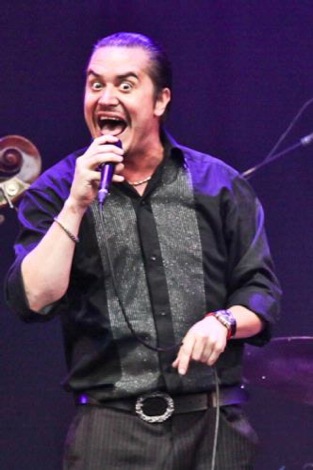 Mike Patton
The former Faith No More frontman is accompanied by the doughty Heritage Orchestra and dressed in a slick suit, he croons through the pop classics of the Italian 50s and 60s era.
It's a million miles from the times when the Patton used to slurp piss from his Dr Martens and defecate in hand driers as he coaxes stirring sounds from his lead violinists while barring his teeth like a caged animal while he performs.
His voice is truly second to none, and it's transfixing viewing as he uses his whole vocal range to knock his audience for six. Deep Deep Down is a highlight which sounds as smooth as Cadburys milk chocolate, without the nuts.
If Massive Attack's headline slot on Friday is impressively slick, M.I.A presence on the Main Stage by contrast on Saturday is eye-openingly wayward.
There's little cohesion to her tribal-like ramblings and the large throng gathered understandably don't appear to get it.
The set ends in confusion. The sound appears to fail at the 60 minute mark, spluttering back into action minutes later.
Next, MIA announces her most recognisable hit – Paper Planes – while inviting members of the audience to join her on stage.
But what maybe should have been merely a handful turned into 200 postulating teenagers, climbing on amps, packing the stage from end to end.
It was, admittedly, quite an impressive sight. But M.I.A got lost in the mix somewhere, and for health and safety reasons, she didn't come out for the remainder of her performance, cutting us short by around 25 minutes.
It was all a little farcical.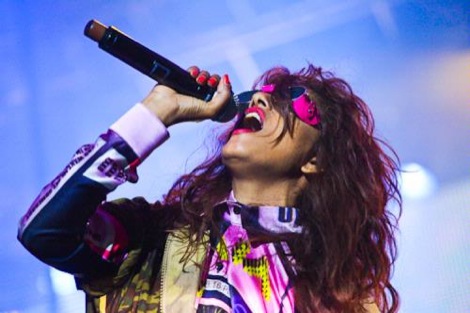 MIA
Much more satisfying was a high octane showing from Plan B in the Revellers Tent, and before that, a highly polished hour from a radiant Kelis, concluding with the infectious disco of Acapella.
Earlier in the day, Craig Charles Fantasy Funk Band is all-out fun and smiles while The Leisure Society's folksy strummings are perfect Saturday lazing fare.
Lily Allen rocks into town on Sunday, visibly dressed down in lumberjack shirt following the recent announcement of her pregnancy.
She's in giggly schoolgirl mood, and quite playful with it, poking fun at Lady Gaga with gags about penises which has been predictably seized upon by the tabloids.
It's good singalong stuff, with most hits represented, but at times her music does seem a touch Children's TV, with bouncy chorus lines that seemed pulled from 3.30pm on a Tuesday afternoon, rather than the intelligent music that seasoned Chillers demand.
Bonobo, appearing at the same time on the Clash Stage, is a much more mature offering while Roy Ayers, the Los Angles funk and soul veteran, plays slow and seductive poppy jazz from his 50-year career to provide a real Sunday highlight.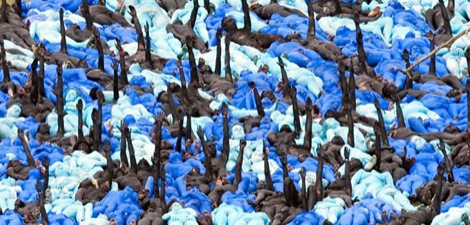 Spencer Tunick's installation
A lot had changed about the festival this year. It was The Big Chill, but not as we knew it.
That was cry from many seasoned Eastnor goers wandering around the Herefordshire site late on Thursday afternoon, observing the changes, the growth, the younger, sprightlier clientele, the new look Big Chill.
This time, the fun kicked off on the Thursday night. No more is the pre-festival evening a casual pint while nodding to a solitary DJ playing at the top of the Deer Park Stage until people head for bed at midnight.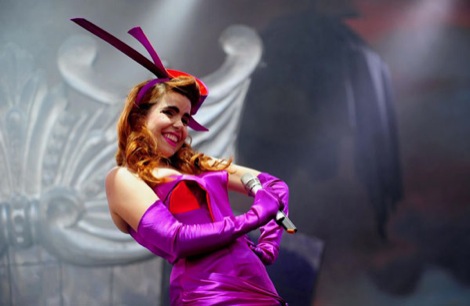 Paloma Faith
Lack Of Afro kicked things off in great style on the new Lazyland stage, a truly cracking addition, situated in a green copse at an almost unreachable corner of the Enchanted Garden.
But The Chill did feel unmistakebly younger with significant numbers of the 16-18-year-old brigade populating the festival.
The 'Skins kids' as we dubbed them – good-looking, hugely energetic, slightly over-exuberant – were often at the heart of the action, and at the front of the crowds.
But away from the biggest throngs were the best highlights.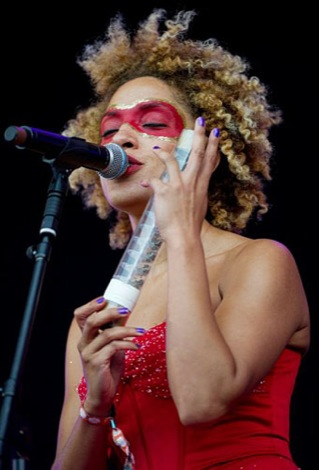 Martina Topley-Bird
Latin funk band Wara oozed sex in the Global Tent while Greg Wilson, who made his name during the electro scene in Manchester in the 1980s, played a wonderfully blissed out set on Sunday as the sun dip over the horizon.
We finished our festival in madcap fashion with Danish/Serbian amalgam Tako Lako, who can be best described as trashy Balkan gypsy dance rock.
Ilie Nastase lookalike lead singer Ognjen Curcic is the consummate madman performer, screaming at his amused and entranced audience.
'Enough of this bullshit! We come back next year, and play bigger stage!? YA?!'
And after being informed at 3.30am that time has defeated their wish to sell £5 signed albums, Ognjen turns to us like a caged animal, blazing eyes, and declares: 'Free CDs for all!', before hurling 30 spheres into a desperate crowd.
Comments
comments