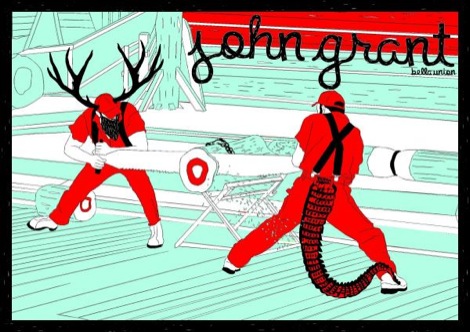 John Grant, Candie Payne, Static Gallery, free tickets. All these words sound good? Get involved.

HEY! Thanks for clicking inside this here box. Kinda suspected you would, but with the gig being on a Thursday and all those distractions we couldn't be too certain.
Specially with the likes of Channel 5's Europe's Super Port: Megastructures being blitzed into everyone's living room's at 7pm… Or how about the lure of C4's Hotel Inspector were some snazzy Italian bint offers decor advice to a joint in Chertsey?
Ahh, the televisual treats, they just keep a'coming. How come everybody doesn't just stay in…
Questions for another time – you want free passes for this bonza Bella Union showcase staring everybody's favourite suicidal show queen John Grant and Resurrection's number one clothes assistant Candie Payne – we hear she's some new project in the offing so even more reason to amble on up the hill to Static. Or down, should you be coming from Toxteth.
To win add Getintothis on Twitter and tell us which actress gets a track named after her on John's latest record Queen Of Denmark. Winners announced Thursday on Twitter.

The gig comes in association with Getintothis' good friends at Harvest Sun, here's their jibber jabber. Like you need anymore convincing…
'Everyone has a favourite band or singer they reckon is subject to criminal neglect. That John Grant's effortlessly rich, expansive baritone, couched in typically heartbreaking, lush melody, hasn't found a wider audience indeed drives his fans to consider a crime. But no longer. Because Grant's first solo album, with backing band treatment from Midlake, Queen of Denmark, following three undervalued studio albums (and one similar covers compilation) fronting The Czars, is so undeniably great that the world will surely listen.'
http://www.myspace.com/johnwilliamgrant

'Candie Payne will be showcasing songs from her new project The Big House, as well as a few oldies. She recently got a massive thumbs up for her recent show at St Brides Church.'

http://www.myspace.com/candiepayne
Before, during and after the show, music will come in the shape and form of the Harvest Sun Playlist.
Details: £10 advance, 8pm, Static Gallery, Roscoe Lane, Thursday August 19.
Tickets: here or in person from Probe Records, School Lane
Harvest Sun Promotions.
Comments
comments