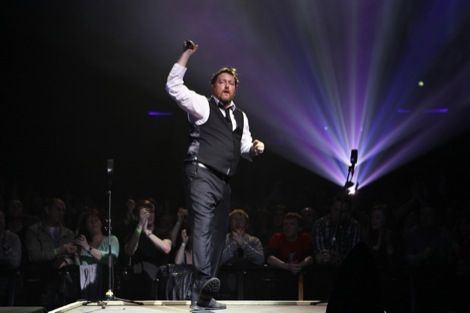 The underdogs complete their transformation into the Band of the People. But at what cost?

'Seven out of ten,' we said in unison upon walking out into the crisp Spring night air of Liverpool.
Yup, Elbow have always been a seven, or thereabouts, type of band.
Sometimes they flex their musical muscle or Guy Garvey unleashes a turn of phrase so wonderfully incisive you're knocked for six but only then do emotions escalate into the eights – let's not get too carried away here.
But for the most part Elbow are a solidly reliable, comfortably dependable, yet rarely jaw-droppingly dazzling, ear companion.
And tonight, despite large portions of the ECHO Arena uniting in one giant scene from Songs of Praise set down the local boozer, Garvey's gang fulfil their function – performing functional rock music, albeit, very well indeed.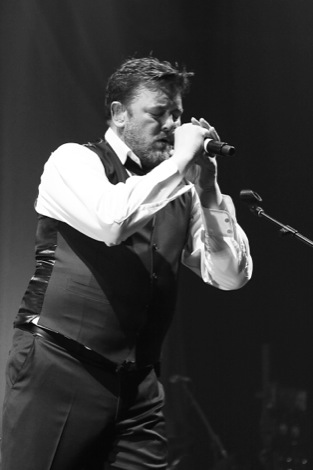 Of course there is one notable factor which makes Elbow a band worth sticking with: Guy Garvey himself.
And perhaps readying himself for a U2 support slot at Glastonbury, Garvey has imported his own Bono-shaped walkway to entertain in ways which are anything but functional.
Whether it be regaling character-driven vignettes, brief socio-political posers, updating 'news' from the Elbow Digest (bassist Pete Turner has become a father, the teddy bear-like vocalist informs us), repeatedly chatting with sections of the crowd like they're reunited old school friends or – in a moment most fitting that of a band intent on extending their stadium appeal – the frontman transforms a small piano, positioned at end of his runway, into a cocktail bar before concocting 'A Garvey Wallbanger' and handing out a glass to one lucky punter.
A showman, raconteur and natural entertainer, Garvey is at home and in his element – and it's telling that it's his personality which lives long in the memory, not his band's music, as the evening draws to a close.
The reasons are clear.
For all their technical nous (Craig Potter's transformation from keyboardist to uber-producer is remarkable – check the astounding detail on new record Build A Rocket Boys! and Mercury Prize winning The Seldom Seen Kid) and understated yet refined musicianship they have but two song formulas.
The lyrically-led Garvey slowie and the lush, string section-adorned rock gospel number. Ok, at a push they have two and half – a token stomper.
While opener Birds, Lippy Kids, a particularly beautific Mirrorball and the always dramatic, trumpet-assisted Starlings are all grand, their lesser slowie cousins – notably Some Riot and Great Expectations – simply cannot compete and such is the vast wave of melancholy it's easy for this reflective tone to simply lapse into, well, boredom.
It takes a whole five songs, and nearly half an hour, for our first BIG HITTER, as With Love employs all the dramatic boom of the Arena's acoustics to the full. The combination of the visuals, Garvey striding up and down his platform like Henry VIII on blow and the massive orchestration is stunning.
Yet this trick isn't repeated once, twice but three times throughout – and come seasoned closer One Day Like This it's hard not to feel like you're experiencing Last of the Indie Proms deja vu.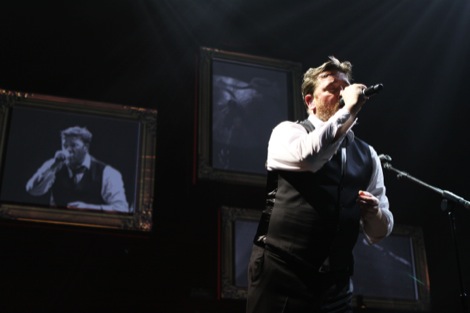 That said, make no mistake, Elbow are no Chris Martin Band, and lazy universal shoddiness isn't their style.
A storming Grounds For Divorce and track of the evening, the heart-tugger The Night Will Always Win, remind you of what they're capable of delivering.
Poignantly, it also reminds you of what type of band they were on debut Asleep In The Back – dark, reflective but also versatile. It's notable no tracks are played from that troubled, yet creatively superb, early period.
Today, as the mass singalongs suggest, they're an adopted Band of the People.
But in among the hoards of satisfied people streaming away from the Arena, it's hard not to feel just ok. 'Seven,' she repeats. Before looking up at the magnificent luminous big white wheel dazzling in the darkness over the city's waterfront, and says: 'Now, that's what I call a nine out of ten.'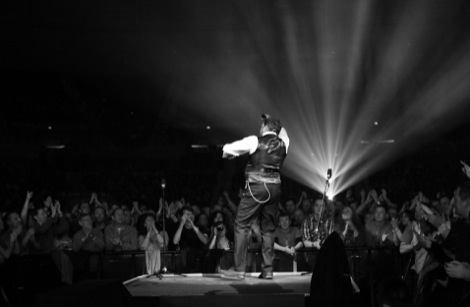 Setlist:
The Birds
The Bones of You
Lippy Kids
Mirrorball
With Love
Neat Little Rows
The Night Will Always Win
Great Expectations
Grounds for Divorce
The Loneliness of a Tower Crane Driver
Puncture Repair
Some Riot
Weather To Fly
Open Arms
Encore:
Starlings
Station Approach
One Day Like This
Just a wee footnote on Villagers, a band I missed during Liverpool Music Week, but were raved about on these pages – and on this evidence justifiably so.
So quite, yet so loud, Conor O'Brien's subtle yet grandiose alt-folk has you straining your lug holes over every whisper and flick of nylon strings.
For 30 minutes the entire sold out Liverpool enormadome hardly flickered struck by The Villagers haunting winning vision.
Pictures courtesy of Conor McDonnell.
Comments
comments