Q) How many guitarists does it take to bring a tear to the eye? A) 18. Rhys Chatham and his Liverpool guitar orchestra bring New York noise to the Bluecoat.

It's fair to say I'd heard of, but heard little, of Rhys Chatham prior to Saturday's Bluecoat happening.
Save for a spattering on an old New York Noise compilation, my Chatham education was lacking, but come home time, my appetite for more from this astonishing maverick from the no wave scene of the mid-70s approached ravenous.
The scene was set early doors; banks of amps lay strewn across the small theatre, lined up like a miniature Sunn O))) show, before one Bluecoat staffer handed us ear-plugs and ex-Dire Wolfe vocalist Joe Wills passed questionnaires relating to deafness brought on by loud live music.
As if to further nail home what we were about to witness, Chatham enters – complete with wide-rimmed black fedora, like a sprightly version of Gunther von Hagens – announcing in a broken whisper that he struggles to speak loudly due to shouting instructions over his large and very loud ensembles. That he's almost completely deaf goes without saying.
And then we're off. Literally taking off. As eight guitarists plucked from across the Liverpool music scene launch into Chatham's 1982 composition Die Donnergotter – or The Thundergods – named after an overawed German critic's description of the piece when originally performed back in the 80s.
What begins as a steady, almost not-there series of plucked notes builds and builds and builds again into an oceansized wave of sonic bluster these ears haven't ever experienced.
It wasn't loud – in the kind of visceral explosive way, of say Mogwai, Boris, My Bloody Valentine, Oren Ambarchi or the aforementioned Sunn O))) – but loud in a propulsive, chiming, heavenly progressive movement which was transportive in its textures – sucking you in, and holding you tight.
Ambient, but far from that of an Eno sound collage – more harking back to the tones employed so beautifully by Michael Rother or the Kosmische Musik of Popol Vuh's Daniel Fichelscher.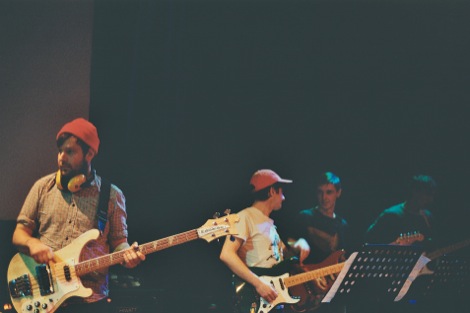 In among the whirling vortex, stood centre stage, is Chatham.
Flanked by six guitarists either side plus Hot Club de Paris' Paul Rafferty (bass) and Alasdair Smith (drums) expertly keeping things in check, it truly is a feast for the senses.
As your eyes trip along the cast of musicians you can't help but be drawn back to Chatham, who conducts like his life depends on it.
Hugging his chest, waving frantically, casting his scarf to the ground and beaming a wide-open mouthed smile – it's obvious he's as caught up in the track as those in the Bluecoat's gallery.
The orchestration is precise – and so it needs to be, for over 20 minutes the musicians weave their spell.
To Chatham's right the guitarists largely hold a tight rhythmic balance while to his left a towering display of virtuosity is played out as one by one solo after solo is poured out like liquid gold.
The concentration maximum, the effect hypnotic brilliance and when it collapses to a close the Bluecoat is left in no doubt they've witnessed something truly remarkable.
Sadly, and almost inevitably, what follows can't quite match up. A similar set-up sees another large guitar ensemble reimagine his Guitar Trio piece (a long ambient, repetitive strum in the key of E) as Rhys joins in battering his guitar hoping to evoke a 'chorus of voices'.
An exercise in improved noise, it's again hypnotic and for the most part fascinating but contains little of the change of pace, direction or ultimately the thrill of Die Donnergotter.
The trick is once again repeated after a short interval, and improved all the more with the addition of a full kit (the previous improv saw Chatham instruct only the hi-hat be used, again harking back to its original rendition) before the evening is brought to a spectacular close as all 18 musicians join as one in the shortest, punkiest and most frenetic piece of the evening, clattering their axes to oblivion as Rhys climbs the gallery's stairs, throws himself to his knees and raises his arms in triumph. And so he might.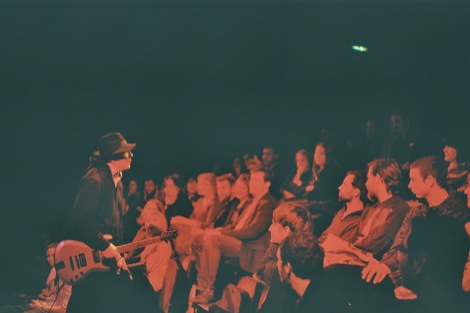 To cap a glorious evening, a.P.A.t.T. marked the next chapter of their musical discovery with what could be called their 'black period' unveiling a 20 minute synthesizer-led composition.
True to form it scaled all manner of terrain from chaotic heavy metal bluster, Goblin-inspired synth-prog, whacked out spacerock, funky pop and even a bit of honky-tonk.
But what made the piece all the more fascinating was figuring out how the quartet recreated traditional instruments – drums, violin, piano, guitar, bass, you name it – via the medium of the synth – and combined the whole arrangement to such dramatic, yet nevertheless fun effect.
A one-off, which reinforced the belief that missing any a.P.A.t.T. spectacular as criminal, much like the main event itself.

Rhys Chatham: Die Donnergötter (The Thundergods) (edit).
Rhys Chatham talking at Leaf, Bold Street.
Die Donnergotter line up featured:
George Maund (of Mother Earth)
Nick Hunt (Outfit)
Andy Hunt (Outfit)
Pete Broom (SSS)
Alasdair Smith (HCdP)
Matthew Smith (HCdP)
Paul Rafferty (HCdP)
John McGrath (Specific Ocean)
Guitar Trio featured:
Led by John McGrath.
Drums by Sam Weihl (Spitting Cobra / Burneverything)
Featuring students from the University of Liverpool plus Jon Davies and Luke Byrne Perkins.
Thanks to Andrew Ellis for contributing the musician line-up and Joe Wills for photographic stills. Photography gallery to follow.
Comments
comments