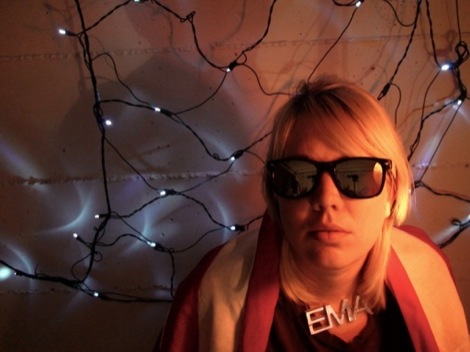 So last week, I went on holiday. It was marvellous; great white hunting in Shark Alley, Gansbaai, South Africa before calming down on the sands of Bondi Beach. What fun we had. Suffice to say, there wasn't much time for Getintothis jibber jabber… Anyways, back in the groove now and kicking off with Alistair Houghton's slightly out of date, but nevertheless BRILLIANT Singles Column. He really is brilliant.

EMA: Grey Ship/Kind Heart – Single of the Week
Ambition, as Adam Ant, didn't sing, is nothing to be scared of. So why shouldn't former Gowns member EMA – South Dakotan Erika M Anderson – release a two-part seven-minuter devoted to "the Viking ships of her ancestors" as her debut?
Great stuff, dropping from the low-fi first half to the richly textured "I hear a symphony" guitar noise mid-section afore a folky fade.
And why not back that with a 16-minute Robert Johnson cover where you try to "channel the entire history of rock'n'roll" by cruising from simple strum to feedback freakout and back again?
Epic, brilliant.

Ivyrise: Line Up The Stars
Hello? Is that MTV's Jersey Shore? Well, you know that scene you have three times an episode where one orange person shouts inarticulately at another and then looks dumbly regretful over an soft rock soundtrack? Well, I've got a contender…

The Death Set: We Are Going Anywhere Man
In, defiant thrash, pause, defiant punky thrash, repeat most effectively til fade. Made me think of a snotty teenage BRMC, and that's a good thing fo me. There's a more wistful noise on the accompanying I Miss You Beau Velasco – a tribute to their guitarist founder who died in 2009.

Wolf Gang: Dancing With The Devil
A Dave Fridmann production, words like "suave panache" and "heart-throttling melodies" in the bumf led me to predict some sort of a hipster Flaming Lips.
But no, it's big and pounding and sparkly, yes, and there's a touch of Bowie or Roxy Music, but there's also more than a little Scissor Sisters about it. And what's wrong with big pop sometimes?

Josh T Pearson : Country Dumb (piano version edit)
Mournfully brilliant solo country fare from the non-too-prolific man behind John Peel favourites Lift to Experience.
It's lifted from dry sparseness by Dustin O'Halloran's gentle piano backing, bringing light into the gloom.
"We are failures, each and every one," intones Josh T. Not him, though, on this bleakly memorable evidence that reeks of Texas loneliness.

Audio City: Run To You
http://www.myspace.com/audiocity2010
Scouse hip hop soul with a backing that's somewhere between Plan B and Jamiroquai.
Catchy enough if that's your bag, and with a bigger production you could imagine this in the Hit Parade between Chip Tempah and Tiny Munk. Though I'm a Yardbirds man myself.
SeerÀuber Jenny: Avalanche
The press release warns this is not "the earnest warbling of bearded men", which is a shame, as that's essentially my conversational style.
This? It's not really the folk-meets melodrama the PR wants it to be, it's driving charty indiepop.
Oddly, one half of SeerÀuber Jenny was half then whole of Mint Royale – remixers of Tequila by Terrorvision. Even more oddly, there's an Avalanche diorama competition on their website. Get your cardboard cutouts ready.

Alexi Murdoch: Some Day Soon
Folky shuffle lifted by Murdoch's intriguing voice, pitched somewhere between the delicacy of Nick Drake and a bass-voiced folkie singing into his hand at the Dog and Ferret.

Cassius: I <3 U So
The "long awaited return" of "the pioneering French house duo", apparently. They have an app where you can create your own video. How about a bored shop assistant half-listening to daytime Radio One, vaguely wondering why the dull song sounds like it's being played at half speed?

Comments
comments