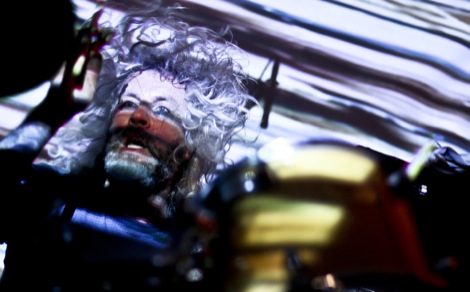 Getintothis is given an intensive workout at Don't Drop The Dumbbells.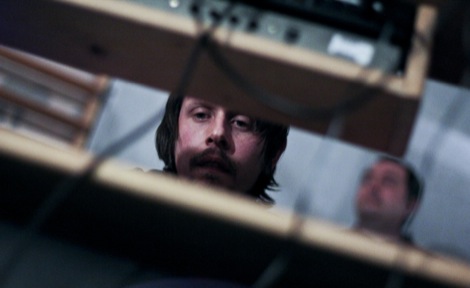 It's Tuesday. Just as well it aint Monday.
Yesterday's diet of sweet chilli chicken coupled with Tokyou's hot and sour soup and chilli pork noodles wouldn't have agreed with the guttural rumble echoing round Don't Drop The Dumbbells' health and safety defying tomb.
'Dumbbells' as it's affectionately known has been the rich source of a plethora of underground activity showcasing everything from psycho doom, hardcore rockabilly and most recently a roots raggae dancehall evening laced with heavy dub.
The soundsystem we're told was removed from the centre of the room mere hours ago to accomodate tonight's offering.
Sadly, this could prove to be its swansong as the word on Hardman Street is it's set to close. Damn shame. For it's a one off indeed.
An old gymnasium situated behind the historic Picket (it too an abandoned shell), Dumbbells' walls are a ghostly reminder of it's former purpose – monkey bars and climbing frames peak from behind curtains, newspaper cuttings of pumped weightlifters, beat-up amateur fighters and retro page 3 models' tits trade for attention on the walls with the new scars of music battle – drums skins, barbie dolls decorated with blood-red acrylic, smashed amps and paraphernalia you only find in rock and roll shitholes like this. It is positively wonderful.
And the noise it gives off is fittingly buff. Ear plugs are the accessory of choice in this post-hipster hangout and openers Beast ensure they're required.
Joe Hirons and David Smyth hardly appear threatening with their keys and kit combo; opening with a slight tap and tinkle on both. But what begins as a prog-laced horror soundtrack recalling the then of Goblin and the now of Zomby, transforms into an extreme workout of terror.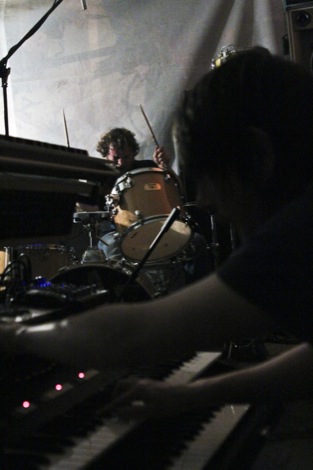 The reason they're so effective though isn't the keys lines which conjour up Rick Wakeman via the histrionics of The Fucking Champs, nor the ferocity at which Smyth lays waste to his toms, it's that each track is built on a riff or melody which is as addictive as it is a bloodbath of primal aggression. You could hum this shit.
It's always a sign you're doing something right when your fellow musicians acknowledge your music, tonight, similarly to the Getintothis Liars gig at Static Gallery, members of Carlton Melton stand, applaud and marvel at Beast's almighty racket.
It's a wonder what dimension they can add to, and build on, their already exciting arsenal but for now this is beyond the fifth.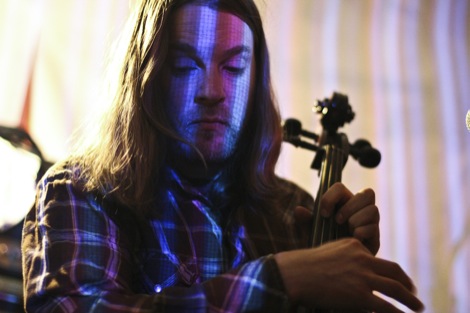 Speaking of dimensions, Alexander Tucker is suffering a distinct lack of them.
Tonight's Black Light/Behind The Wall of Sleep's billed headliner is crow-barred into second slot – presumably because he'd be anything but climactic on the evidence of this offering.
Alone, head bowed amid a curtain of hair, he scratches his bow along the width of his cello as looped tapes from his latest offering, Dorwytch, pour forward.
Like Beast before him, it's hypnotic and somewhat chilling, but there's much lacking and minutes in, the din of chatter above his echo-laden vocal calls for him to usher a 'ssssh…'
No-one pays notice and for the next 30 minutes we're left with more of the same; looped cello, nearly-there whispers and he swapping of backing tapes as Tucker struggles, and ultimately fails to gain our attention.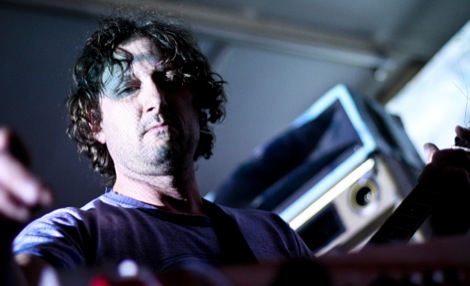 Carlton Melton suffer no such worries. Their sonic groove simply won't allow you to be anything other than gripped.
Brian McDougall begins wrapped foetus-like around his sea-blue guitar while Clint Golden gently thrums a cymbal as Andy Duvall constructs a wall of slide chords and cyclical noise.
It's a heady blizzard and rather than recreate the blissed summer haze of the recently released Country Ways, it oddly brings to mind Oasis circa '92, rolling out Columbia at ludicrous decibels or even more so the cavernous opening to Doves' The Cedar Room.
But once McDougall and Golden trade their rhythmic weapons an altogether new force takes hold – one of thunder and bluster.
To watch McDougall at work is a sheer wonder; rolling his sticks like a magician, he's a bearded droid with metronomic power interspersing his pounds by pointing his sticks like wands at the crowd almost in an attempt to awaken spirits of long-dead powerlifters.
Certainly its transportative and if this is the final chapter of Dumbbells it's a more than apt send off – it's hard to imagine these creaking walls have bore witness to such a body this herculean before. Carlton Melton are in rude health.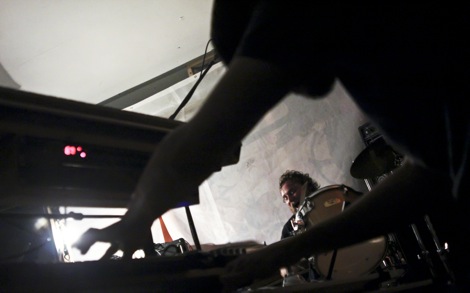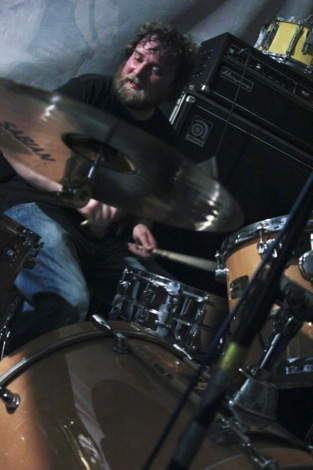 Beast by Dani Canto.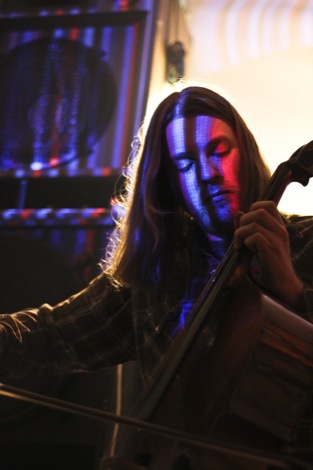 Alexander Tucker by Dani Canto.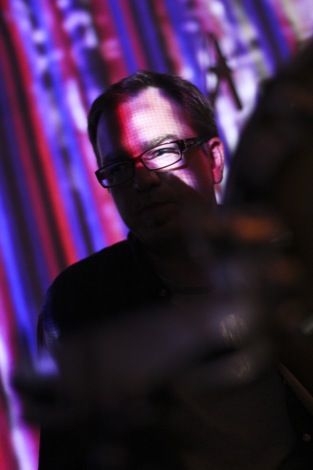 Carlton Melton by Dani Canto
http://www.carltonmeltonmusic.com/
http://www.myspace.com/alexanderdtucker
http://www.myspace.com/beastbeastbeastbeast
Photo's courtesy of Dani Canto.
Comments
comments