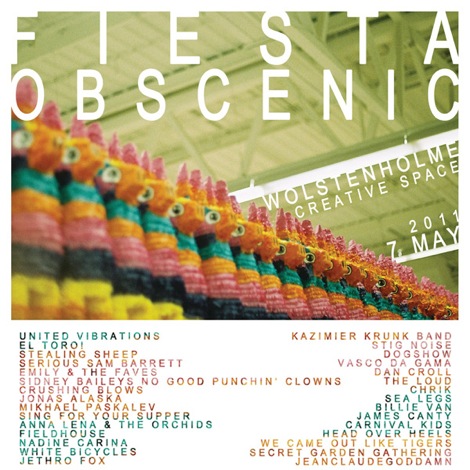 F to the I to the E to the S to the T to the A!

Last year's FIESTA OBSCENIC at Casa De Brujas nearly killed us.
It went something like this: drinks in Tabac at noon, party all day in the sun, stumble into abandoned townhouse on Duke Street come sundown, watch around 25 bands, get high, fall about on a rug while someone waved-about-then-ingested-some-type of Mexican plant and wake up in Toxteth with a text that said: 'You're two days late, answer your bloody phone…'
For that very reason FIESTA OBSCENIC 2011 is something to look forward to. And remember. It's not just worth celebrating for the rich cultural, music and artistic impact it has on Liverpool either – it's all for charidee too.
Last year over 20 bands played and with the help of all those who came raised £700 for Ovarian Cancer Action. This year organiser Joe Wills, said: 'In light of the recent happenings in both Japan and Libya, this year the Fiesta will be aimed at supporting the efforts of the British Red Cross and the appeals they have launched for both sets of victims.'
There's also the delightful prospect of THREE surprise bands – woot! Getintothis is having a massive stab in the dark at Sleeper, Northern Uproar and Dire Wolfe – but the latter is a big ask…
Getintothis is reliably informed there will also be 'party music' and 'good vibes' provided by (fresh from their 2ManyDJs Chibuku night) Happy Endings and Alliance HiFi (who are deese, eh?).
So anyways, you want a line=up don't you?… Well, here's most of the jibber jabber (expect very probably much more besides):
F I E S T A O B S C E N I C 2 0 1 1 takes place at Wolstenholme Creative Space, midday til late and features:
Dogshow – 01:00
United Vibrations – 00:20
El Toro – 23:50
Krunk Band – 23:10
The Loud – 22:40
Surprise Band #3 – 22:00
Vasco Da Gama – 21:30
Stig Noise – 20:50
Surprise Band #2 – 20:20
Sidney Bailey's Clowns – 19:50
Homestead – 19:20
Stealing Sheep – 18:50
Chrik – 18:30
Dan Croll – 18:10
James Canty – 17:50
White Bicycles – 17:30
Anna Lena & The Orchids – 16:50
We Came Out Like Tigers – 16:30
Carnival Kids – 16:10
Surprise Band #1 – 15:30
JeanClaudeGodDamn – 15:50
Crushing Blows – 15:10
100% Fuck Off – 15:00
Head Over Heels – 14:40
Emily & The Faves – 14:20
Fieldhouse – 14:00
Sing For Your Supper – 13:40
Serious Sam Barrett – 13:20
Sea Legs – 13:00
Secret Garden Gathering – 12:40
Jethro Fox – 12:20
Nadine Carina – 12:00
Line up and times subject to change.
Help spread the word by visiting the Obscenic facebook page and copying this link here.
Comments
comments