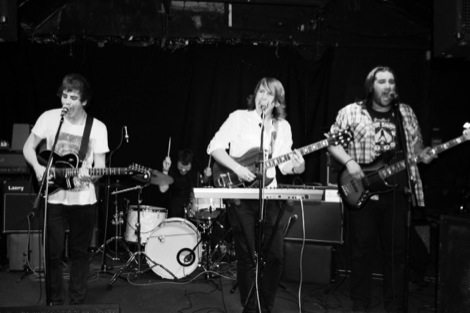 BONG BONG! Liverpool Sound City 2011 is GO. Get involved. BONG BONG!

It's around this time of year that my body starts doing a disconcerting spasm.
Part tension, part excitement, part overload, full-on WAAAAAAAA.
It's called Sound City flu. This year though, we're packing extra medicine as it's a full on BEAST of a party. And I fully intend to return to work on Monday alive-alive-oh… So anyways, there's not much time and I know you're not gonna waste too much reading these here previews, as you've probably planned your three-day mission like Arnie in Predator.
But if there's one piece of advice Getintothis can offer you it's EXPLORE. Like it's big Stateside cousin, South By South West (or SXSW for acronym lovers), the festival thrives on the new and undiscovered.
Give some of the bigger boys a swerve in favour of the Polish party, get up early on Saturday and catch the entire Aussie new boys in the courtyard of Heebies – or take a punt on a band you've heard just one track of and loved in favour of another band you've seen umpteen times down the years.
You won't regret it, as Sound City throws up at least half a dozen great new bands for Getintothis each year.
My winners last year came in the depths of the Jac were Spanish superheroes Mujeres almost tore a new hole into that sweaty tip.
Oh, and remember to check out some of the local lot; Mugstar, Dan Croll, Stealing Sheep, Fly With Vampires, The Temps, Clinic, Outfit… ah, I'm not gonna name em all, regular readers know the script – and if you don't – take a punt.
Remember to follow us on Twitter and check back throughout the festival as the reviews will come in thick and fast, as Getintothis has assembled probably its strongest ninja writers and snappers yet.
Anyways, here's some spiel from the boys and girls decamped in a rabbit hutch marked Liverpool Sound City HQ – it's a press release… But a good one.
..If you like LOTS of info.
////////////////////////////////////////////////////////////////////////////
Liverpool Sound City returns for three days and nights from Thursday May 19 to Saturday May 21 and is held at multiple venues and spaces in Liverpool's cultural quarter.
During the days the Hard Days Night Hotel plays host to a musical industry conference. Each night there will be bands, DJs and artists performing at many venues, spaces and clubs throughout the city. There will be dozens of parties and gigs, including an unsigned festival featuring new acts coming into Liverpool from all over the world, and parties hosted by festivals and labels each showcasing some of their biggest names and rising stars.
Musicians confirmed for Liverpool Sound City include Frank Turner, Steve Mason, Funeral Party, Kurt Vile & the Violators, Mona, Three Trapped Tigers, Yuck, The Chapman Family, Cast, Sound Of Guns, Black Lips, The Whip, Jamie XX, Wave Machines, SBTRKT, Spank Rock, Willy Mason, Chain & The Gang, Chad Valley, Mugstar, The Kooks, The View, Clinic, Philip Selway, Set Your Goals, Smoke Fairies, Dinosaur Pile Up, Broken Records, Delta Maid, Yasmin, Dels, Marina Gasolina, Cults, Cloud Control, The Jezabels, Braids, Grimes, Dan Parsons, Flashguns, Mazes, Films, Polarsets, The Good Natured, Spark, Handsome Furs, Colourmusic, The Sand Band, Ed Sheeran, Publicist, Those Dancing Days, Forest Swords, Lanterns On The Lake, Alessi's Ark, Teeth, Idiot Glee, Beat Connection, The Suzukis, The Red Suns, Dustland, and The Oxygen Thieves.
Label parties announced including Moshi Moshi, Bella Union, Deltasonic and Young Turks.
The key-note speakers include Alex White from Next Big Sound, Band App's Adam Perry, Audioboo's Mark Rock, Stephen o' Reilly from Mobile Roadie, Robert Thomas from RjDj, Cocteau Twins' Simon Raymonde, Midlake's Eric Pulido, and techie Michael BreidenbrÃŒcker. Simon and Eric will be discussing the working mechanics and dynamics of band and label and all the ensuing trials and tribulations that can ensue.
In total, more than 400 acts from around the world will play to 25,000 people across 30 of Liverpool's venues for four days, with the traditional series of label showcases, late night sessions and parties also happening across the city.
Tickets: For 2011, there will be no ticketed gigs at all and for the first time the entire festival will be wristband only. Festival Wristbands and Full Delegate Passes for Liverpool Sound City are priced at £40 and £120 respectively. To buy tickets, click here.
Conferences
Liverpool Sound City also features conferences and panels with seasoned veterans and younger voices, the commemorative John Peel World Cup, and legendary keynote speakers and special guests. LSC also helps the creative industry to grow and evolve is an integral part of LSC's ethos, with networking, education and skills development a central part of the main event.
As part of the business conference for 2011, Liverpool Sound City have also announced they will be working with the historic publication Mersey Beat to celebrate their 50th anniversary. Founding Editor Bill Harry created the seminal newspaper in the early 60s which helped launch The Beatles to the world.
The 50th anniversary publication of Mersey Beat will reflect back on the publication's importance whilst focussing on the new generation of talent playing at Liverpool Sound City in May 2011. Bill will also be taking part in a debate looking at the state of the music media today.
Wristbands: Wristbands will be available from Midday on Wednesday 18th May 2011 and MUST be collected in person by the lead booking name, with a valid proof of ID, from the Hilton Hotel 7 Hurst Street, Liverpool L1 8DA, England.
Sound City wristbands allow entry to ALL Liverpool Sound City 2011 branded gigs on a first come first served basis subject to the individual venues capacity. Please note some gigs will be 18+ only.
Comments
comments