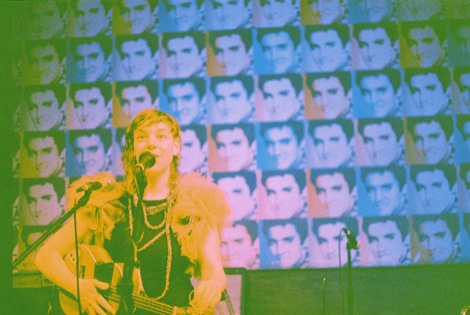 WAAAHOO-WAAAHOOOOO-AAYYOOO!

Merrill Garbus is a brave woman.
There's few musicians that can produce a noise akin to a car siren, zulu warrior and Maori rugger brute performing the haka in the space of one song and get away with it.
Yet, the New England native doesn't just get away with it – she excels with astonishing accomplishment.
Authoritative confidence is central to her winning display. Without it she'd run the risk of being a laughing stock, but there's no chance of that as her voice is astonishing.
Taking to Mojo's stage on her lonesome, dressed in a neon pink feathered gilet and luminescent face paint, Garbus wouldn't seem out of place on one of the opening episodes of America's Got Talent. And when she begins yodelling the intro to newie Party Can while bashing her microphone stand with a drum stick there's understandably a notable level of uncertainty exuding from the sellout crowd.
But 'don't fear,' seems to be tonight's moto – it's certainly Garbus' – as she thrusts the sticks high into the air before screaming with uninhibited ferocity 'Do you want to live?'
Erm, yes. Please…
Taking to the toms like a woman possessed she then kick starts an hour plus of riotous magic these ears haven't been treated to for some time.
Joined by her songwriting collaborator Nate Brenner on bass and three other musicians – each of which trade drums, sax, and strings – Garbus channels a DIY aesthetic but orchestrates it on a huge scale.
What often begins as a quite ridiculous playful vocal chant is looped, stop-started and weaved into another vocal before being layered with clanging percussion and frazzled funk riffs and the effect is nothing short of unadulterated fun.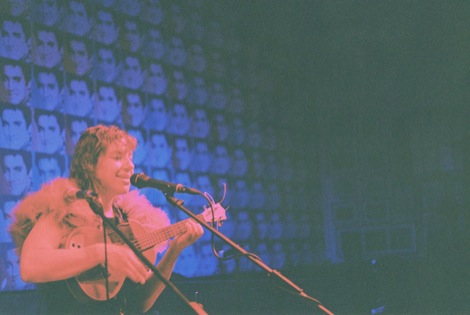 Gangsta is a prime example. On record its lo-fi charm is cheekily effective, live it's a multi-layered stunner. Looping all manner of vocal effects, she's joined by stonking brass and uses her twanging ukelele like a turntable to create a record-scratch effect. It's 'BANG, BANG BAAAANG OI-OI' refrain and innumerable false endings only adds to the gleeful atmospherics.
Much of it shouldn't work but Garbus is in such control of her clattering chaos she acts like a musical safety blanket ensuring you get from A to B all in one piece. You Yes You ramps up the silliness with much high-pitch woohooing, the odd ha-ha and a 'What's that about?' thrown in for good measure as all around shake their booty.
But her vocal dexterity extends beyond the bellow, Es-So with it's snaking jazz rhythm recalls Nina Simone fronting a jugband-inspired hiphop collective as she softly purrs into the mic. Powa begins like a lazy summertime lament before chunky ukelele and Garbus' soaring falsetto brings the track to a sublime finale.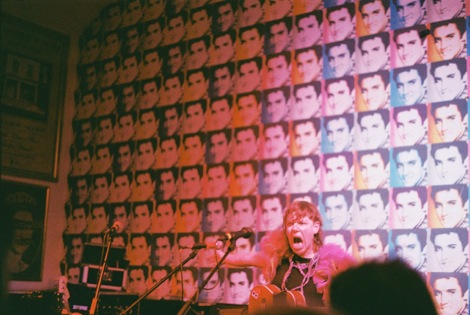 But it's not all euphoria, underneath the racket there's lyrical substance as Doorstep's gentle sway alludes to gang warfare and police violence, You Yes You social poverty and more overtly neighbourhood menace on Gangsta. Yet the message is never delivered directly, and it's only afterwards that the bigger issues weave into consciousness.
Instead, it's the music that stands tall. The big guns in her arsenal are undoubtedly Bizness and My Country and what they both share is a stomping jazzy tribal thud. The former like Bitches Brew gone pop, the latter a scattergun of verbosity and honking Fela Kuti-inspired parps delivered with metronomic precision from the backing brass ensemble.
Ultimately, it's Garbus' empowering self-belief which transforms this from being a brilliant night out to a gig-of-the-year kind of spectacle. If a popstar's primary function is to entertain and inspire we think we've found a new band leader.
Setlist:
Party Can (Do You Want to Live?)
You Yes You
Gangsta
Es-So
Powa
Riotriot
Fiya
Bizness
Real Live Flesh
Doorstep
My Country
Encore:
Hatari
Killa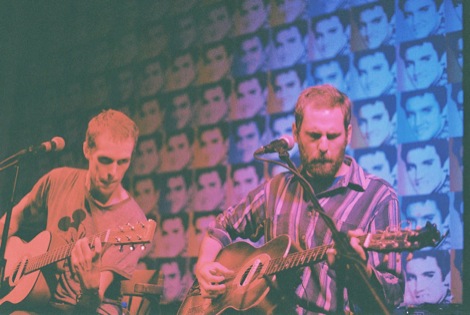 Earlier in the evening Bella Union's Thousands warmed things up in a decidedly luke-warm way with the kind of finger-picked, beardy folky wallpaper that's seemingly omnipresent.
Their Elliot Smith-meets-Simon-and-Garfunkel checkshirt pop was all very lovely but ultimately after two songs was lost amid a haze of chit-chat which couldn't be frowned upon such was their tepid blandness.
Pictures courtesy of Joe Wills.

Comments
comments