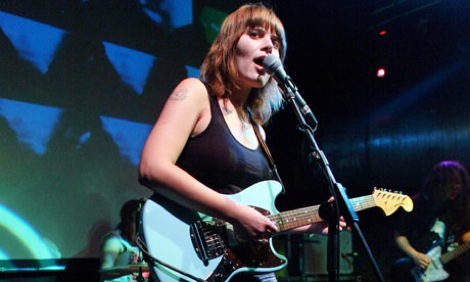 Brash, slightly obnoxious but plenty of fun, Getintothis' Orla Foster laps up songs old and new from Beth Cosentino's Best Coast.

Call me an anorak, but this makes the second Best Coast review I've cobbled together this year.
The first was their Sheffield gig at the Queens Social Club, a venue better equipped as a parish hall than a live venue. With its golden lists of forgotten chairmen and dense wood panelling, you could almost hear the ghostly strains of "Two fat ladies!" and "Full house!" between each song.
Tonight's Liverpool show is taking place in Mojo, a different affair altogether. Despite trying its hardest to carve out a niche as a music venue, the gleaming surfaces, saucy red lighting and bar tariffs to make a grown man weep just aren't quite as cosy as the Queens.
To rub salt in the wound, folk favourites Stealing Sheep won't be playing tonight, unfortunately, so support duties fall instead to The Spectrals, a Yorkshire two-piece who've been stirring up interest on blogs here and there.
The performance is fairly low-key, with singer Louis Oliver Jones delivering a crestfallen vocal along the lines of Julian Casablancas. Otherwise, it's an agreeable slice of the hazy, slightly forlorn surf-pop that's so in vogue at the moment. Music along the lines of every current band with a hint of the seaside in their name.
The Spectrals are playing to a packed house, at any rate, with Mojo crammed to the rafters and sweaty as bedamned. I crane my neck to the stage but it's no use; nothing but broad shoulders. It hits me that I'm probably going to have to write a review with just a wall of nervous-looking Elvises in my line of vision. Or worse, write a review based solely on what I'm hearing. Christ. Not done that before.
Still, when Bethany Cosentino and Bobb Bruno make it on stage at last, I'm gifted with a view of her dainty forehead, adorned with a massive trilby. So while fate has prevented me filling up a paragraph talking about the intricacies of what she's wearing, I can at least report that the hat looks a bit impractical for a venue as sweaty as this.
And they've a lot to get through – the set is awash with brand new material. Good news, though: if you like Best Coast then you're going to like the record-in-waiting, which sounds as though it will be in the same mould as their debut. Expect more precocious surf-pop, cute ditties about missing boys and liking cats (a lot) (too much?) tempered with a welcome tinge of melancholy.
Actually, I don't know if they've kept on with the cat thing, as the lyrics are a little too fuzzy to distinguish from where I'm stood. Judging by the sea of hands on the horizon you can imagine the sound is pretty great up front, it's just a shame it doesn't carry too well through the rest of the bar.
Of course, this doesn't stop the songs from Crazy For You from going down a storm, particularly Boyfriend which inspires a frenzy of canoodling and bobbing about.
'I love seeing guys sing that song! It's my favourite thing ever!' Beth squeals, breathlessly. True to form, she seems as bouncy as a cheerleader and excited to be back in a small-ish venue after the spate of summer festivals.
Regrettably, there's less of the swearing like a fishwife, and fewer weird quips about the spawn of Bobb Bruno than she treated the crowd to in Sheffield. Just some fatuous comment about this being the best crowd they've played to in the UK.
Best crowd or otherwise, interest starts to wane towards the end of their set. I'm surrounded by people skimming through transfer gossip on their phones, stomach in knots over the destiny of Raul Meireles. Again, maybe this is partly a technical issue, because the muggy sound doesn't really draw you in if you're more than a few metres from the band themselves.
Finally, Bethany and Bob are joined on stage by The Spectrals as Bethany announces they're just about to play something that 'went down really badly in Brighton'.
To everybody's surprise, they launch into a cover of Blink 182's Dammit, which they yowl their way through like the best of 'em. It's pure Battle of The Bands – suddenly it's 2003 and I'm at, er, Hezzfest; Meireles cast aside for three splendid minutes.
But the brash, slightly obnoxious nature of the performance is appealing in itself, mostly because it's so at odds with the chic garage fuzz purveyed by both bands. Beth sounds less Pitchfork darling, more 14-year-old boy, which credit to her, I wasn't expecting. So don't be fooled by the plangent melodies. For all their hipster credentials, Best Coast are a band with a sense of humour.
Comments
comments