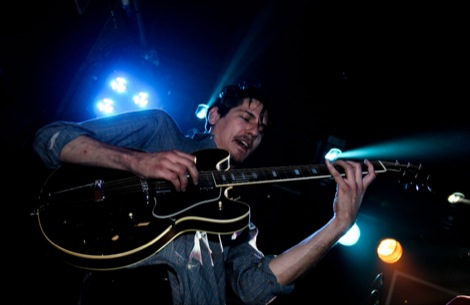 A mother load of styles collide as one as White Denim provide a whirlwind of magic. Getintothis' Jamie Bowman is blown away.

As concert bills go this one is a bit of a cracker from the ever reliable Evol Promotions, mixing a tasty combination of local garage gonnabees and a couple of scintillating bands on the up.
Upcoming Mersey heroes The Loud are unsurprisingly glad to be on such a line up after earlier this year running the gauntlet of supporting The Bay City Rollers. In a way though it was a combination that makes sense, as The Loud are a band not afraid to dip their toe in the pop glam sound of the early 1970s.


The Loud's Pennington Lee
With a swagger and a belief that recalls the arrogance of early Oasis and a crucnching guitar sound to match, new album Harris Shutter could be a frothy autumnal highlight.
As we'll see with White Denim, the idea of combining two apparently distinct genres can be a momentous success, or in the case of Knoxvillians Royal Bangs a luke-warm score draw.
Ambitiously adding a glitzy synth to their attempts at replicating the sound of mid-70s dinosaurs like REO Speedwagon, the picture is further muddied by their attempts to add a fiddly time-signature change in nearly every song.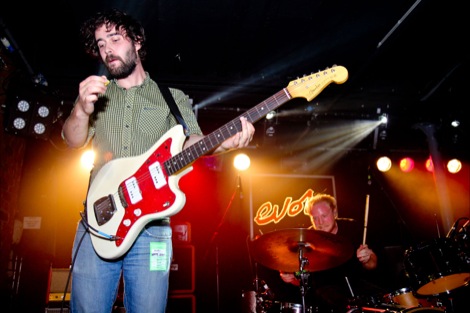 Royal Bangs.
Sometimes on the likes of Silver Steps or Bull Elk it works, but too often these are songs that are simply trying to do too much, before they run out of breath and fall to the ground wheezing and spluttering. Still its the taking part that counts.
White Denim's last visit to Liverpool's long lamented Korova a few years ago is still talked about in hushed tones. And little wonder: here was a three piece of admirable visceral power, spitting out garage punk anthems like Let's Talk About, while careering into each other with all the carefree abandoned implied by that snotty joke of a name.
Well things have changed in Denim land. An additional guitarist has been added in perma-grinning Austin Jenkins and the accompanying transition the band have made on superb new album D from two minute, frat-core to psyched out southern rock is as astonishing as this gig is jaw-dropping.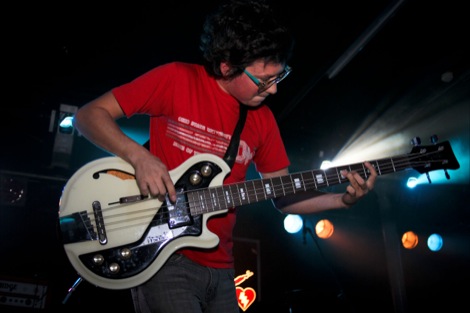 White Denim's Steven Terebecki lends The Loud's Matthew Freeman's bass after busting a string.
If guitar solos are your thing (and if not why not?) then this is the show for you. Jenkins and frontman James Petralli trade intricate riff after glorious riff while pile-driving drummer Joshua Block propels things along like a man possessed.
If this all sounds like some kind of prog-hell, then think again. There's a flash and dynamism to the band's playing that stops this becoming mere noodling and the obvious enjoyment and looks of wonderment that appear on the foursome's faces as they execute yet another stunning key change or sudden stop, shows this is not some serious exercise in heads down boogie.
This is certainly a band that has absorbed their influences like a checked-shirt wearing sponge. Shades of hardcore, grunge and the spooky, backwoods cow punk of the Meat Puppets all shine through, but it's their contrary mix of Credence-style rebel rousing with the intricacy of math rock which stands out. The undulating grooves of It's Him and Shake, Shake, Shake also show this is a band with a sense of funk, as if Parliament and their mothership had crash landed in Texas.
With members of the audience turning to each other and shaking their heads in stunned appreciation, one middle-aged man near me is moved to remark 'I've been waiting 40 years for this.'
As the band ignore the curfew and play on while the lights come up, you can see the reasons behind his exhilaration – this is a band who defy both convention and pigeon holing and make something very special indeed.
Pictures by Michelle Roberts.
Comments
comments