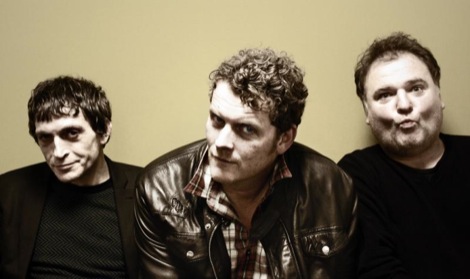 Sod The Stone Roses reunion, this is serious business. Getintothis' Luke Traynor catches what the world was waiting for – Dodgy, back in St Helens.

'It's good to be back!', beamed Nigel Clark. 'It's been since 1996!', reminded the singer, making us all suddenly ponder, 'Were they Good Enough really that long ago?'
Yes, the Hounslow trio have returned, regalvanized, brimming with ideas, knowing banter and smiles on their faces.
Some might question why a summery Britpop band who came to prominence at the start of the 90s have deemed it necessary to once more poke their head above the mainstream musical parapet.
But with slow depressing popular march of X-Factor engulfing the robotic minds of most of the record-buying general public, the return of craftsmen committed to assured pop can surely only be a good thing to those craving something different, genuine and intelligent.
The reason a small band of 80 people are bunched together in St Helens' intimate Citadel venue is the launch of a new Dodgy long player. A double-sided long player, in fact.
From the offset, Clark and irrepressible drummer Mathew Priest, the talkers in the band, do us a deal.
We're going to get the majority of the new offering Standing Up In A Cool Place, followed by some good old Dodgy favourites.
It seems a fair trade, and before long we realise that, while it might be 15 years down the road, the clean wholesome harmonies are still alive and kicking, and it's very much, unmistakeably ,Dodgy.
The lilting carefree mood embodied by track Shadows draws appreciation while Waiting For The Sun sounds like a possible single, its summery melodic vocals being taken up acapello-style after the applause by two girls on the front row, to the obvious delight of a relaxed and healthy-looking Clark.
His grin seems to suggest, 'They still like us – and they like the new stuff!'
Mathew Priest, sat behind on the drums, is a bundle of comedic fun, eager to throw as many quips into the mix as he can.
The beard may be greying, giving him more than slight touch of the now departed John Peel, but he is still capable of a soaring vocal line.
And when he bites, he really shows his fangs, but all done with impeccable affability.
Tonight, Mark Owen is the target of his comforting ire. 'Have you heard that pony song, Take That's Shine? It sounds like he's having his balls crushed in a vice – what a c*nt!'
If the rest of the tracks on Standing Up In A Cool Place replicates what we've heard tonight, this is a more considered and mature Dodgy, now dealing in intelligently-crafted songs that appeal to its fan base of yesterday, now many in their 30s and 40s.
It's a transition that seems to be appreciated too, as surveying the room, smiles are fixed to many satisfied faces.
This St Helens audience, we are assured by Priest, is a cut above the dour faces encountered recently by Dodgy in Guildford.
And with more than a healthy smattering of Scousers in the crowd, Clark cutely reveals how a film evening they were once asked to curate on London's Southbank saw them choose Jimmy McGovern's Dockers as one of just two top picks which no doubt surprised many of the capital's movie-watching establishment.
No Dodgy gig would be complete without a ramble through the old classics, and it's a joy to wind back the clock in the second half to the irrepressible raucous positivity of In A Room, Found You, Good Enough and a Staying Out For The Summer, played at such a breakneck lick that Clark is visibly panting when the last chord comes heaving down.
If You're Thinking Of Me demonstrates how Dodgy were also able to do tender. Grassman, Ain't No Longer Asking and So Let Me Go Far were notable absentees from the set list, and the night ended, instead, with a new track called Happy Endings.
But, all things considered, not one of us could argue that it was anything but that.

Comments
comments