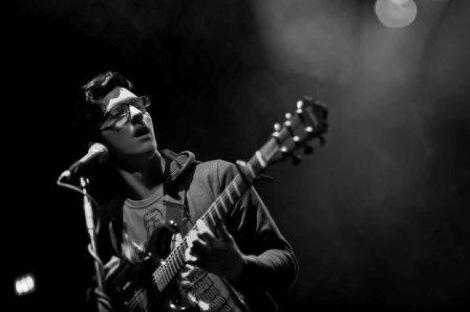 Benjamin Francis Leftwich shows off his sweet side at Mojo but it's Liverpool's Dan Croll that truly dazzles. Getintothis' Andy Minnis delights in his voyage of discovery.

I should admit that I'm a little out of my depth when it comes to tonight's line up, but this is Liverpool Music Week. It's about free gigs, music every night, it's a perfect chance to sample new music. It's a little voyage of discovery tonight.
I bring my laptop with me to Mojo, expecting it to be quiet early on and I could write first impressions as I see the bands, but I open the door and the place is packed. No sitting for me tonight, but it means a good atmosphere, right?
The answer should be yes but like so many crowds at gigs, few people are paying the musicians proper attention; most people are talking and not many clap as each song finishes.
The obvious talents of the first support, Joe Keelan, are a little wasted. His set is washed out by the volume and seeming indifference of the crowd. One man and his guitar, he sings tender, well-crafted songs but I find myself straining to hear the lyrics.
I'm beginning to think that Mojo might be the wrong place for this kind of line-up, but before I have chance to think too much, two members of Strawhouses appear on stage to perform a stripped down set. With more energy, and simply with more volume, the duo seems to win the battle and attention focuses on their performance. This doesn't last for long though as the chatter increases again and my attention also wanes.
Dan Croll is next. Croll, and his four-piece band is reminiscent of Fleet Foxes or Beirut with lilting sounds but a subtle energy that fits this changeable, stormy time of year perfectly.
They would provide the perfect soundtrack to a wooden cabin in the mountains in winter, it's impressive stuff.
As the band plays Home I realise they're a lot more familiar than I first thought and it goes down well with the crowd. Although the talking around me continues incessantly, they raise the biggest applause of the night and rightly so.
As a lone figure comes onto stage next and holds the audience's attention more than before, it's clear this is tonight's headliner, Benjamin Francis Leftwich.
The first few songs he plays recall The Rosie Taylor Project or GoodBooks with skilful, full, sweet sounding guitar and breathy vocals.
His voice has a special quality which captures the attention. However, ultimately, it proves too soporific for my tastes and like the couple next to me who talk through the entire set, my focus drifts away. Tonight, though, Dan Croll stole the show.

Dan Croll | FIESTA OBSCENIC | Liverpool from Tim Brennik on Vimeo.
Comments
comments