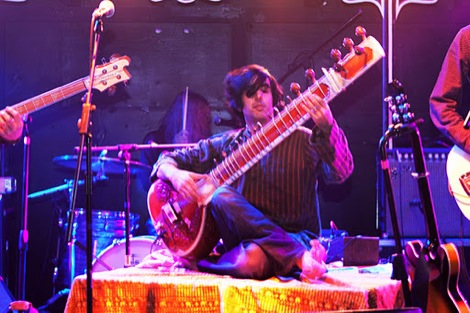 Sitar jams and two of Liverpool's most exciting prospects dazzle the Kazimier. It's a shame that only a handful of folk bothered to turn up. Getintothis' Peter Guy reports on what you may have missed.

I'm a sucker for a sitar.
I could probably stand and listen to some whopper in a kaftan tune one up for a day and still remain transfixed.
Yet, the thought of learning how to play one, let alone tune the bugger, is akin to those idiots that strap on a leather suit and then plummet down a ski jump barely a sneaky fart away from instant death. I just can't comprehend where to start.
So when former High Dials dude, Rishi Dhir, rocks up to The Kazimier armed with a rug, a table to sit on (bare feet exposed, of course) and his mighty wooden instrument (that's the sitar) locked firmly in place we're immediately transported to a retro heavenly past.
Only the sight of George Harrison and Maharishi Mahesh Yogi floating arm in arm on their daisy-shaped cloud could possibly enrich the sights and sounds unfolding from the octogan-shaped surroundings.
Like much of his associated cohorts, (The Brian Jonestown Massacre, The Black Angels etc), Dhir is a specialist at bringing the whacked out sounds of another era into a brighter, supersonic future.
Sure there's a fair few odes in the vein of Neil Young and Buffalo Springfield – perhaps a nod to their shared Canadian roots – which stray into pastiche territory but it's when they tear up a near-20 minute cyclical jam with that classical Hindustani sound board at it's heart that events transform from the rather lovely to a cacophony of kaleidoscopic brilliance.
If there's an issue, it's ironically, Dhir himself. A master of whirling grooves, he's not quite the frontman/vocalist this multi-limbed psyche outfit are striving for, as visceral energy is superseded by the gentle harmonic approach and it's a wonder to think what fuss they could kick up should they possess a frontman of truly otherworldly powers.
The same can't be levelled at Luke Muscatelli – aka Lucky Beaches.
We've championed his knack around a hip melody before, but to see him in the flesh is an altogether more beguiling proposition.
An arse-shaking, finger-trembling, all-action motorman of music, Luke takes no prisoners during a seven-track cocktail of speedy virtuosity. Having learnt his trade stateside with Pop Levi, it's of little surprise that the musical nouse and showmanship is in place, but it's the variety – and hefty muscle which is most impressive.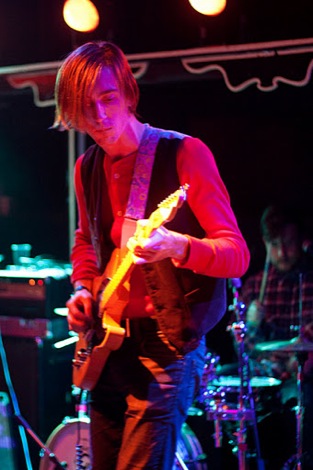 Luke Muscatelli of Lucky Beaches
Unlike on record, where a Californian sunshine collides with the spirit of Lennon, here The Beaches band breaks out of their comfort zone displaying a raw brutality which threatens to blow the bloody doors off. It's over all too soon, but you can be sure we'll be basking on that Beach once again.
Completing the evening (one which is woefully under attended – 'specially for a mere fiver), are By The Sea; another new collective Getintothis has been championing for some time. And this, our fourth viewing inside a couple of months, is the most intriguing yet.
Having initially been wooed by their psychedelic verve there was, however, a suspicion that for all their Future Days-wearing t-shirts, they were boxing themselves into a cul-de-sac signposted The Coral Part II – a view shared on these very pages – and further reinforced when Nick Power shows up to spin tunes in between the bands.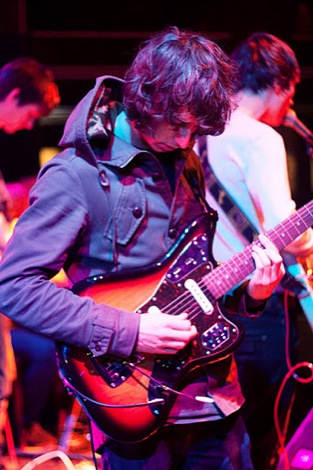 By The Sea.
Tonight though, there's a definitive shift in those Wirral sands as they deliver a set low on retro Scouse flavouring, high on emotionally-driven, sometimes melancholic modern pop – thanks in part to former Rascal, Joe Edwards on miniature organ.
What they lose in instant hum-along milkman friendliness they gain in textures that test the ear and urge revisiting.
It doesn't all work but this is clearly a new band finding their sound, and when it does during a particular sky-scraping mini-ballad there's a clear sense that this is a group not content to be pigeonholed and keen to avoid a path well-worn by so many of their peers. By The Sea, it seems, are wisely intent on exploring choppier waters.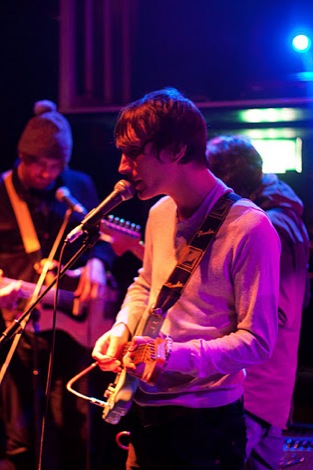 By The Sea.

Pictures by Marie Hazlewood.
Comments
comments