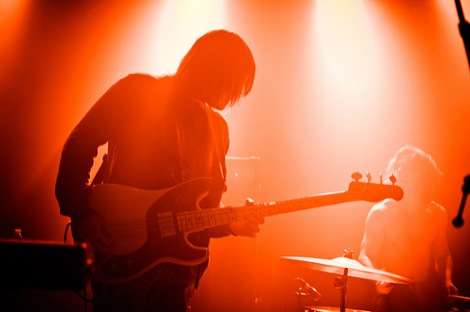 Rough and ready Crystal Antlers inject some rays into Freshers Week, as Getintothis' Connah Roberts laps up the Long Beach lovers and a whole host of Liverpool talent.

A Monday night, the start of freshers and Mojo kick it off with a host of local bands as well as American alt-rockers Crystal Antlers.
ChocoElectric, with their animated front man and catchy basslines, provide a promising opening before By The Sea, sounding familiar but fresh, follow. With textured harmonies and the nifty use of tambourine, By The Sea's promising brand of psychedelic Scouse proves a winner to the overheated swelling Mojo crowd as even a broken bass string fails to stop 'em.
Hot Light Fiesta, a band that have been circulating the Liverpool music scene for a while now, keep the vibe sailing along with their brand of percussive dance rock. Soaring vocals collide with walls of melody in a set that fizzes by like a well-oiled machine. Impressive.
Touring their latest album Two-Way Mirror, Crystal Antlers contrast their gleaming moniker with scruffy sonics matching their even more scruffy threads.
Haunting throughout, lead singer Johnny Bell's cockiness is counted by an angelic organ swirl and an undercurrent of funk ensuring neck muscles are jerked to an inch of injury.
While memorable hooks are in short supply, there's a collective swagger typified by Dog Days, which climaxes in a killer solo bringing the Long Beach sound to Liverpool.
They may not change the world, or even many kids' freshers week, but their wholesome Californian rock ensures it's not just the Indian Summer lighting up this Monday evening.

Comments
comments