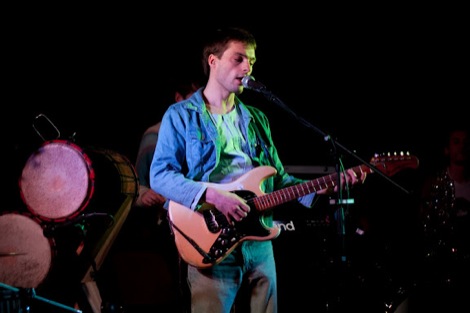 One for the romantics, Francois and the Atlas Mountains deliver a show high on passion in a packed Leaf Cafe, Getintothis' Dan Byrne finds new love.

On the day of the gig I read an interview with François and the Atlas Mountains in which François Marry talked about his favourite way of travelling between gigs; in the back of the tour van drinking herbal tea.
If ever there was a good omen ahead of a gig at Leaf Tea Shop it had to be that.
With an invigorating live programme, thanks in no small part by promoters Harvest Sun, Leaf's space lends itself well to gigs and the general atmosphere of the place gave the show a nice vibe.
Arriving slightly late Getintothis rues our bad timing, missing Lizzie Nunnery – a huge shame as she's one of Liverpool's most fascinating artistic talents.
On top of a beautiful folk album she writes plays and makes short films; more than enough to make the rest of us feel all creatively inadequate.

Southern are an impressive, Belfast four-piece centred around a brother-sister partnership who share the vocal duties.
Their acoustic pop act has a real knack for sweet vocal harmonies and after turning up knowing little about them, we leave a convert.
François and the Atlas Mountains have had a fair bit of attention lately. Appearing on numerous 2012 tips lists, their recent single Les Plus Beaux displays the band's catchy pop credentials.
Revolving around charismatic front-man François, he has a fascinating stage presence; all energy, frenetic movements, flailing arms and jumps amplify rather than distract and at times he seemed to have the whole audience under
his spell.
The band though are more than just a vehicle for a lead singer. Musically they are excellent and with additional synchronised dance moves they reveal François is not the only showman in the group.
Their album, E Volo Love, released on Domino Records last Tuesday – Valentine's Day – and incidentally, if I have any secret admirers out there music is a far faster route to my heart than chocolates or a card…
After a month or so of doom, gloom and venue closures it was fantastic to see Harvest Sun deliver a packed cracker on a forbiddingly cold Monday night.

Comments
comments