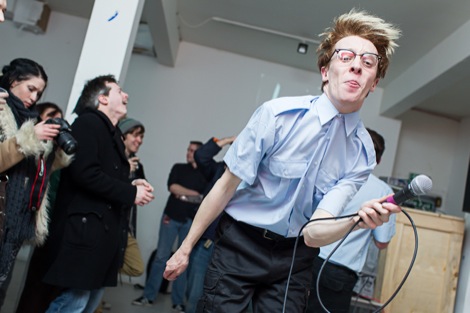 Getintothis wraps up it's Threshold Festival 2012 coverage with a whirlwind of sonic discoveries around the Baltic Triangle.

In a blur it's suddenly Saturday afternoon, with Chelcee Grimes filling the afternoon spot on the main stage.
Effortlessly confident, she's brimming with charisma as she pours her heart out through a set of occasionally sentimental songs, most of which seem to focus on beating the odds through perseverance and self-belief.
There's no doubt that Chelcee is thrilled with the pack of adoring fans who cluster at the front of the stage. 'These are my die-hards,' she beams, before breaking into an ad-libbed tribute song for their benefit.
She's not joking – 30 minutes earlier, one of the girls was unbandaging a freshly-tattooed arm adorned with Chelcee's lyrics.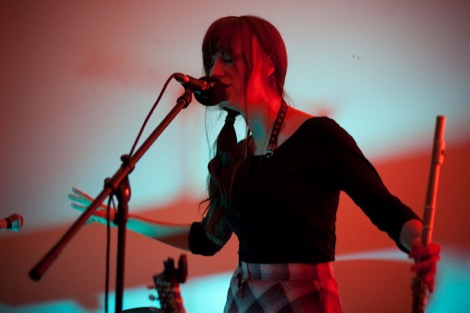 Laura J Martin
In the early evening, people are winding down in the quiche 'n' wheat beer environs of Elevator Bar while the likes of Alan O'Hare (formerly of The Trestles) and James Munro fill up the air.
The bar provides comfortable surroundings for the pleasant, folk-infused melodies of the bands on the bill, but we're determined not to get too comfortable in our seats.
A little later, back at Camp and Furnace, the most anticipated slot for many is that of Laura J. Martin, a Maghull-bred songstress bearing a flute, keyboard and mandolin.
You can take the girl out of Maghull… but you won't find much of the yawning suburbs in her repertoire, it has to be said, flavoured as it is with kung fu films, folk, and a long-running passion for hip-hop.
Though she has been performing up and down the country for a while now, last month saw the release of her debut album, The Hangman Tree, which lit up review pages with praise.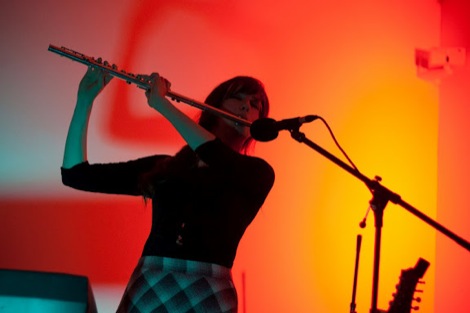 Laura J Martin
She's also a one-woman show, which is why it's frustrating that the noise from the room opposite is blaring uncontrollably into this one. A steward is seen at the entrance after someone calls his bluff, and for a minute or so he stands counting decibels with all the resolve of a cellist on the Titanic.
It's obvious that it's down to Laura to pull through the noise barrier on her own, and she sails heroically on, closing with the irrepressibly chirpy Doki Doki and winning round the audience completely. Here's hoping she'll be back in Liverpool before long.

Gil O'Teen, meanwhile features Andy Minnis wielding a melodica alongside a cake perched temptingly on stage. Following his set, Andy announced the set was acoustically-driven due to the absence of a full-time drummer – Getintothis recommends you get your application in quick – they're rather marvellous.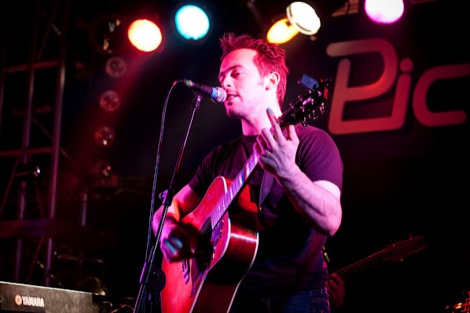 The Fifth Movement
Over in Chai Wallahs, DJ Moneyshot delivers a seriously hot hip hop set throughout the afternoon before Bristol bunch Yes Sir Boss, see in dusk with a killer ska-influenced set.
A threeway guitar attack accompanied by a brass section includes the highlight Down By Your Side and Rise and Shine.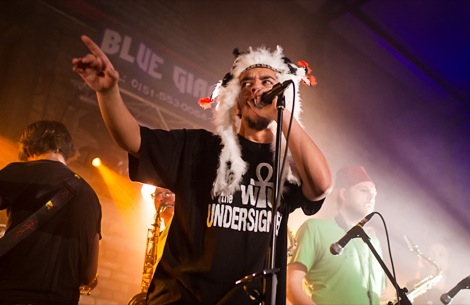 We The Undersigned
We The Undersigned seem to have an open door policy for members – shrinking and growing depending on the gig – and why not? Employing a mountain of brass, they're a riot and the crowd laps up their every honk.
Joe Driscoll infuses Jack Johnson 'roots' and spruces it up with a heavy dose of drum and bass, and Who You Been Lovin'? hits the spot.
Away from the music, an honorary mention must go to Bold Street Coffee whose hot drinks and nibbles go down a treat – their mean brownies are rather mesmerising!
Over in the Blade Factory Gallery, Mitford Rebel played to a smattering of people. They resemble last-pick-of-the-school-team types or loners who have found their BFFs and started a band. A couple of geeks, a goth and a punk. They sound awesome. They can certainly wail those girls and the tunes were nifty too.
There's a jam-packed evening over at the New Picket kicking off with Ronan Boyle.
Amid an icy-atmosphere, this was the first outing of his new band with Sam on stand up electric bass and Anthony on guitar, they combine rasping blues vocals and heavy does of strums – it's addiction and hopefully a good sign of things to come. More please.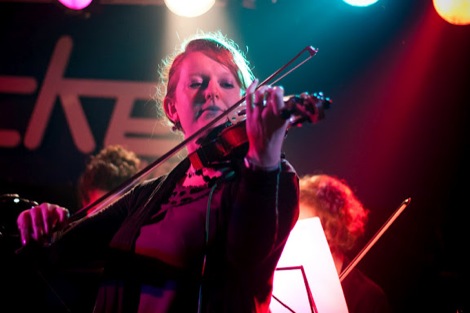 The Fifth Movement
The Fifth Movement are an orchestral collective complete with fiddles, flutes, clarinets, a cello and pretty much everything else to boot. But they skilfully avoid cliche-ridden Mumford barnhouse faux-folk or second-rate Arcade Fire with vocalist Kevin utilising every possible ounce of the Pickets acoustics to remarkable effect. A Threshold high no doubt.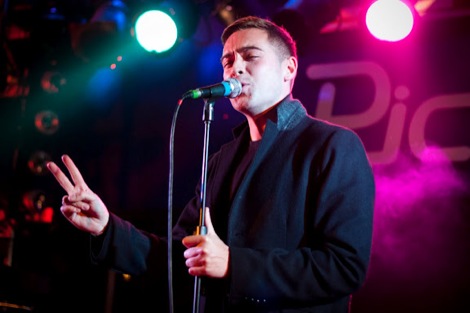 Mr James
Mr James is a three-piece featuring a rather good looking fella on lead vocal. He can also belt out a good tune – bonus!
Recalling Elton John with opening track Fragile and then Gary Barlow on Remedy, we overhear one audience member whispering 'If someone that talented can't make it in music there's no hope for anyone!' We can kinda see her point.


The Hummingbirds
The Hummingbirds are 'four guys and a box' and Getintothis had been looking forward to their set since their Cavern date last month. They didn't disappoint.
Treating Threshold to a host of new tracks from their upcoming EP Doesn't Really Matter, their skiffle-infused toe-tappers sees lead vocalist Jay Davies impressing alongside breezy lead guitarist Mic Kountis who makes for a great wing man.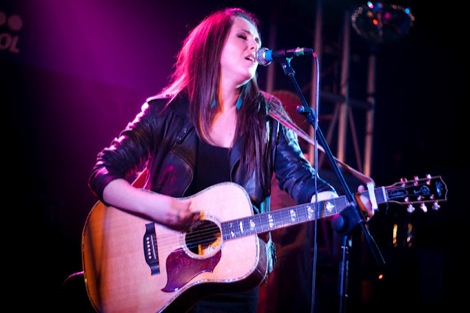 Sandi Thom
Headliner Sandi Thom opens with a bluesy set which wilfully confuses some of the crowd expecting her hits. But it's not long before that song is unleashed much to the delight of the gathering throng.
Other highlights of the evening include Dan Hayward's New Hawks and All We Are, both of whom offer up lively, barnstomping performances.
The South Bound Attic Band over in Elevator provide some rattling bluegrass while The Romleys treat Getintothis' tired ears to Honeypie. The Bear Beats Band sprinkle some Nashville harmonies over Threshold which brings roars of approval from the beards gathered in the crowd.
Dan Hayward, meanwhile, puts paid to any waning audience members by occasionally puncturing the gentler songs with a huge bellow, and the women dancing at the front certainly help keep up momentum. In the room opposite, another of the most-talked about sets comes from Paddy Steer, whose fondling of synth, vocoder and fun robotic playthings is met with mountains of applause.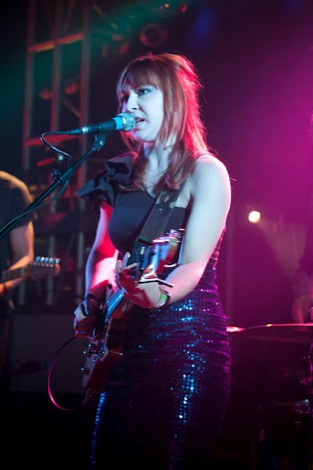 Natalie McCool
Getintothis' Threshold Festival reporting team: Jamie Bowman, Orla Foster, Jodie Schofield and Liza Williams.
Pictures courtesy of Marie Hazelwood and (main image Organ Freeman and We The Undersigned) Matt Thomas
Comments
comments