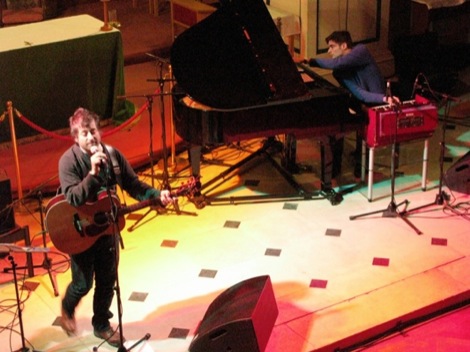 King Creosote and Jon Hopkins bring their Mercury nominated album Diamond Mine to Liverpool. Getintothis' Alan O'Hare attempts to loosen the shackles.

Singing your own songs live is perhaps the noblest of all art forms.
Think about it: nobody bought a ticket to watch Michelangelo repaint the Sistine Chapel again and again over the six months that followed its unveiling.
True, commercial concerns interfere with the singer's lot and the record is taken on tour to sell… but, for the majority of artists out there, it's an opportunity to inhabit a space again and revel in the shivers said creation brought you during its inception.
That said, it can be hard work to sing the same thing night after night. Especially when we're assured the money isn't great.
King Creosote and Jon Hopkins brought their Diamond Mine song cycle to the hushed surroundings of the Capstone Theatre this week and fatigue is showing: since its Mercury nomination, a single has been scheduled (the two chord, cognitive six minutes of beauty, John Taylor's Month Away) and their tour has been extended.
But the record has been in the artists' lives for a long time now and the dynamics of the songs are not changing live: the first half of the gig is a recreation, in order, of Diamond Mine and while hidden moments of beauty shine in the darkness, its hard work to listen to as a communal experience.
The good stuff? KC's Kenny Anderson sings up a storm and the performances are faithful to the record to the nth degree. But therein lays the problem: the album is a gorgeous work of experimental beauty. Why didn't the experimenting carry on live?
I'm being harsh, as the gig had many great moments, but it seems a shame that a record that has lived on and carried its message to people the old fashioned way, is now firmly tucked away in a box.
Highlights of the second set – with the shackles off, KC is an old charmer personified in between tunes – include a lovely cover of Prince and Sinead O'Connor's Nothing Compares 2 U and a ramshackle Simon & Garfunkel cover, The Only Living Boy in New York. The artists lighten up and the crowd respond in kind.
I just wish it would have happened sooner and Diamond Mine would have been allowed to grow in the same way it was conceived.
A missed opportunity? Perhaps. But a noble gig all the same.

Comments
comments