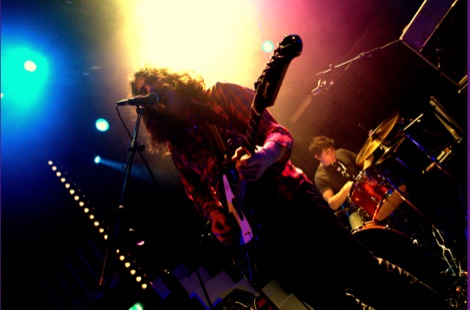 The guitar is dead. Long live the guitar. War On Drugs bring the noise to The Kazimier.

Come the turn of the year, come the same old announcement – rock music is dead.
The BPI, official chart statisticians and Paul Gambaccini have been rattling out the same old rot for almost a decade now; that rock has been slain and the guitar put to rest.
Perhaps in an age where rock is defined as The Chris Martin Band, and guitar music's zenith a Serge Pizzorno solo we're inclined to agree – but since when did these numbers mean anything anymore – who, save for X-Factor voiceover man, realistically pays any attention to these stats and sales figures anymore?
If record sales have the power to impact upon our attention, then it's merely the likes of the all-conquering Adele that makes us sit up and wonder – 20,000,000 album sales worldwide to date – I can't even take in that number of records…
But rock music's impact is less to do with sales and more to do with it's enduring prevalence over a vast landscape of post-genres – Wolves in the Throne Room, Fucked Up, Zun Zun Egui, Battles, EMA, Mastodon, Årabrot, Ice Age, Wild Beasts, Death Grips – all handy with the guitar, all rock and all racking up significant plays via multi-media – and let's not forget it was PJ Harvey's Let England Shake that mopped up the album of the year for 2011, almost unanimously across the board.
War On Drugs are another such 'rock' band bucking the so-called guitar-is-dead trend, garnering almost unanimous critical praise for their 2011 record Slave Ambient – and a fair few plays – and when they stride onto the Kazimier's stage, mess about a bit with leads and pedals there's more than an air of expectation. And after some introductory mumbles we're left under no illusion about what's in store – a full-on rock show. With bells on.
Marrying plumes of grey smoke with drenched guitar fizz, Adam Granduciel hunches over, burying his mess of curls into his midriff as Best Night circles overhead – and boy does fizz rain down.
For over 90 minutes, War On Drugs fuse a cyclone of matted riffs, steady thumping drums and swirling organ drones courtesy of a seated Robbie Bennett.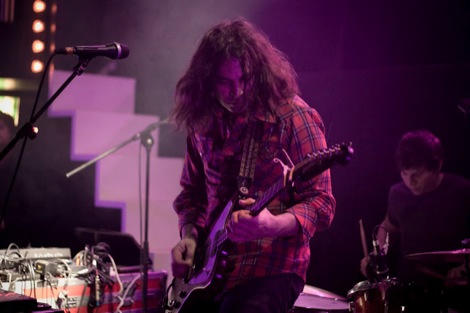 Adam Granduciel
By turns it recalls all the classics from the American canon – Granduciel's gravel, nonchalant, non-voice is pure Dylan (see the drawn out drawl of Black Water Falls for evidence), while the melodic playfulness of Your Love Is Calling My Name and Baby Missiles are straight from the Tom Petty songbook.
But most of all there's that blistering attack of the senses, an attack which comes from playing the sweat boxes of States for years, an attack from rehearsing deep into the shadows of the night, an attack which rings long, loud and gloriously – an attack like Neil Young's Crazy Horse – it's pure unadulterated abandon, free-spirited guitar bliss.
Like on record, War On Drugs' live set has a fluidity to match; there's few pauses for breath, instead gaps are plugged with the odd jape from the charismatic Granduciel, or more likely filled by steady washes of clean feedback, one tune bleeding into another as the crowd get lost amid the relentless tide of guitars.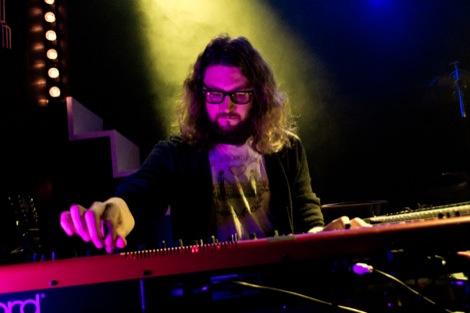 War On Drugs Robbie Bennett
Come To The City is given an Adam Clayton-like thud by Steven Urgo behind the kit, while Granduciel extends those digits for another six-string workout before two audience members are encouraged to join in the fun on stage – one taking up a semi-acoustic, the other an electric – and in a moment which seems too rehearsed to be true, four become six and the Dire Straits-aping Brothers soars amid a wash of electronic propulsion. The lads on stage clearly revelling in their moment.
In keeping with what's gone before, they close with an impassioned rendition of The Waterboys' A Pagan Place, a track characteristic with their influences; hammering keys, indiscernible yet soaring vocals and a clattering wall of guitars.
Forget whatever you've heard. Rock music is not dead. And on the evidence of what went down in the Kazimier, it's not just alive and kicking, but battering down the drawbridge.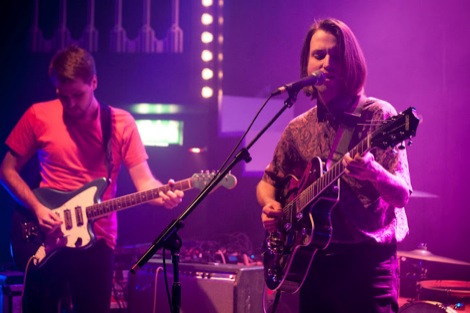 Weird Dreams began proceedings with a set turned to decidedly lukewarm – jangly guitars and the odd skip in their stride, it is however, for the most part a side dish of English indie-pop cliché dressed up in washed echo – so on trend it's as immediate in it's delivery as it is instantly forgettable.

Pictures by Darren Aston and Marie Hazelwood.
Comments
comments