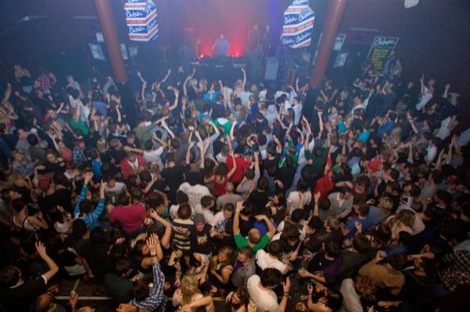 Chibuku returns to The Masque with another first-rate line up, Getintothis' Ben Rossington feels very much at home.

FOR those who've moved out and flown the nest, there can be nothing quite like going home.
The smells are always the same. There's the same cupboard you can always open to find the biscuits despite constant talk of diets. And the TV remote on the arm of a chair always signal's 'Dad's seat'.
It's that feeling of familiarity. You know where you are. You're in your comfort zone.
So it was apt that on a weekend good boys and girls were venturing back for Mother's Day, Chibuku went home too.
'We've got the keys for one more weekend' screamed the posters when the massive birthday banger double header was announced.
But of course Chibuku leaving the Masque was more akin to being kicked out on the street with a few measly possessions in a binbag rather than the off-to-uni-teary-eyed-parents-stood-by-the-door type of departure. The doors were closed. Everyone got turfed out.
The Masque had been home for Chibuku since it left the Lemon Lounge so long ago. It's been the stage for many great nights and when the doors were shut and locked in November, it seemed like it was for good – and it's back again this coming Easter Thursday and Easter Sunday shows.
Some of those at the last Circus down at temporary home Camp and Furnace, last month said it was 'the best ever' so could Chibuku step up to the gauntlet thrown down?
Abso-flipping-lutely. A late finish at work combined with hair and make-up issues (not mine, just to clarify) meant we only made it shortly after midnight.
And there it was. Walking through the doors was that familiar feeling. This is home. Though Chibuku don't do comfort zones (and I took a wrong turn and got lost once which definitely doesn't happen at my mum and dad's house. I know exactly where their main room is. Just follow the sound of the snores of the dog asleep in front of the TV…)
James Rand took on his normal resident early duties in the theatre while upstairs was handed over to on Mr Jaguar Skills and friends.
Judging by the atmosphere we'd missed out on decent sets from DJ@War and Juicy DJs when we just made the start of Jag's set, walking up to find the Loft already heaving.
Very little room for us to squeeze into and my drink went west within about three steps but we were soon right in the thick of it.
For those unfamiliar with a Jag Skills set, you lay down some Chase & Status, sprinkle in a little Skrillex, mix with some Gameboy sounds from Super Mario Bros and Tetris (kids, ask your parents what a Gameboy is), smear with a dollop of Rage Against The Machine and top with soundbites from Thundercats (Hoooooooooooooo!!!). And you throw it whatever else you can find.
It's a mix that leaves a room breathless and sweaty from dancing with smiles all round and hands collectively in the air as the ninja-hooded tunemaster works his stuff.
90 minutes later he was gone, not quite vanishing like a ninja into the night, leaving Dillinga and MC Madrush to finish off the Loft while we went to catch the last hour of Dublin's mistress of the decks Annie Mac in the Theatre.
Annie can be as unpredictable as Jag Skills in that they'll both play virtually anything that sounds good. They're not divas or snobs, just up for a good night and they know what works.
And Annie mashed up the dubstep with the techno to the delight of everyone in the mini amphitheatre, especially the dancing troop down the front, until the clock struck 3.
An airing for Double 99 Ripgroove could have sealed any night but cheered back on, she left the decks of The Masque (one of her favourite places to play but don't all DJ's say that?) with a remix of Jay & Ye's Paris (as the radio has to call it).
When the lights came up, there was a look around one last time before lots of happy faces filed out into the night.
Many were back for the birthday banger part II on Saturday when Rinse FM took over but unfortunately Getintothis wasn't one of them – we had to be in a fit state to make it home for dinner on Sunday after a quick stop off at Asda to get some last minute flowers and a card on the way…
Chibuku returns to the Masque this Easter with 2 Many DJs heading up a tasty billing, full details here.
Comments
comments