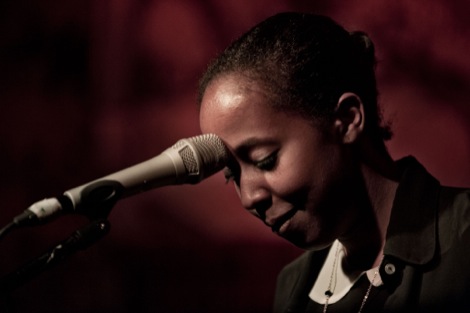 A voice like no other, Al Spx brings her stark yet beautiful vocal to Leaf, Getintothis' Bingo Shuttlmeir discovers a new star on the horizon.

Leaf's upstairs is beautifully dressed; the stage is lined by candlelight to create an intimate feel, while fairy lights flit around the stage edge.
The audience sits around tables and Chesterfield couches quaffing wine and espresso throughout.
Neville Skelly pops in to do a fleeting solo set, treating the crowd to some new material.
He is looking casual in a leather jacket and a beanie hat, yet there is nothing scruffy about his performance, The Love You Gave is a stand out track, his sweet murmurings soft yet powerful, delivered under a constantly furrowed brow.
He seems more like a folk troubadour than the Sinatra-style crooner he is often cast as.
Richard Warren is next to entertain the crowd with his Memphis-influenced doom blues.
A red-lit stage sets the tone for a grim, apocalyptic display that fails to engage with or impress the audience who gradually descend into chatter.
It is a shame because on record Warren's music has brooding potential and has drawn comparisons with the likes of Johnny Cash, but his solo show lacks the spark and imagination to bring his recordings to life.
Cold Specks open with solo vocal number The Mark, our first chance to experience this exquisite and unique vocal talent that is Al Spx.
The vocal is somewhat hampered by the booming music from Leaf's resident DJ downstairs that filters up during every pause for breath, yet in full flow it is a voice that could cut through anything.
Yet the whole performance remains at odds with the brash bass heavy beats, despite attempts from promoters Harvest Sun to quell it.

Despite her big voice, Spx has a shy presence on stage, but is sweet and modest, cracking a gracious smile as each song is met with applause from the crowd.
Cold Specks are not just about one person; the band are all fantastic musicians, as exemplified on All Flesh Is Grass and Blank Maps, where their subtle and skilled instrumentation of cello, keys and sax all meld beautifully into Spx's stunning voice.
Heavy Hands is a slow builder, built around melodic and methodical acoustic guitar and some gloriously atmospheric guitar delays, before the song culminates in a gut wrenchingly belting finale.
Recent single Holland is simple, poignant and stunningly beautiful, epitomizing the sheer quality of this group who are impossible to ignore.
Elephant Height works around the space and gaps of silence, using them to show off its stark beauty.
As the album's lead track it sets out the stall; unique and innovative in every way and a thrilling prospect to behold.
They finish on Lay Me Down and Old Stepstone, and both are stripped down and laid bare.
The former is just guitar and vocal before being joined by sax and cello and some hauntingly beautiful backing vocals.
Old Stepstone is simple and raw showing the power, emotion and raw passion of Spx's voice alone, harking back to the earliest Blues records and African American work songs by the likes of Leadbelly.
As they make their way from the stage and through the crowd they are cheered and applauded all the way, their performance astounding and different from anything you'll see, certainly in this lifetime, possibly ever.
Picture courtesy of Mark Epstein.
Comments
comments