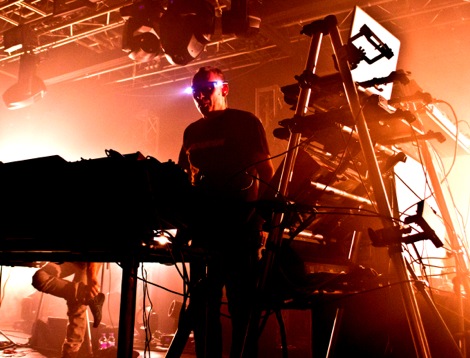 Dance music pioneers return to Liverpool with their Wonky new set – Getintothis' Luke Traynor chimes lyrical.

It's one of our biggest musical regrets that we spurned the chance to watch Orbital's seminal Glastonbury performance on The Other Stage in 2004.
Considered now as one of the all-time triumphant Worthy Farm performances, it still smarts that we missed the chance to see the Hartnoll brothers holding 20,000 tripped out ravers in the palm of their hands on the big stage.
The fact that I plumped for bombastic grandeur of Muse instead on the Pyramid Stage did somewhat ease the blow, but reflecting over the years, it has always remained an opportunity missed.
Not any more.
Orbital's visit to Liverpool's O2 Academy on Easter Sunday was part of their UK tour to promote new album Wonky – already receiving favourable reviews from a music press always ready to brandish the knives for old geezers dusting down the old tools.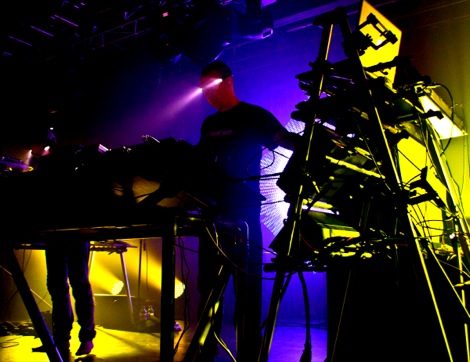 But, any lingering woes about my Glasto scheduling faux par were quickly dispelled as Paul and Phil blasted this sweaty bear pit to smithereens in a way that even the 30 and 40-something old ravers didn't think was still possible.
Forget sprawling festivals, and huge light shows searing across open green fields, Orbital delivered to this intimate venue in a way that would never be possible in an outdoor setting.
The immediacy was quite breathtaking, the decibel level confined in this brick-walled warehouse having a transfixing, almost arresting ability to draw us in to the driving techno and blissed ambience that only Orbital can truly successful marry.
Appearing on stage with their trademark headlamp glasses, the Hartnoll's were keen to show us nothing had changed. Yes, new tunes, but no, not a single ounce of drop in quality.
Starting with Time Becomes from Orbital 2, they soon launched into Wonky's opening track One Big Moment, a stodgy wedge of electronica that blew the early cobwebs away.
But it was the arising of Halcyon, in all its eerie beauty, evoking tranquil Scottish lochs on a misty weekend morning, that the crescendo in the audience was first keenly felt.
One sweaty stranger, who must be touching 40, turned to me and shouted, with a delighted grin: 'I'm reliving my youth! I first saw them in 1989!'
The fact that Belinda Carlisle's Heaven Is A Place On Earth came kicking and screaming into the guts of Halcyon, meant more joy unconfined.
Straight Sun, also from Wonky, is set to be a live favourite if the Hartnoll's decide to stick with this touring lark for a few more years yet, aligning thumping techno to strident synth melody.
For 105 minutes, Orbital reached a level of intensity early on and impressively maintained it for the whole set. This dwarfed their 2009 return gig at The Big Chill Festival, which drifted inoffensively away in a way that Easter Monday night was never in danger of doing.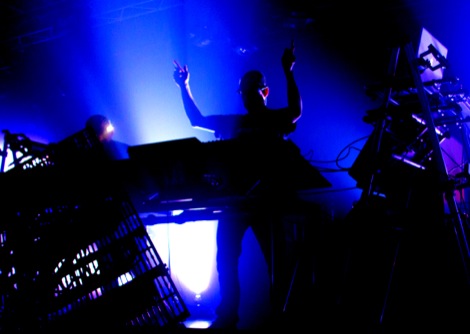 The beautiful Never, brought a blissed out stillness to proceedings, before we were treated to our own Easter Bunny – the haunting and quite brilliant Belfast.
Title track Wonky has received some negative feedback in some quarters, but in its live form it's a real tour de force, before the best was saved til last – a monumental version of Chime in a long and lovingly delivered encore.
With the visuals impressive throughout, the lightning white radio waves set upon a green grid, rising and falling, growing ever bigger, the hypnotic feel perfectly complementing Orbital's best-known track.
Stringy Acid, an old demo plucked from the archive, and Where's It Going? climaxes more than 100 minutes of full-on hardcore music making.
To be making new dance tracks this good after 23 years is a gargantuan feat. Even better, the capability to serve up a live gigs of this quality. Truly one of the best performances Liverpool has seen for a long, long time.

Pictures courtesy of Darren Aston.
Comments
comments