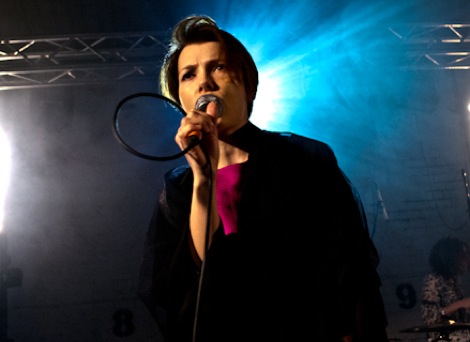 Liverpool Sound City welcomes some electro and honest to goodness rock and roll – that's all Getintothis' Jack Atkins was after.

Getintothis' short journey across town leads us to the temporary Red Bull Studios, a converted garage that screams Shoreditch cool, but thankfully without an abundance of trilby clad bell-ends called Tristan.
East London's Chew Lips soon take the stage, their electro dance-pop punctuated by live staccato proto-punk drums and the effortless cool of front-woman Tigs.
The cockney duo's releases give off a vibe similar to Digitalism meets Goldfrapp, but the raw live show was closer in style to Gossip.
Spacey synths floated around the dingy venue, Tigs' somewhat haunting vocals weaving seemlessly in and out of them. Their set was a slow burner, at first not really engaging the audience; a raft of 'beautiful' people and shoegazers.
Thankfully shapes were soon thrown, and piggybacks were indeed the order of the day. New single Do You Chew? had more of a hip-hop edge than the rest of the set, the rhythm section channelling early RUN DMC, but juxtaposing said beats perfectly against the firmly electro keys.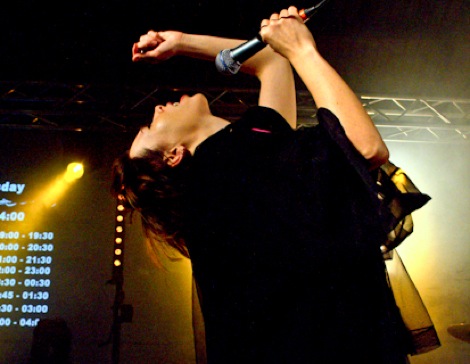 Chew Lips live at Liverpool Sound City 2012
Sometimes though, you just want to take a step back and revisit the good old days, when rock was rock and denim was amazing, especially if you had tons of it on. Such was the case for Canada's Sheepdogs, whose Lynyrd Skynyrd style classic rock and roll made Binary Cell feel like a barn loft in early 1970s Kansas.
A raft of beards, beer and hair, Sheepdogs brought no false pretences on stage, chugging out tune after tune which made you wish you had a sly handlebar 'tache.
They hardly reinvented the wheel, but they weren't setting out to, and in the end who can argue with that?
Pictures by Darren Aston.
Comments
comments