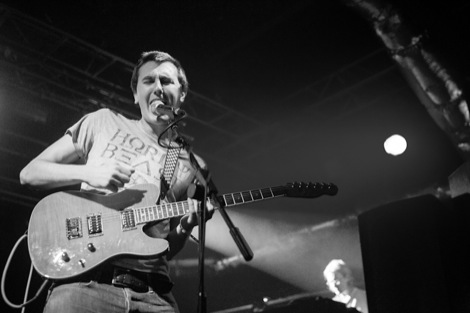 GIRLS! GIRLS! GIRLS! Very scary teenage girls. Getintothis' Jack Atkins joins in the fun at Sound City to mix it with the screaming lasses and some heavy, yet, thinking man's noise.

The Liverpool O2 Academy is not somewhere you'd usually describe as a scary place, but fill it with a load of barely pubescent teenage girls with massive hair and you're guaranteed to fill a fair few people with some sort of fear.
That's our scene tonight for the first of three nights of punk/hardcore gigs in the Academy. Liverpool's John Claude God Damn are the first to show any real energy. Bashing out jagged bouncy rock, kind of like the Automatic but not shit, or like if Foals and Test Icicles had a mutant Scouse baby. And their bassist looked like an art school drop-out on glue. Bonus.
Dave Hause was up next, changing up proceedings with some acoustic folk-punk stylings. Imagine if you will two teenagers from a dire US teen drama sitting cross legged opposite each-other, on a small pier, surrounded by candles, about to take the first step towards starting a relationship.
Can you hear the music playing during such a scene? Dave Hause, pure and simple. Only the crowd weren't really taking to it. It's the kind of music were you should have your arm draped around your best mate whilst you're both smashed, swaying gently and belting out the lyrics like it's your life's purpose.
The boss Arcane Roots tried to get the black clad masses moving somewhat after Hause's folkish output slowed down an already slow crowd. Coming out looking like a Presidents of the USA tribute act, they soon blew away that silly notion with wave upon wave of thinking man's noise.
Comparisons to early, non-wank Biffy Clyro would be unfair and slightly wide of the mark, given Arcane Roots somewhat more mathematical approach. For a three piece they make a lot of noise, and their songs flow like post-hardcore Cave In with raw Jeff Buckley-esque soaring vocals, switching it up with a more primal heavy barking sound at the drop of a hat.
Picture by Matt Thomas.
Comments
comments