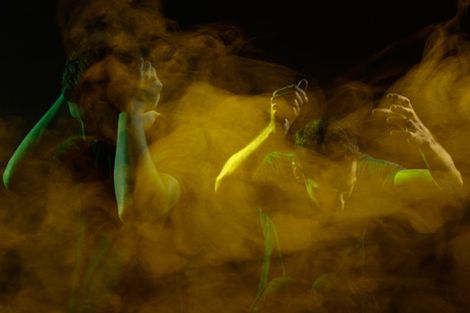 One of Getintothis' favourite purveyors of kraut-influenced shoegaze, Walls, play Liverpool on Friday. Ahead of their gig, song-writer Sam Willis talks jamming with The Field, new remixes and a non-sexual Aphex Twin/Quincy Jones sandwich.

Walls are London-based duo Sam Willis and Alessio Natalizia. They're really rather good and deserve your immediate attention.
Ahead of their Liverpool gig with Harvest Sun on Friday (event and ticket info), Getintothis grabbed a quick word with Sam as the band left London on the latest leg of their tour.
We suggest you go listen to their latest record Coracle out now on Kompakt and then take time out to listen to their new remix album. But before that, read this interview – then buy a ticket to their gig on Friday.
B'jasus, that was all very tyrannical wasn't it. Here's the interview…
Getintothis: Hello Sam, how's tricks today? Can you tell us what you've been up to recently and what has been your tour bus reading material of choice?
Sam Willis: Hi Peter, I'm good thanks.
Just getting over our London show from last night, was amazing! Thankfully the good weather is easing the hangover.
As for tour reading, I'm currently ploughing through Margaret Atwood's The Year Of The Flood.
Getintothis: Last time you played Liverpool, Getintothis was pretty miffed to be working a late shift in the office and was forced to miss you – it pretty much ruined my week. What was the last occasion/event you missed which pretty much ruined your day/week/entire year?
Sam Willis: Some years ago I bought tickets to see Kevin Spacey in The Iceman Cometh, about six months in advance, and then completely forgot to go – so was pretty gutted about that!
Getintothis: You'll no doubt be incredibly delighted to hear Coracle was number 23 in Getintothis' top 100 records of last year – one place below Shabazz Palaces and one place above Toro Y Moi. That's quite a sandwich. If you could be sandwiched in between two pop stars who would you ideally wish this to be?
Sam Willis: I assume we're talking creative collaboration, as opposed to something sexual, so on that basis, probably Aphex Twin and Quincy Jones.
Getintothis: You've recently released a remix album – is this just a label idea to support the tour or should people be really excited about it?
Sam Willis: We love remixing, and being remixed, so for us it was really exciting to hear some of our favourite producer's takes on the songs from the album.
Of course it's not like a new album of original material, but we still feel it's worth people's time to take a listen and see what they think of them.
The John Tejada mix of Drunken Galleon is my personal favourite.
Getintothis: Loving your recent cover of New Order's Ecstasy – it sounds very little like the original – which is why I like it. If you could jam with one band who would you choose?

Sam Willis: Thanks! We wanted to take the original in a different direction, rather than just do a bog standard dance updating version.
As for collaborations, our label mates from The Field joined us on stage a few times during the series of dates we did together last year, including the one at ATP – that was pretty amazing.
We really enjoyed having the addition of live drums and extra keyboards, and it was pretty wild and freaked out, which is how we like it.

Walls play Shipping Forecast on Friday June 1 with Ghosting Season, Afternaut and a Sun Drums DJ set.
Comments
comments