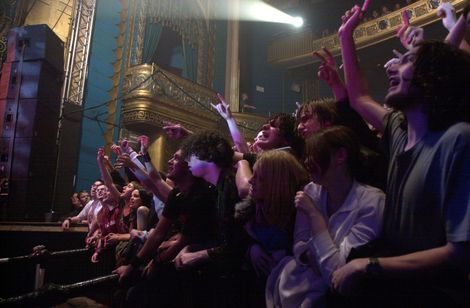 On the eve of the reopening of Liverpool's Royal Court, Getintothis' second part recounting memories at the famous theatre includes Daisy raves, aggro at Oasis, Paul McCartney archive pictures and a legendary Dexy's recording.

The newly-refurbished Liverpool Royal Court Theatre reopens its doors next week.
Yesterday, Getintothis published a selection of memories from Liverpool's music fraternity, today we complete the look back with stories including Macca, the Daisy raves and emotional farewell for Tony Wilson all inside one of the world's most rock and roll theatres.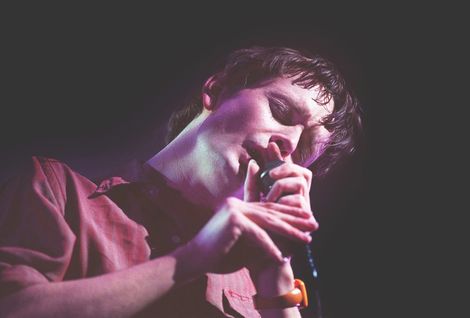 Pulp's Jarvis Cocker live at the Royal Court
Kevin Sampson: Author of Awaydays and Powder.
I have so many great memories of The Royal Court, as well as The Shakespeare pub just down the road where myself and Mick Potter used to fritter away the takings from selling The End.
Although The Farm's two nights there in 1990 were very special – they played to packed, emotional home-city crowds just as All Together Now was taking on Madonna and Cliff Richard for the Christmas Number One – my personal highlight (and one of the greatest nights I've been involved with) was a gig that the late Tony Wilson organised in 1986, From Manchester With Love.
He put the gig together to raise profile, awareness and funds, and as a general show of support for the 49 sacked Labour councillors who were facing an arduous and expensive legal appeal.
When you consider the rivalry between the two cities, for Wilson to persuade The Smiths, New Order, The Fall and John Cooper Clark to play in Liverpool, for free, in support of a cause that didn't directly affect them was a superb gesture and a marvellous achievement.
The gig was an instant sell-out, of course, and the Royal Court's combination of tatty glamour and ampitheatre acoustics made for a wild and joyous atmosphere.
I've seen so many great bands and had so many great nights at The Royal Court, but that was the greatest of them all. When Tony Wilson died, myself, Peter Hooton, Dave Pichilingi, Pete Wylie, Keir Ashton, Phil Hayes and many others who'd known and loved him organised a collection for a floral display. It spelt out From Liverpool With Love, in recognition of a night that made a huge impression on us all.


Paul McCartney live at the Royal Court in 1979
Paul Du Noyer: Journalist and author of Liverpool Wondrous Place
It's a raw Sunday night, 25 November 1979. Paul McCartney is kicking off his Wings tour at the Royal Court, after receiving a letter that told him the venue was struggling.
Down Roe Street there are touts clearing 2000 per cent profit. But Lime Street is blocked by a barricade of taxi cabs. The drivers have called a lightning strike. Which was a very 1979 thing to do.
The show is not a classic. It took his head a few more months to get the message, but in his heart Paul already knew the Wings experiment was over. They would never tour again.
The music is just like Wings' last album, Back To The Egg: moments of piercing beauty and some galumphing passages in the key of boring.
In other words, we lurch from Yesterday to Mull Of Kintyre. The newer songs aren't familiar to most and they never would be. But today I listen to Old Siam, Sir and I realise that Macca's music has one outstanding feature. It's not the melodies, or the occasional sentimentality, but the sheer, unfathomable strangeness.
Afterwards I'm with Paul in that lovely art deco bar downstairs. Characters from his Cavern past, like Alan Williams, rock up to slap backs and wax nostalgic.
A miniature press conference is set up for me and Penny Kiley and a few other journalists, sitting across a table from Paul, Linda and Denny Laine.
I was a punky young NME reporter who followed the Clash line: 'Phoney Beatlemania has bitten the dust,' and I was too cool to look impressed. But the fan inside of me was ecstatic.
I walked home along a freezing Scotland Road (still no taxis) thinking, 'God! I've just spoken to a Beatle!'
Mark McNulty: Photographer.
When the age old 'what was the first band you went to see' question comes around, I'm always quite proud of the fact that mine was The Jam at the Royal Court quickly followed by Dexys Midnight Runners, Squeeze, Elvis Costello and a whole lot more.
Oh and Toyah but the less said about the slight divergence from a cool list, the better.
The Jam was a fantastic way to start a long musical journey, though I was disappointed on the night that they didn't do That's Entertainment.


Oasis' Liam Gallagher at the Royal Court
Highlights along the way have been numerous Echo & The Bunnymen gigs, the early 1990's Daisy raves that featured dance acts like K-Klass, Adamski and local heroes 8 Productions, Guided By Voices, Julian Cope (along with his silly mic stand), Space (when I was tour photographer), Supergrass, Primal Scream and many many more.
The lowlights have got to be getting tear gassed after watching The Beastie Boys for the full nine minutes they played for, a notorious piss-throwing Oasis crowd and trying to photograph Cypress Hill when the only lighting that was of any use was the match he used to light up a spliff.
It's a dirty, fantastic, old fashioned proper music venue and, with the exception of the long queues for crap beer, I've got lovely memories of it. It will be nice to see how it scrubs up!


David Bowie at the Royal Court
John Coley: Bass player with Sound of Guns
The first gig I ever went to at the Royal Court was actually my first proper gig.
My sister's boyfriend, Simon took me to see Blur – it was immense, I got right to the front and then Simon pulled out a spliff and passed it to me.
I took a drag and then it was pulled out my hand by Damon Albarn. I can't remember what song it was but he changed one of the words to 'drugs' and then took a drag and all the crowd went mad.
Peter Guy: Liverpool ECHO journalist and editor of Getintothis.
I remember feeling a distinct mix of fear and overwhelming excitement when I went to the Royal Court in 1994 for my first ever gig – Therapy? on their Troublegum tour.
Weeks earlier, I'd seen my school friend return from a Pantera gig with a broken nose while another chipped his front teeth – they were buzzing off it, but their questionable mindsets had me wondering whether this gigging lark was a good idea.
Wet behind the ears, I prepared myself for carnage, lacing some dayglo green laces to my oversized whopping excuse for spectacles. The early 90s were not a good time for fashion in the eye department.
As we rolled inside this ashtray of a venue, the smell of stale ale, stale bodies and cigarette smoke almost knocked me out. Thirty minutes later the lights went down and a deep red spotlight lit up Andy Cairns' face as they launched into the pulverising Knives. For 90 minutes my feet barely touched the ground as I was relentlessly thrown about on a sea of sweat-soaked limbs, clutching my battered glasses like my life depended on it.
Hearing Cairns' razor-throated screams during Potato Junkie's unforgettable chorus ('James Joyce is fucking my sister') will forever stay with me and recalls a time when music had the power to shock.
My gigging thirst was whetted and dozens of incredible times at the Royal Court followed (The Stone Roses' Second Coming tour a particular favourite, when they kept us waiting til all hours and one bald lunatic grabbed me shouting 'If I die tomorrow, at least I can say I've seen the Rowwwwses!') but you never forget your first time.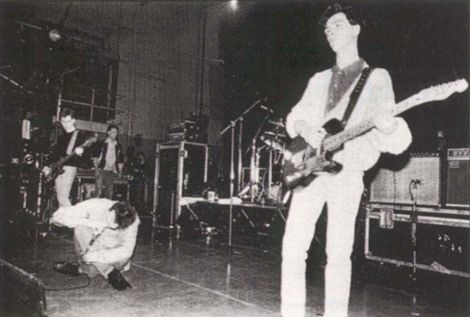 The Smiths live at the Royal Court Liverpool
Paul Simpson of The Wild Swans:
The Royal Court was a hexed venue for me.
The Wild Swans walked onstage shivering with cold during the incredibly severe winter of 1981; snow banked two feet deep outside.
We were supporting our good friends Echo and The Bunnymen, at the height of their game, having just released their Heaven Up Here album. During our debut single – The Revolutionary Spirit – a couple of impatient Bunny fans started heckling us, I got upset and when someone threw a lit box of matches at my face I stormed off stage mid-song in disgust, fully expecting the rest of the band to follow me.
Back in the dressing room I was horrified to hear the band carry on playing the rest of the set as instrumentals.
By way of an exorcism I played there again in 1997, again supporting the newly-reformed Bunnymen who were promoting their comback album Evergreen. I was opening the show for them on that tour playing solo.
Going under the name Skyray and using DAT tape backing, I played long Krautrock-influenced instrumentals on a glittery bass guitar.
Just as I walked onstage the bulbs blew in the two slide projectors I was using for on stage illumination meaning I had no choice but to play the entire gig in complete darkness.
God knows what the audience made of it. I swore I'd never play there again and I never did.
Dave Monks: Radio presenter
My memories from the local ones include seeing The Coral for the first time there – they finished their set by laying all the microphone stands down on the floor.
I also had great nights with The Zutons, Cast and Space playing a few nights. I must have seen the Bunnymen about four times there – one time when Ian McCulloch got booed off when he started to sing You'll Never Walk Alone.
Blur and Oasis gigs stick out and The The during the 90s too.
The Royal Court was a great place for a real proper gig – it should be used again for special one offs.
Connie Lush: Blues singer
The best memory I have is playing Drums over the Mersey in the 80s with the band The Touch. The smoke machine was turned up to volume snow storm and I felt like Kate Bush in the mist of the theatre.
We managed to commandeer the Royal Box after our stint and partied on – the theatre was awash with drums and noise over 24 hrs non-stop – lasers were used for the first time – it was pure rock 'n roll.
I have played there a number of times since but I will never forget the energy and noise we all had that night!
Dave McTague: Mellowtone club promoter.
My favourite gig was the Beth Orton show there, years ago. She came out for the second encore, just her and an acoustic guitar and started taking requests.
She did her best to keep on playing each one – although quite often forgetting lyrics and whenever she messed one up, she just asked for more suggestions.
It was a great night, and I'll forever remember Beth continue saying – 'Just keep shouting them out, I'll keep playing them.'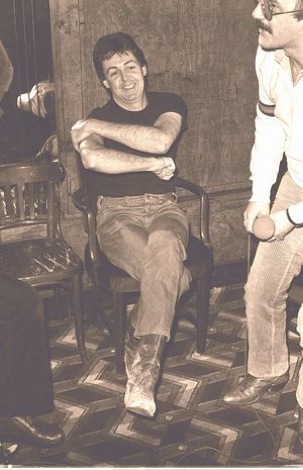 Paul McCartney backstage at the Royal Court
Kevin McManus: Director of Merseyside ACME and former NME writer
I'm usually much more a fan of gigs of intimate (that's a posh way of saying small and sweaty) venues. So my gig going life has largely been made up of nights at places like Erics, the Warehouse, right on through to The Picket and the Zanzibar.
But I always made an exception for the Royal Court – not just because it was regularly the only place to see my favourite bands but because on the right night, with the right band, it was a really special place. It was rough and ready like all the best venues and on the best nights a really passionate crowd bouncing up and down on that huge sloping floor.
There probably arent that many people that remember The World Downstairs, but that was a mini venue in the bar area and I saw loads of local stuff there including a couple of great gigs by The Farm.
James Barton did some of his club promotions there – including one night which famously attracted a handful of punters (and for a long time, James had that poster on his office wall as a reminder of the perils of promoting!). James then went on to do the Court's first big club gigs with sold out shows by Guru Josh and then Adamski.
I saw hundreds of gigs at the Court over the years, often as a punter, but sometimes in my job as an NME writer. And of course I've got loads of graet memories.
Phil Hayes from the Picket was in a great band called The High Five and they supported Gil Scott-Heron on one great night.
Pete Wylie did a brilliant show there for a Radio One live programme, preceded the night before by a strange Dexy's show.
It was the tour where Kevin Rowlands had dictated that venues couldn't sell alcohol so the audiences could appreciate the band properly – so we appreciated them soberly and very quietly.
REM were stunning, U2 were… well they were just U2. Coldplay were dull (aint that a surprise), Suede were amazing, and like most people who were there I can't remember much about the Primal Scream gigs but they all seemed to be brilliant.
But the venue seemed to come into its own when there was a local connection. The Coral and The Zutons had great nights, Elvis Costello loved playing there, and there were great events like Drums Over The Mersey, and the Big Beat all dayer that Phil Hayes put together as a Hillsborough fundraiser immediately after the disaster.
Some of my favourite Bunnymen gigs ever where at the Royal Court. I loved the Bunnymen and saw them play all over the country. But the Bunnymen at the peak of their powers playing to an enthusisatic hometown crowd was always magical.
But if I had to pick out one favourite memory it would probably have to be a gig that I actually reviewed for NME but would have been at anyway, and that was The Farm when they had a number one album and were one of the biggest acts in the UK.
They came back to Liverpool and were on top form. Even if you weren't a Farm fan you would have been swept along by the sheer joy of the night and the celebration of their success. It ended with Suggs and Clash legend Mick Jones on stage along with the families of the band.
Hey folks, it was emotional!
Steve 'Revo' Miller: Club EVOL promoter.
My first time at the Royal Court was the early nineties when the Australian Pink Floyd played there and the show contained all the hallmarks and trappings of an Australian Pink Floyd show at that time in Liverpool – dope and dole.
In a similiar vein, the next show I saw there was Cypress Hill, Funkdoobiest and Lords of the Underground.
Reports at the time suggested there was gunfire at the show but it was only a couple of kids in hoodies about four feet away from us with cap guns.
It was a fantastic night, the first rap show since the Beastie Boys riot in the eighties and it paved the way for my next visit, when Rage Against The Machine came to town.
I was smaller in those days and managed to stage dive off the stacks during Killing In The Name getting passed along by the crowd; wondrous times.
Only minor note was the bar had no fridges and everything was served warm and slow but you got by…
Alan O'Hare, journalist and Getintothis contributor:
I wasn't even at my favourite Royal Court gig! It's Dexys on the Best Of comeback trail and I got the DVD after missing out.
To hear Kevin Rowland sing those songs again and hear those mournful horns, was a dream come true.
As for gigs I was actually at, the late 90s come immediately to mind. Embrace are a big stand-out. Three times during their first couple of records I watched them on Roe Street, they were superb each time.
People said Danny McNamara couldn't sing. So what? Your job as a singer is to move people and for a couple of years in the late 90s, he did it better than most.
I saw Suede tear the house down on the Head Music tour too in '99 – in a week that saw Radio 1 decamp to the Royal Court for Sound City (see what they did there?!).
Cast, Shack, Lightning Seeds, Gomez – the best Merseyside had to offer. A great week for a teenage Scouse music fan finding his way.
Moving into 2000, Primal Scream (one of my least favourite bands in the world) forget about pretending to be cool on the EXTMNTR tour and delivered a pulsating set of grooves and bleeps. Pity they played Rocks at the end to spoil it…
Comments
comments