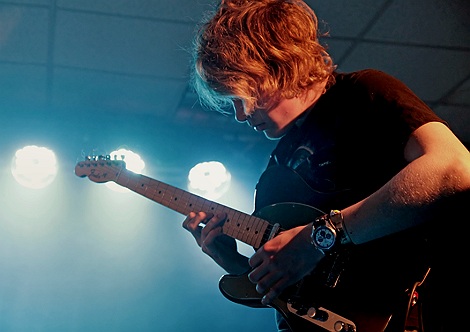 Aggro-technicians and scene starters, Vasco Da Gama, kick start their You Do The Math nights in ferocious fashion, Getintothis' Jonny Davis breaks down the dramatic algorithms.

There is a lot of discussion currently taking place about the state of music in Liverpool.
The competition offered by Manchester, coupled with the closure of venues in this city at times casts a distorted image of the demand for live music. Tonight is one of those many small shows that proves the city's musical worth.
Unfortunately due to an early doors club night, the Vasco-curated show is conducted at lightning speed meaning that Aeroplane Flies High are just closing their set as Getintothis arrives. Of the 30 seconds we hear, they sound ferocious, heavy and passionate enough to warrant further listening.

Manchester-based New Hips prove that they are well worth the trip as they provide a cacophonous, riotous display of funky mathletics.
The vocalist twists and bends his way around the stage in an Alex Kapranos-like use of space whilst their multi-instrumentalist batters the life out of what looks like a portable cymbal set.
As is often the case with time-signature polygamists it is at first difficult to know what the hell is going on until a pattern emerges. This most uniqe of feelings, sensual confusion never to be felt again, is one of the joys of seeing a band for the first time.
New Hips offer this feeling in abundance but equally more importantly they provide the tonic of keenly timed repetition coaxing gradual recognition.

If there is such thing as a 'scene' in Liverpool then Vasco Da Gama are at it's heart, playing tricky schizophrenic rock that unites beard strokers and party-seekers alike.
There has always been a comendable musicianship to the band but tonight, as part of the first of their co-promoting You Do The Math nights, they reach a new level of professionalism.
While the intensity of the performance still gives the feeling that the band are pushing their own limits, there is a confidence and assuredness usually only present in regularly touring bands.
The new material slots in effortlessly alongside older songs whilst offering sufficient progression to make future recordings a tantalizing prospect. For any band, giving new songs their first few airings is a tricky proposition.

Harsh as it may be, if it doesn't work the downfall is either tied to playing it safe or to misguided progression. Luckily for Vasco they have managed to create their own world which, although perhaps indebted to bands such as Faraquet and Polvo, is unmistakably their own. This leaves them free to roam and explore without losing a sense of self.
There are some wonderfully worked instrumental passages that utilize the full potential of three stringed instruments and there is even the suggestion of a chord or two, bouncing off each other.
There is something about the Shipping Forecast that can make or break the sound of any band so the rule is aways more volume, which Vasco obey.
The speed at which this show was put together and its subsequent success is one of many showcases for the musical quality and DIY pro-activity going on in this music community.

Picture by Sakura.
Comments
comments