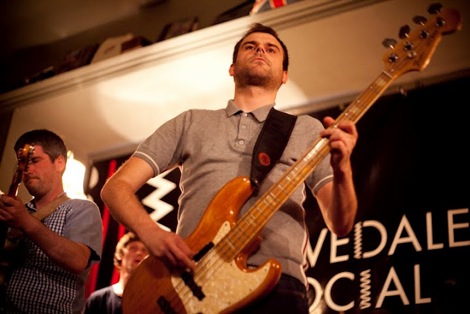 GIT Award nominees The Tea Street Band launch a new live music night, The Dovedale Social. Getintothis' Stephanie Heneghan braves the 'burbs for a slice of Balearia.

Having lived in the city centre for nearly ten years now – Getintothis moved here when we were 14 – it's easy to become cocooned within the perimeters of L1 when looking for evening entertainment.
Even a jaunt to Camp and Furnace can induce nosebleeds, so the suggestions of heading to South Liverpool did bring on a slight migraine. What's there to offer in the 'burbs?
Luckily once we'd had a bit of a lie down and a cup of tea we reconsidered the idea and gave it a whirl. Life's one big adventure and all that jazz. So off we trundled to Dovedale Towers – or the Dovey as it's more colloquially known.
Thursday night saw the inaugural session of the Dovedale Social, an endeavour to bring live music out of the confines of the city centre.
The Dovedale itself might not automatically present itself as an obvious set up for a band night although, as has been repeatedly pointed out to me it has a place firmly in the annals of rock history due to a certain Freddie Mercury being resident there in the 70's – five different people have informed me of this.
Over the coming summer months a number of local bands will perform each Thursday, with Cold Shoulder and Silent Sleep on the rota for the next couple of weeks.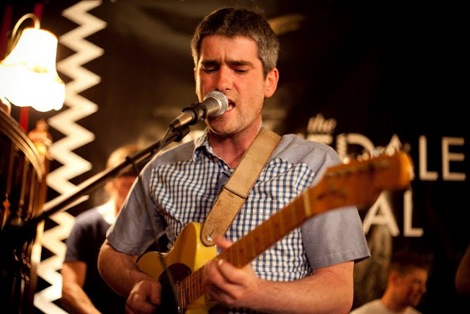 Timo Tierney of Tea Street Band gets the party started early doors at new gigging night the Dovedale Social
Tonight's guests are GIT award nominees and locally-acclaimed Tea Street Band – the artists formerly known to many as The Maybes?.
Since they shifted towards a more synth-based sound they've speedily gathered a dedicated fan base, many of whom seem to be present tonight.
A diverse populace have turned out for the evening and as they launch into Summer Dreaming there's a surge amongst the younger attendees towards to the make shift dancefloor.
This isn't foot shuffling shoe gazing territory, there's energetic fist pumping and rave grooves in evidence. These moves increase with Disco Lights which is clearly a crowd favourite and the lush Balearic sounds of Fiesta could almost fool you into thinking that outside is more White Isle than drizzly L18.

Their set is a swift one, over by 10.15pm and making way for a DJ and a more relaxed vibe. It's not hometime just yet though and when last orders are eventually called the place is still pleasantly full, vigorous dancing having made way for real ale.
For their introduction onto the live gig calendar, Getintothis believes the Dovedale Social can be deemed successful.
The proof of that? Well we'll definitely be heading back, the trip into South Liverpool was well worth the effort. Check it out.


Dovedale Social
Pictures by Marie Hazelwood.
Comments
comments