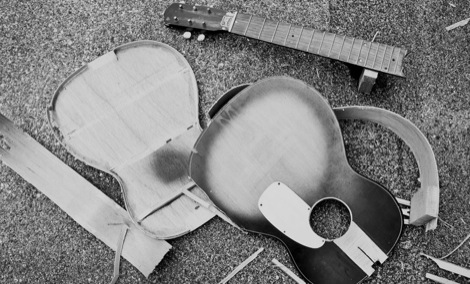 As buskers take to legal action to defend their rights to play their music, Getintothis' Jamie Bowman reflects on the draconian measures adopted by Cllr Steve Munby and Liverpool City Council.

As three Russian women in brightly knitted balaclavas have shown this week, when The Man gets involved with our music, the results are rarely pretty.
The sinister jailing of Pussy Riot for "hooliganism motivated by religious hatred" is a timely, if depressing reminder of the mistrust and fear that can still occur when music adopts political protest and challenges the orthodoxy.
It also shows the complete lack of empathy and understanding that occurs when hypocritical politicians themselves decide to throw their weight around when it comes to pop music.
Russian leader Vladmir Putin has spoken about his love or rock music and once described The Beatles as a "gulp for freedom" for Russian teenagers. You suspect this thought hadn't occurred to him when he sponsored the jailing of three young women for playing punk rock in a church.
Worryingly for us there's a similar situation closer to home and, although I'd hesitate to compare Councillor Steve Munby to the karate chopping former KGB man, there's undeniably a whiff of Big Brother about Liverpool City Council's ridiculous anti-busking measures which are currently being vigorously opposed by anyone in possession of common sense gene.
To summarise, the proposed regulation being spearheaded by Mr Munby, requires that all street entertainers purchase a permit, take out high-rate liability insurance, and book in advance a council-deemed appropriate spot in which the performer(s) can use no more than an area of 1.5 metre radius in the city centre.
Rock n roll, eh? To make matters even worse, the proposals take a surreal turn when they suggest that law enforcement officers must make a judgement when they "are not satisfied that the performance is of a satisfactory quality".
In effect, it seems Liverpool Council and by extension the police, will now be responsible for vetting and judging what is deemed as the acceptable skill level of a busker. How does this work exactly?
I'm sure I'm not alone in having my ears abused by buskers over the years but I would never deny them the brave chance to earn a few pennies.
Some of my favourite buskers are the ones who are simply bizarre – who could forget regular Bold Street performer 'plinka plinka man' and his cardboard guitar?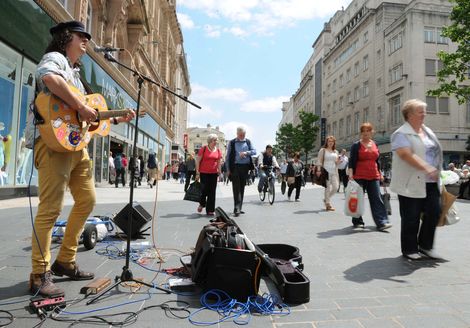 Busker Jonathan Walker on Church Street entertaining shoppers.
Musical taste is of course subjective and the idea that "enforcement officers" will decide what is unacceptable in terms of street musicians' performance is a frankly embarrassing and rather terrifying backward step in a city which the Council is all too happy to promote as a hive of musical and creative vibrancy when it suits them.
Munby and supporters such as Ged Gibbons, chief executive of City Central Bid which represents businesses in Liverpool city centre, claim the new regulations will bizarrely actually help buskers.
Gibbons said: "Buskers themselves will benefit from a better regulated process and, judging by the volume of complaints we receive, I know retailers and shoppers will be delighted the city has finally made this leap."
Judging by the overwhelming opposition expressed by the city's busking and musical community and growing public support, Gibbons is mistaken.
Culturally different areas of the city such as Bold Street and Mathew Street are already struggling to hold off the gradual privatisation of the city centre epitomised by the virtual lockdown of Liverpool ONE.
The council should be doing all it can to protect these areas from the sanitisation that is spreading across our High Streets and that includes promoting street performers of every style, look and yes, even ability.
But of course they won't, so it is left to us – failure to do so will make us just as hypocritical as Mr Putin.
Further reading:
Getintothis video and report: Liverpool's buskers take to streets to protest against council's new rules.
Getintothis video and report: Why Liverpool loves busking – and why some find it a public nuisance.
Liverpool bookshop protests over jailing of Pussy Riot.
Liverpool City Council forces Static Gallery to end live music programme.
A Week in Celebration of Liverpool's Spontaneous Street Culture
Buskers to take legal action against Liverpool council over "highly restrictive" new rules.
Comments
comments