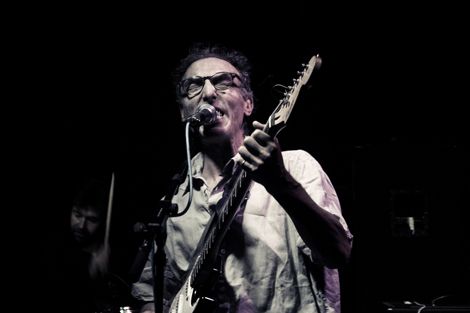 Vic Godard brings his wilfully ramshackle, vital rock and roll to the Zanzibar, Getintothis' Will Fitzpatrick engages with some full-pelt garage clatter.

At some stage during his thirty-six-year career, someone might have shown Vic Godard how to tune his guitar.
But no, there he is, blissfully unaware of the screeching racket blaring out of his amplifier, thrashing away at the strings until a band member quietly does the job for him.
Vic stands there, looking bemused but not embarrassed, and waits patiently before launching into another classic from his back catalogue.
Is this wilful amateurism? Anti-muso posturing? Or just a genuine disinterest in the tedious bricklaying of a rock'n'roll show? Either way, it's what he does, and he clearly has no interest in changing.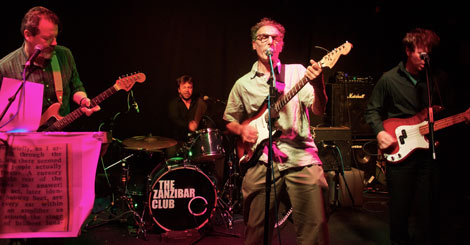 Vic Goddard and the Subway Sect live at the Zanzibar
The songs themselves are still magnificent – some worshipping at the throne of The Modern Lovers, others setting the benchmark for the so-called 'shamblers' of the C86 generation to follow.
His best material, meanwhile, provides an off-kilter glance at his beloved soul: shonky and wonky, but no less spine-tingling for that.
It's with this in mind that Getintothis hopes for a run through the beautiful Make Me Sad, but to no avail. Instead we get rip-roaring takes on the likes of Nobody's Scared – thrillingly roughshod and gleefully despatched by the latest in a long history of Subway Sect lineups. Great stuff.
Delightfully, there's a banner draped over sideman Kevin Younger's keyboard that reprints a scathing review from the band's earlier days, which we'd quote from if it were worthy of fully committing to memory – another way of saying 'beer happened', sorry.
It's a wry, self-deprecating approach which goes down well with the appreciative but disappointingly-small crowd, but totally unnecessary.
For one thing, who gives a fuck what mere rock hacks have to say (wait, come back!)? Furthermore, as the full-pelt garage clatter of Chain Smoking will attest, Vic Godard simply doesn't merit bad reviews. Here he is: still ramshackle. Still vital. Still brilliant.


The Ladykillers live at the Zanzibar supporting Vic Goddard and Subway Sect
Cheers to The Ladykillers! Jeers to the first person to make a crack about an all-female Brandon Flowers tribute act. We don't catch much of their set, but what we do see is full of hooks, energy and promise.
Dressed smart yet playing scruffy, theirs is an enthusiastic take on Buzzcocks-esque pop-punk that suggests there's even better to come in future. Youthful exuberance rules.


Bassist Stan Wallace of The Ladykillers live at the Zanzibar supporting Vic Goddard
Comments
comments