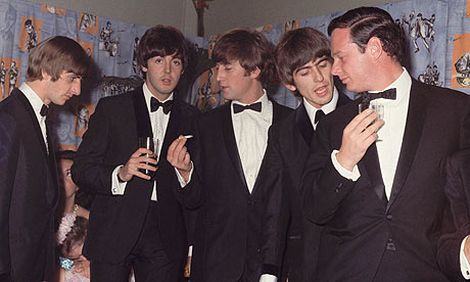 Brian Epstein was arguably the most influential force in shaping the Beatles, now as Getintothis' Jamie Bowman recounts he's finally being given the respect he deserves.

He was the legendary svengali who guided The Beatles from the Cavern to Shea Stadium, whose influence was so vital, Paul McCartney called him "the Fifth Beatle".
Why then, is it only now that Brian Epstein is finally getting some recognition in his home city?
Last week saw the launch of the new Epstein Theatre's first season.
Formerly the site of the troubled Neptune Theatre on Hanover Street, it looks like becoming a welcoming addition to Liverpool's cultural make up with an impressive schedule of comedy, music and drama and complete with a hangout called Brian's Bar.
There's a sad sense of irony about Epstein finally giving his name to a theatre 45 years after his death.
He'd failed in his attempts to make a success at acting after being accepted to study at RADA and he later brought the lease on the Saville Theatre in London, so perhaps it's apt that he's now lending his sobriquet to a venue that has had such a chequered past these past few years.
Brian's life seems to have been regularly touched by sadness and the shoddy treatment his legacy has received sadly maintained the trend. Earlier this year English Heritage removed Epstein from its short list for a blue plaque tribute on his London residence.
English Heritage blamed government cuts for the decision but when compared to the recent furore that surrounded the battle to save Ringo Starr's old house, Epstein once again seems to have been overlooked.
Quite why it should be this way is a mystery. Of all the talented people that The Beatles' incredible magnetism attracted, Epstein was one of the most extraordinary.
Born in Rodney Street, Liverpool in 1934, he'd harboured various artistic ambitions including acting and fashion but by the age of 16 he was working in his father's furniture store on Walton Road. After that unsuccessful period at RADA and an unlikely stint in the army, Epstein found his vocation working at the family's newly opened music store on Whitechapel.
What happens next is one of those beautiful fairy tales that I never get bored of hearing. The young Beatle fan asking for a copy of My Bonnie, that furtive first trip to the dank and dirty Cavern, and the split second decision to manage the four lads he thought "tremendous".
Whether it's all myth or not, what is true is that Epstein saw something in The Beatles that first time and was prepared to back his belief in a way that makes him deserving of the world's gratitude. John Lennon knew his group had potential and Paul McCartney was aware that he had a career as a musician in front of him but it was Brian who grasped the true possibilities.
Failure had dogged the young Brian's aspirations but somehow he put all that to one side and pledged to make his boys famous. Rejection letters followed but Epstein did not give up until The Beatles were signed by EMI.
What followed was a whirlwind of success that was orchestrated and cajoled by Epstein's calm, cultured and caring nature.
He encouraged the Fab Four to indulge their artistic leanings (perhaps in a way he had been unable to) and soon they were growing into the kind of musicians the like of which the world had never seen. It wasn't confined to The Beatles either.
For a few years Epstein was the British music scene. Cilla Black and Gerry and the Pacemakers both benefited from his unique enthusiasm and after just a few years in music management he had virtually invented the rule book for the infant recording industry.
All this was done without the use of fax or email and all when he was barely 30.
So raise a glass when you visit Brian's new bar. There are few more deserving than Epstein.
Getintothis reveals Liverpool Sound City to take over Epstein Theatre.
Getintothis on Liverpool Sound City.
Comments
comments