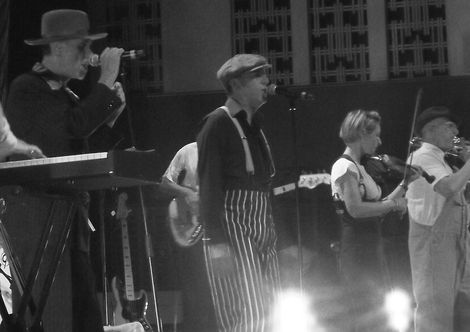 Dexy's Midnight Runners strut into Liverpool, Getintothis' Alan O'Hare enjoys a spot of Too-Rye-Ay-ing.

Kevin Rowland made a mistake earlier this year.
He granted The Sun newspaper an interview and then, when the decision came under attack, he or his management defended it via social media.
Kevin, you see, had thrown his support behind the 'Justice for the 96′ campaign in the past. He was out of line.
But you find out the true measure of a man at times like these. And judging by the attendance and 100% support of what seemed like half the Kop at the Phil last night, Liverpool has forgiven him.
Lads in Fred Perry and Adidas mingled with soul boys in pin striped suits, while the dancing queens waited patiently for Come On Eileen.
And there was not a murmur of discontent. Not even when Rowland, towards the end, dedicated the show to the 96 football fans who lost their lives at Hillsborough and their families who, he declared from the stage, "humbled" him with the grace shown in their fight.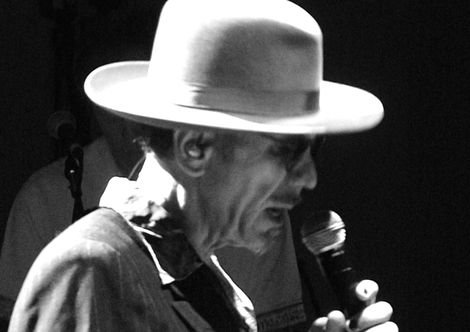 Kevin Rowland during Dexy's Midnight Runners' show at Liverpool Philharmonic Hall
The music? That was outrageously good. Honest to goodness soul music and a band who might be the best out there right now.
Bravely, Dexys chose to showcase their new album in full, on their first national tour in a decade. It worked like a charm.
True, they weren't dancing in the aisles – but a fully attentive crowd hanging on the singer's every word is as rare as rocking horse shit these days. And they stayed without him throughout the new record's darker moments.
There were a few of those. But the music always pulled the singer from the very depths of despair.
Songs like Now, Lost and You are all variations on the same theme – but melancholic and powerful fiddle and brass lines offered hope and redemption throughout.
Highlights of the new album were the groove-led melodrama of She's Got A Wiggle, the Marvin Gaye sound-a-alike Nowhere Is Home and the spoken word-cum-Otis Redding pile driver, I'm Thinking Of You.
This was no nostalgia trip. The crowd lapped the new tunes up and even when the gig took on a vaguely theatrical tilt, with the appearance of singer/actress Madeleine Hyland, they joined in; egging her on in her war of attrition with Rowland.
The singer and his muse traded verses and licks as the band played on.
It was a special kind of evening and a glimpse into a dark night of the soul of Kevin Rowland.
The music really was sensational. Much credit must go to ex-Style Council keyboardist Mick Talbot, who drove Rowland over the finish line with his first album in 27 years.
Talbot has become the group's de-facto MD since and rouses the eight-piece juggernaught into soul revue false finishes and climaxes: drums pound, the bass rumbles and the electric guitar makes noises like the colour of a rainbow.
Add to the mix some Celtic fiddle and deep dark heart of long-time Rowland collaborator Big Jim Paterson's trombone and we're talking sweet soul music.
Dexys were on fire. They encored with a few "old favourites" and not the hits. Old, from Too-Rye-Ay, sounded as majestic as ever – though the lowering of the key and tempo of Tell Me When My Light Turns Green brushed up against the cloth of a reunion gig.
Finishing with cult favourites I'm Just Looking and This Is What She's Like, Rowland spent most of his time on his knees or in the crowd, as he wrung every last drop of emotion from his heart and soul.
If all art is propaganda then Rowland found himself another 2,000 followers last night.
A singular and unique talent, he may have washed sin from his hands on Hope Street and stared redemption straight in the eye.
Earlier Gruff Rhys opened the show and was terrific. The floods had sent him on a journey to the centre of Cardiff to hire a car to get to town – but it didn't matter.
The Super Furry Animals frontman sauntered on-stage just in time, plugged in his box of looping tricks and took us on a psychedelic tour-de-force.
Vocal harmonies, metronomes and toy record players were all triggered by the Welsh wizard. With just an acoustic guitar for melodic company, his quirky tunes were reminiscent of Love – filtered through thirty years of pills and progress. He was ace. Man.
Pictures courtesy of Ian D. Hall.
Comments
comments