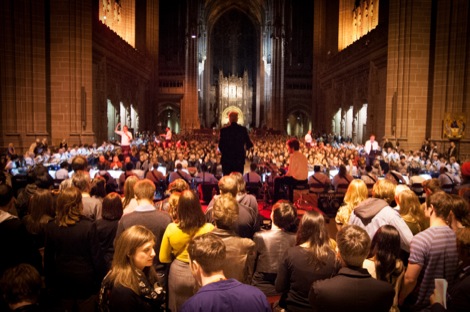 Rhys Chatham and Liverpool Biennial premier A Crimson Grail for 100 electric guitars and eight electric basses at Liverpool Cathedral – Getintothis' Thomas Jefferson witnesses a transcendental experience.

A packed Anglican Cathedral gives a standing ovation as Rhys Chatham's masterpiece A Crimson Grail is fantastically retold by the musicians of Liverpool.
Near 800 eager arts lovers made the pilgrimage to one of Liverpool's music events of the year in its most glorious setting, to kick off 2012's Biennial in jaw-dropping fashion.
It's hard to prepare for a performance of this nature. Performed but twice before in New York and Paris, no number of internet clips or first hand reviews can even begin to describe the physical effects a performance of this scale has on the viewer. But one must try…
Rhys Chatham's works and reworks have been described as post-minimalist, yet this tag does not begin to describe the effect on the listener.
This is a sensory experience which harnesses 100 guitarists, eight bass players, one beat keeper and four conductors through Rhys' very being into one body of profound sound.
The congregation is full well before the 8pm start time, and the vast space continues to fill, with a great number of people standing.
By 8pm they are queuing out the door, the Cathedral at capacity, with many more disappointed hopefuls left outside.
The start time comes and goes and guitarists begin to twitch nervously, the occasional amp buzzing in anticipation until a voice crackles over the Cathedral's PA system.
After a rather dry final speech from the Cathedral's Dean and a slightly better one from Head of the Bienniel Sally Tallant, Chatham's deep tones eventually echo across the room and a hush descends.
His speech is dramatic, with a playfully human undertone as he introduces the musicians as, 'from Liverpool,' And after a dramatic pause, 'and surrounding areas.'
The opening sequence of A Crimson Grail offers little cohesion in terms of its sequencing and is subtle in its build up to say the least.
What is most fascinating in these initial stages is the relationship between the four section 'leaders' or conductors – David Daniell in Section 1, a.P.A.t.T's Ben Fair over in Section 2, Richard Harding in Section 3 and Deep Hedonia promoter and EYES musician Jon Davies overseeing Section 4.
Each relay Chatham's gospel to their section of 25 guitarists. Merely watching the rhythmical gestures and intent concentration is fascinating.
After 10 minutes of incohesive jangling, the introduction of hi-high and some swelling bass brings about the peak of this section. The guitars are now being led and they ripple around the room as if passing on message in an intricate game of Chinese Whispers.
It is difficult to hear beyond the guitars that are immediately in earshot; those on the other side of the room sounding like a distant echo.
It becomes quite disorientating as the performance intensifies and the guitars begin to up the ante, thrumming tremelo's at different intervals and interlocking chords.
The effect begins to sound like a swarm of locusts, buzzing around the senses and reverberating through the entire body.
The performance goes from strength to strength, each section seems to blow the next out of the water, all concept of time goes out the window as a near trance like state is induced. Never has a 70 minute performance felt so long and so short all at once.
Section 2 sees each quarter of musicians copycatting their opposites across the room.
Conductors indicate beautiful key changes by holding up numbered paper to create the most incredibly smooth orchestral sound.
It is almost indescribably textural, like the finest silk, it sounds more like a sea of strings, nearly impossible to believe these sounds can be created by guitars alone.
The final section is the most conventional nod towards Rock music in its minimalist structure. An amalgamation of major chords strummed at intervals emerging into what is almost a melody that could be an epic opening to a Pink Floyd album.
At the introduction of bass and hi-hat it has heads nodding and feet tapping, the intensity beginning to increase.
It is powerful yet warms the senses, like an embrace from a gentle giant that could crush you if it wanted to.
It is the kind of sound that could play on for eternity and never becoming tiresome as Gibson, Fender, SG, Ibanez, all come together is beautiful harmonious glory that is a pleasure to be immersed in.
It builds and gradually shifts away from this dreamlike state, and as it builds the sound of 108 guitars seems to rise up around like a tidal wave with you in the middle. Among the tremolo-ing guitars you can almost hear things that aren't actually there such is the depth of the sound.
It is abruptly ended, shaking the audience from whatever state the last 70 minutes has taken them to. A ripple of harmonics shift sporadically around the guitarists before it finally drifts to an end. And then the clapping begins.
It is clear that tonight has been a unique experience, and one that each audience member is unlikely to experience again.
It is audacious in both its simplicity and in the sheer scale of it; the effort and commitment required to pull off such a feat is remarkable.
The setting is inspired; no sound is lost in the cavernous, vast room, and the grandeur it brings to the entire spectacle is surely unmatched by the previous two incarnations of this piece.
What is striking is how each person plays their part, an essential cog in an emphatically impressive machine.
Performer David Jones says that despite the physical demands of strumming non-stop for 10 minutes at a time, the setup is simple, 'I'm not an amazing guitarist, but it's all broken down so anyone can play it.'
Having spent the week prior practicing the piece in small classrooms at Liverpool Community College under the supervision of Chatham and producer Andrew 'Samizdat' Ellis, Dave described the performance as "incredible."
Adding: 'I'd have loved to have been in the audience and hear it from your perspective.'
One of the eight bass players, Hot Club da Paris and Bad Meds' Paul Rafferty described the physical determination and togetherness required: 'It's really hard to keep going for that long, but no-one wants to fuck it up.'
One hundred and eight guitarists giving it their all to create one sound is really something to behold.
A truly remarkable night that will be remembered by those who were there for years to come.
Download a bootleg of the performance here.
Getintothis reviews Rhys Chatham at the Bluecoat
Getintothis' Rhys Chatham live at the Bluecoat picture gallery
Picture by John Johnson.
Comments
comments