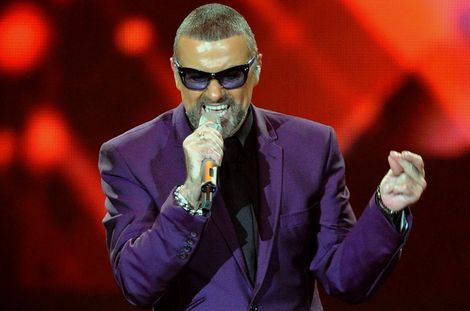 After a series of set backs, George Michael brings his Symphonica tour to Liverpool, Getintothis' Jamie Bowman takes in the enthralling and surprisingly odd experience.

These last few years have been particularly tough for George Michael.
Judging by the less than PC remarks by the cabbie on the way to this gig, there are genuine concerns about the 46-year-old's health following his near death experience in Venice, which left the pneumonia-stricken star facing a career threatening tracheotomy.
Add into the mix a hugely misjudged appearance at the Olympic closing ceremony, a recent cancelled tour to Australia, and the singer's highly publicised collision into a branch of Snappy Snaps after one joint too many, and it's clear George needs this latest comeback to be a bit special.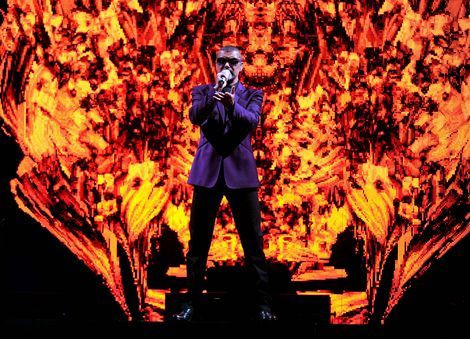 George Michael cuts a dramatic pose at Liverpool Echo Arena
The initial signs are good. A superbly dramatic entrance sees the immaculately suited star skip down across the plush stage to enormous acclaim as he negotiates the journey to the front of the stage without any mishaps or stop offs for munchies.
Even more crucially, his voice sounds exceptional as he launches into Nina Simone's My Baby Just Cares For Me, which is followed by a rapturously received invitation to "go back to the eighties".
Doubtless most of the predominantly female audience would have been happy to stay there with him, but far from playing safe, George is determined that this tour, backed by the exquisite sounding Czech National Symphony Orchestra, is not going to be a hit-fuelled trip down memory lane.


George Michael live at Liverpool Echo Arena on his Symphonica tour
An impassioned plea for gay marriage prefigures the avowedly anti-American cover of Rufus Wainwright's Going To A Town, while an ethereal run through of David Bowie's Wild Is The Wind is about as far away from Wake Me Up Before You Go Go as you could possibly get.
It's this risk taking that makes the gig such an enthralling and surprisingly odd experience.
Depression-era standard Brother Can You Spare A Dime? hints at George's political disaffection while John and Elvis Are Dead is accompanied by a film featuring clips of the New York Dolls and The Jam. Even more bizarre was his version of New Order's True Faith, complete with vocoder vocals and George miming smoking a spliff.


George Michael struts his stuff at the Echo Arena
Rihanna's Russian Roulette was a bit of a risk, but one George just about managed to pull off.
At times, you suspect it's all a bit too much for the determined-to-party crowd of giggly 40-year-olds who would far rather here a Club Tropicana or a Faith mixed in with the big band standards and sombre ballads but such is George's passionate and heart felt delivery on Different Corner and Praying For Time that he is easily forgiven.
Thankfully for the tipsy multitudes, the encore brings a good time medley of Freedom 90 and I'm Your Man, showing that despite his problems, George is still capable of closing a party in style.
Pictures by Gavin Trafford.
Comments
comments