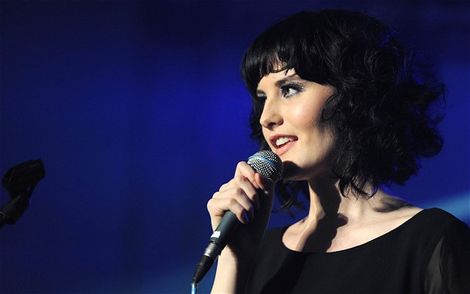 Ren Harvieu brings her own blues explosion to Liverpool's Stanley Theatre, Getintothis' Alan O'Hare journeys to the centre of the soul.

Ren Harvieu hits all the blue notes.
Sure, the pace may get a little one dimensional at times – but what she does well, she does really well. And a busy enough Stanley Theatre listened intently before exploding at the end of every song.
These are strange days in music. The Salford singer has travelled to the gig (four or five into a UK tour to push debut record Through The Night) on her own, on a train from Manchester – and bumped into a few fans on the way.
That they probably watched her vacate her seat to go the loo is made all the more strange now they're amongst a couple of hundred people waiting on her every breath.
There's a lot of breath too. Her three-piece band – drums, bass/guitar and fantastic tinkles and tidal waves of piano and organ respectively – are tight and leave lots of space for Harvieu's dramatic vocals to take centre stage.
It's a bold move to lay bare an artist on her first record in this way. But, when it comes off, it places the hushed crowd into that no-man's-land between wide awake and dreaming. It was that kind of gig.
The album title track opened the show with pauses and pulses, Train Song came on like Kate Bush singing The Beatles' Rain and the glorious Twist The Knife galloped and glided in all the right places.
Her own music was introduced in a painfully shy manner – but the singer lit up when covering two Roy Orbison tunes: Crying was let down by an overwrought, rolling organ arrangement, but the relatively obscure 1968 single, Walk On, was a revelation. Harvieu turned the minor key waltz into a torch song and found the battered beauty inside.
Let Me In, a Radio 2 favourite penned by ex-Zuton Dave McCabe, showed the singer's pop heart, with its 60s vibe, and was over and done with in an old fashioned two and a half minutes. With no bridge – a nice diversion
But it was on the ballads that she shone. Forget warblers like Adele and Florence Welch – Harvieu has heart and soul.
And, hidden deep in that rich voice that reaches from baritone to falsetto in a verse, an ache of self doubt. Long may it continue. As the journey will always be more interesting than the destination.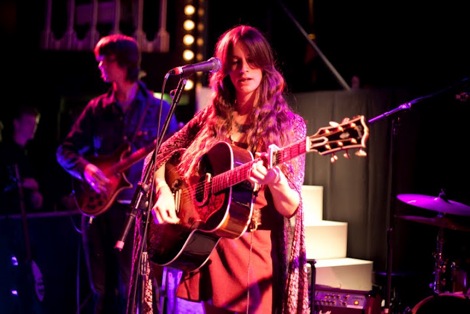 The Sundowners provided an early buzz supporting Ren Harvieu
The night was opened by Wirral band, The Sundowners. There's a buzz about this lot – led by a couple of Skelly's and a Sharrock on the drums. You know the score: West Coast harmonies out front, a psychedelic back line and some top notch strummers.
Co-singers Niamh Rowe and Fiona Skelly look the part – think The Pierces fronting Fleetwood Mac – and it will be these two who send The Sundowners over the top, if the band break out of the pack.
Debut single Hummingbird sounds great – a few more to match it and Wirral will have sent another harmony-loving, Byrds-laden group out into the world. Keep an eye on them.

Sundowners picture by Marie Hazelwood.
Comments
comments